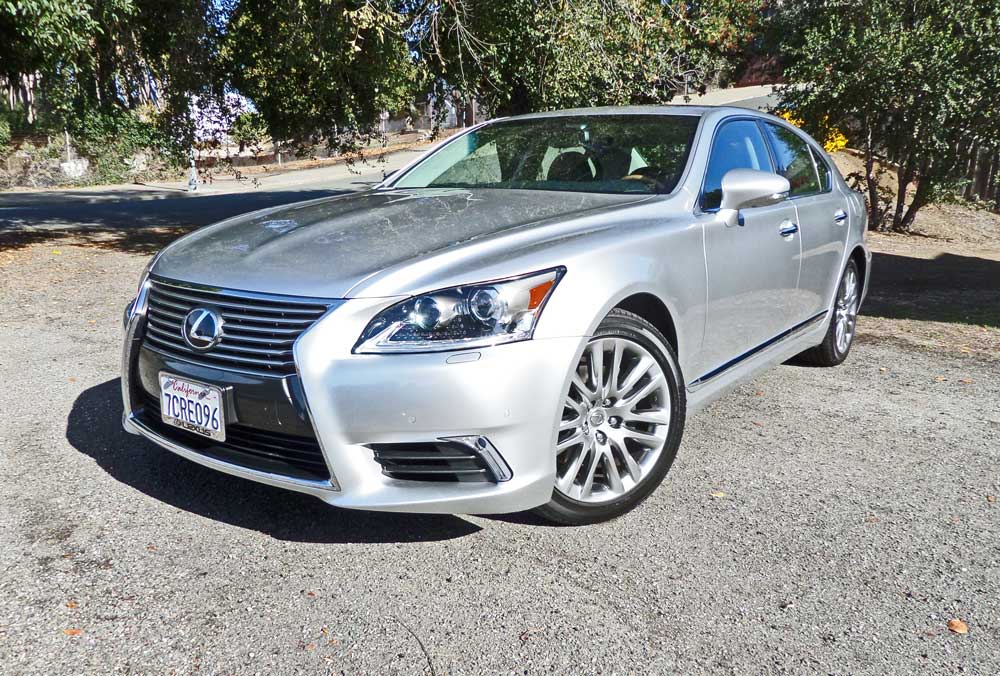 TEST DRIVES
2015 Lexus LS 460 4-Door Sedan
By
|
The 1990 Lexus LS 460 model represented the first generation of Toyota's Lexus luxury division, which was launched in 1989, which sought to conquer the luxury sedan marketplace by offering what the company felt would set new standards in both luxury and refinement. Initially, to many, the car appeared to be simply an attempt to emulate large Mercedes-Benz sedans, and rightly so, since it possessed several of the German automakers styling cues.
The Lexus LS 460 was actually a very nice vehicle, but it was really no Mercedes. Much has changed since that first model was introduced, and now Lexus is certainly on a par with Mercedes-Benz in the large luxury sedan marketplace, showcasing their latest styling philosophy known within as "L-finesse", blending higher levels of performance, sophistication, contemporary design cues and luxurious refinements and amenities. L-finesse extends throughout the company's entire sedan lineup.
Lexus entered its fifth generation with the 2013 LS Series, which included an offering of seven different models – the base LS 460 was available in two versions – a Rear-wheel drive and an All-wheel drive. Next came an extended model, the LS 460 L, which also came in either a RWD or AWD configuration, and there were also RWD and AWD models of the LS 460 F-Sport, and finally, perhaps the ultimate offering – the LS 600h L hybrid, which came in the long wheelbase and AWD only.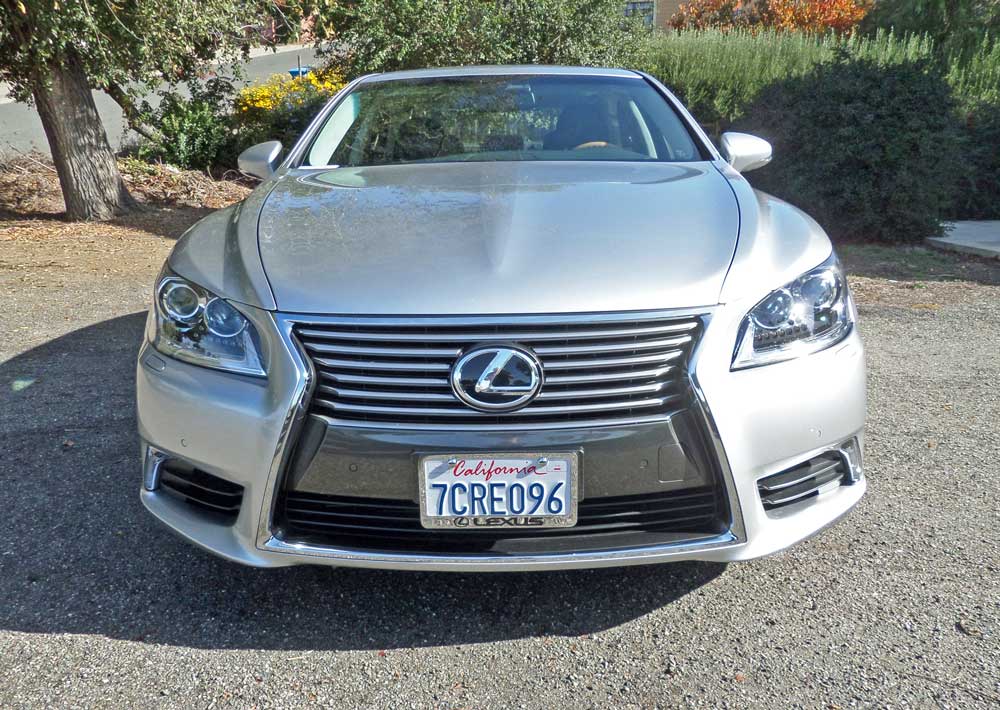 The 2013 Lexus LS lineup featured more than 3,000 improved parts (over half of the total parts number) and 15 all-new Lexus firsts, including the first ever LS F-Sport. A bold new exterior design led off with Lexus' signature "Spindle" grille, and an updated interior that served up a bold new dash with specific trim accents, new LED lighting, a new Remote Touch Interface and a new 12.3-inch multimedia display screen that was capable of presenting up to three informational displays simultaneously.
Enter the new Lexus LS 460 with driving performance that has evolved considerably and exercising refined control, vehicle stability, ride comfort and quietness thanks to stellar chassis rigidity and aerodynamic tuning. Drive Mode Select makes it easy to choose the desired chassis mode, with the optional air suspension adding to the Normal mode, a new Sport S and Sport S+ and a new Comfort mode.
Advanced safety technology comes in the form of available Advanced Pre-Collision System, Blind Spot Monitor with Rear Cross-Traffic Alert and improved Lane Keep Assist with Lane Departure Alert. For 2014, the LS 460 increases convenience and ease of use leaping forward with the addition of available Siri® Eyes Free Mode technology licensed from Apple®. Compatible with the iPhone® 4S and iPhone 5 models forward, Siri enables calling contacts, selecting and playing music from iTunes®, getting turn-by-turn navigation through Siri and Apple maps, and much more. Helping the driver to keep eyes on the road and hands on the wheel, Siri can read notifications and calendar information and allows adding reminders, calendar appointments and notes.
Power for the stately new LS 460 sedan series is provided by a 4.6-liter V-8 engine that is mated to an electronically controlled 8-speed sequential shift, automatic eight-speed transmission with steering wheel mounted paddle shifters on the F-Sport. The high output engine now develops 386 horsepower (6 hp above last year's models) while generating 367 pound feet of torque. The motor features electric motor-driven Variable Valve Timing with intelligence and electronically controlled intake cam (VVT-iE). The LS 460 is capable of traveling from 0-60 mph in 5.4 seconds, with an electronically limited top speed of 130 mph. Acceleration is not race car blistering, but it's certainly satisfying in virtually every other driving scenario.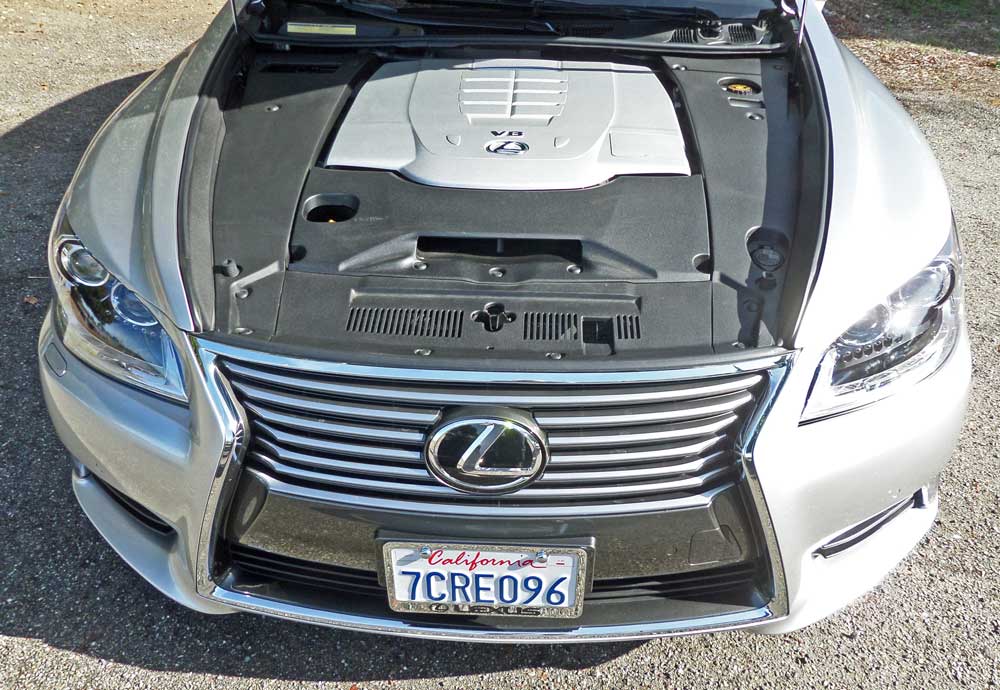 The car's design was penned displaying complex lines and surface treatments, while exhibiting a greater prominence and increased athleticism. The spindle grille is flanked by side intakes with integrated fog lamps, more prominent fenders and topped by a restyled hood featuring a center bulge and emphasized side creases.
The interior fit and finish are superb and trim accents are available in Walnut, Matte finish Ashburl, aluminum (exclusive to F-Sport), Bamboo and Shimamoku (Japanese for striped wood), utilizing Agathis wood. The latter represents a first for the U.S. market and there are 67 processes over a 38-day period just to make the wood steering wheel. The analog clock comes with a GPS function and never has to be reset. A remote touch interface is used to select and program vehicle functions. There are a staggering number of available options (far too many to list here) for individual personalization of one's LS 460.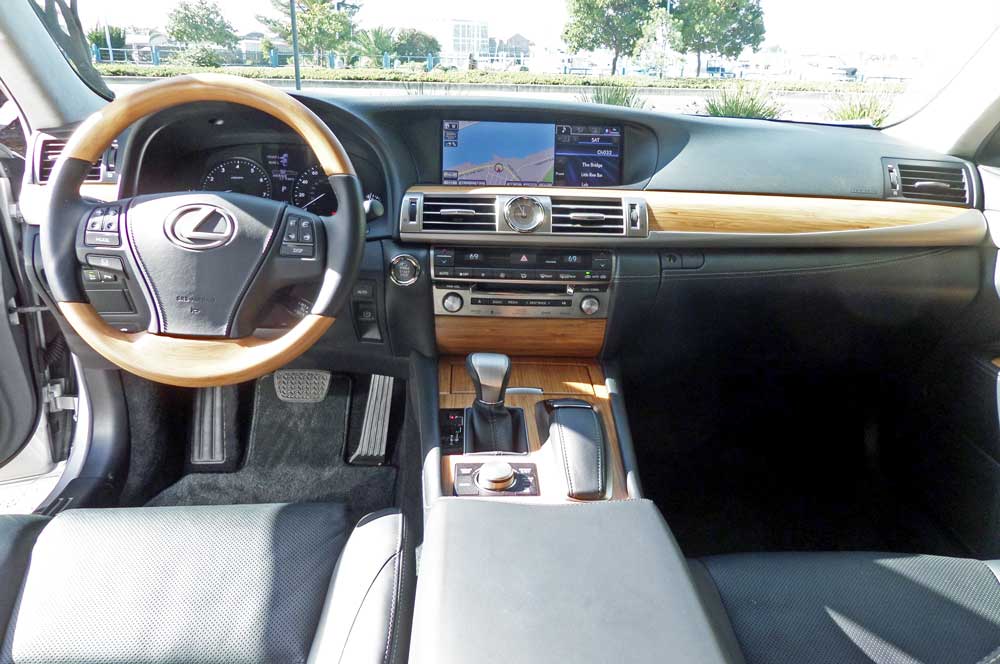 The LS 460 is built on a platform that delivers a pleasing, but delicate balance between ride comfort and responsive handling characteristics. The car adapts readily to uneven road surfaces thanks to an adaptable multi-link suspension system both fore and aft. The sumptuous sedan is loaded with both active and passive safety technologies that function as one entity, resulting in a more intelligent and protective vehicle.
Included in the active safety features, is the Vehicle Dynamics Integrated Management (VDIM) stability system that integrates and manages an Electronically Controlled Brake (ECB) system, Electronic Power Steering (EPS), Vehicle Stability Control (VSC), Antilock Braking System (ABS), Electronic Brake-force Distribution (EBD), along with engine torque via the electronically controlled throttle.
A long-wheelbase version LS 460 L adds 4.8-inches to both the wheelbase and overall vehicle length, bringing a like amount of additional space to the interior, allowing for an exceptionally roomy rear seat area.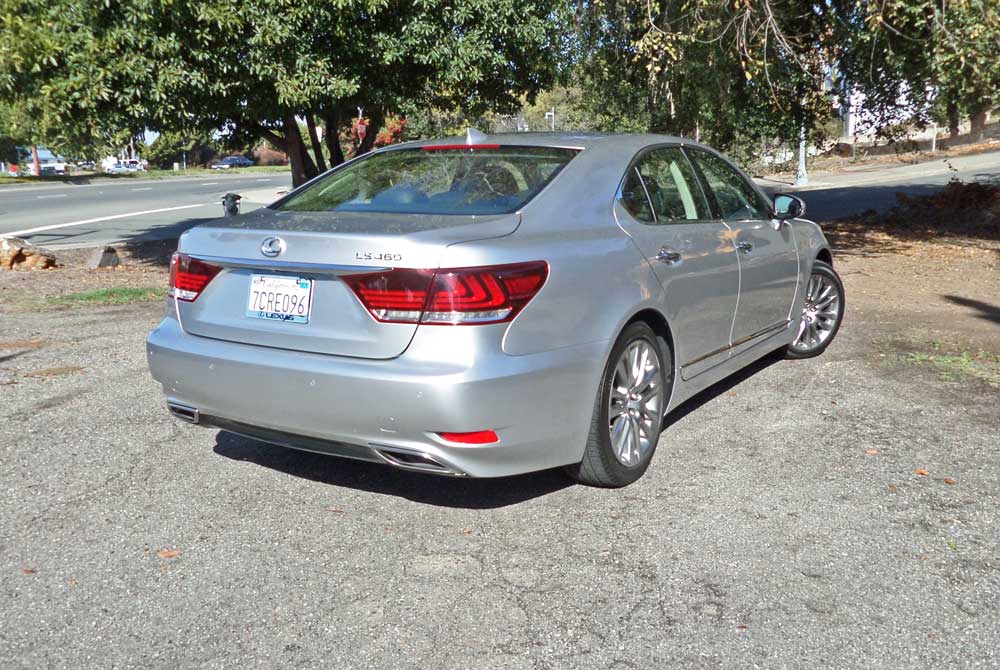 My test Lexus LS 460 4-door sedan wore an exterior finish of Liquid Platinum metallic and came with a Black interior accented by Bamboo trim elements. The base price was set at $72,140 which came to a final total of $81,179 after adding the following: Adaptive variable Air Suspension with Variable gear ratio steering, Comfort and Sports+ Drive modes; Blind Spot Monitor with Rear Cross Traffic Alert; an All Weather Package; a Comfort Package, 19-inch high-gloss finish alloy wheels with all-season tires; a Semi-Analine leather interior and Alcantara headliner upgrade; Mark-Levinson 19-speaker with single DVD and CD player; heated wood steering wheel with a leather center pad; Cargo and Trunk mats and the Delivery, Processing and Handling fee.
SUMMARY:
The Lexus LS 460 four-door sedan is an exceptional luxury flagship automobile that is loaded with amenities and features to complement its performance attributes and handling characteristics. It would indeed be suitable for executive livery service- or not, since there are enough driver-oriented features to satisfy most driving enthusiasts, particularly with the F-Sport example, but in an atmosphere of heightened luxury enhancements, that might result in placing chauffeurs on unemployment.
High-tech connectivity is courtesy of Lexus Enform®, factory ready for a variety of innovative SiriusXM services.
In the final scheme of things, the Lexus LS 460 sedan is representative of a highly desirable luxury craft, with numerous standard features providing unparalleled comfort. All models are actually reasonably priced if one happens to fall into the higher earnings category. The LS 600h LWB is in another realm altogether with a larger gasoline engine coupled with an electric motor series assist. It is, in my opinion, actually the ultimate LS model and though it will cost the most, It's also superior in performance overall.