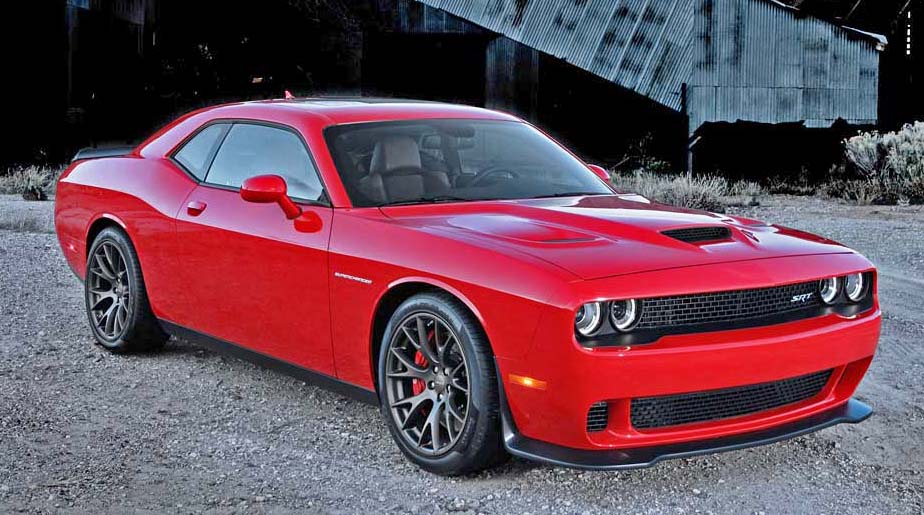 TEST DRIVES
2015 Dodge Challenger: The '70s were never this Good"
By
|
Since its entry into the American musclecar scene some 45 years ago, the Dodge Challenger has been held in high esteem. The Dodge Challenger has evolved continually and progressively into what has become a legendary status symbol or icon since that first 1970 model appeared. The Dodge Challenger was originally available as either a 2-door hardtop or in convertible form in four levels of trim: Base; SE (Special Edition); R/T (Road/Track); and T/A (Trans-Am). Available powertrain choices offered numbered eight, ranging from a 145 horsepower 225 cubic-inch inline slant-six-cylinder to the 425 horsepower 426 HEMI® "Elephant motor". There were also two 440 cubic inch V8 motors that provided either 375 or 390 horses. Driveline selections for the various engines included Chrysler's TorqueFlite automatic transmission as well as a three or four speed manual gearbox, which could be outfitted with a Hurst "pistol grip" shifter. Big block powered Challengers could be ordered with a heavy-duty Dana 60 differential equipped with a limited-slip differential. Available paint schemes even shouted performance with outrageous colors such as: Plum Crazy or HEMI Orange, accented by "bumblebee" stripe graphics. Further customization was available by ordering twin-scooped hoods, "shaker" hoods and trunk-lid mounted wings. The design inspiration for the 2015 Dodge Challenger models were inspired by the 1971 Dodge Challenger, paying homage to the nameplate's muscle-car heritage, while adding a more contemporary and authoritative Dodge attitude.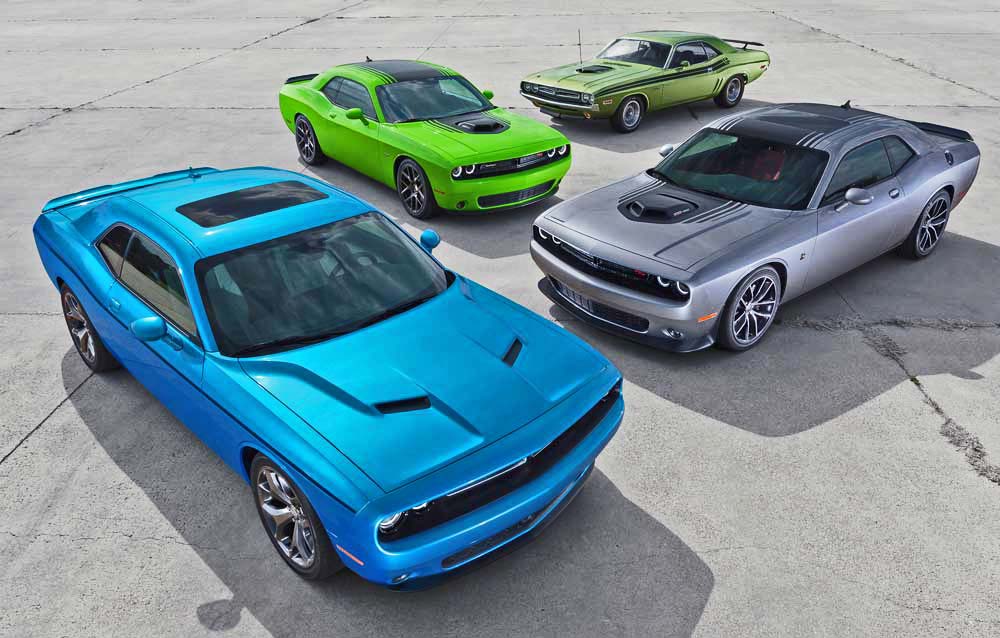 It's often been said that "Variety is the spice of Life", and the Dodge team is delivering tons of available variety in the 2015 Dodge Challenger lineup, which includes 8 trim levels including: SXT; SXT Plus; R/T; R/T Shaker; R/T Plus; R/T Plus Shaker; 6.4-liter Scat Pack; and 392 HEMI Scat Pack Shaker. And, that doesn't include the two SRT models – the SRT 392, and the much anticipated SRT Hellcat. All 2015 Dodge Challengers are in a 2-door coupe configuration with 5-passenger seating. Want more variety? How about four different engines and three transmissions?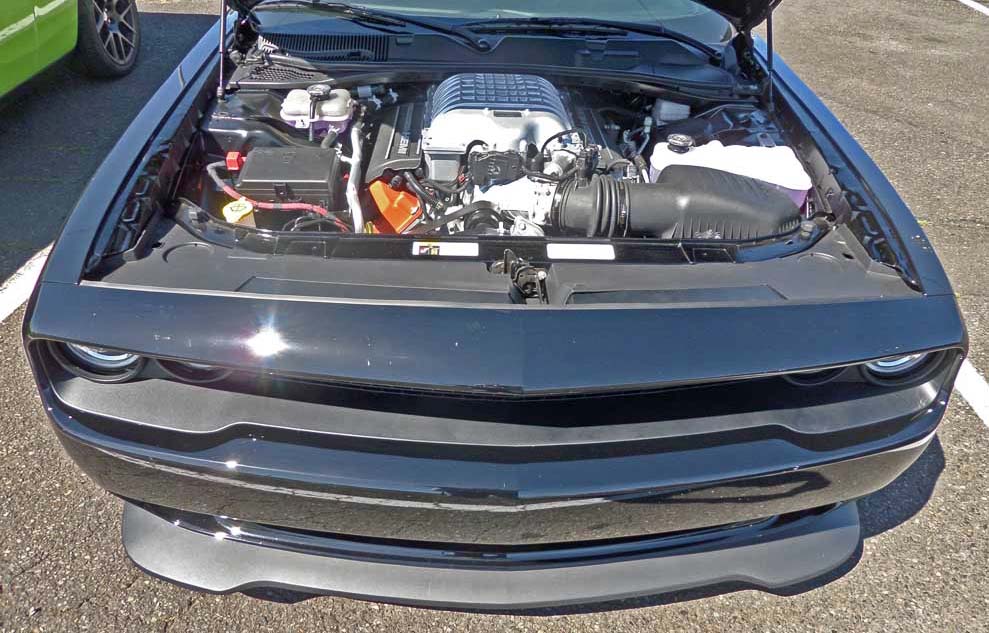 The base engine is a 3.6-liter PENTAStar, DOHC, 24-valve V6 with sequential, multiport, electronic, returnless fuel injection that delivers 305 horsepower at 6,350 rpm along with 268 pound feet of torque at 4,800 rpm. It is standard on the Dodge Challenger SXT and SXT Plus. Next up, powering the Dodge Challenger R/T, R/T Plus, R/T Classic and R/T Shaker models, is a 5.7-liter HEMI OHV, 16-valve V8 with fuel saver technology and sequential, multiport, electronic, returnless fuel injection that makes 375 horsepower at 5,150 rpm while generating 410 pound feet of torque at 4,400 rpm with the manual gearbox. A 6.4-liter HEMI SRT OHV, 16-valve V8 with Sequential, multiport, electronic, returnless; automatic features Fuel Saver mode is the standard engine for the 6.4-liter Scat Pack and 392 HEMI Scat Pack Shaker model Challengers. Topping the lineup is the SRT 6.2-liter HEMI Hellcat V8 – also an OHV, 16-valver that is supercharged and cranks out 707 horsepower at 6,000 rpm and generates 650 pound feet of torque at 4,000 rpm. The 2015 Dodge Challenger SRT Hellcat is the most powerful muscle car ever produced.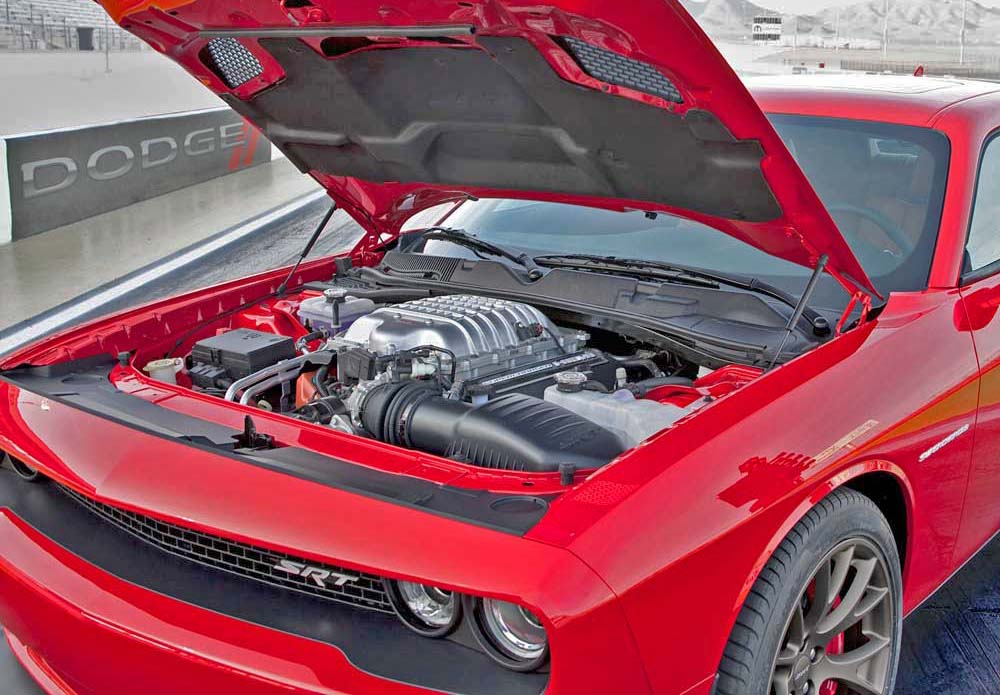 Transmissions include: a six-speed manual Tremec TR-6060 with a ZF-Sachs 240 mm Twin Disc Clutch – standard on all R/T models, the 6.4-liter Scat Pack and 392 HEMI Scat Pack Shaker (a ZF-Sachs 258 mm twin-disc clutch variant sees duty on the SRT Hellcat; a Torqueflite 845RE eight-speed automatic is standard for 3.6-liter Pentastar V6 Challengers; a Torqueflite 8HP70 eight-speed automatic is available to change gears on 5.7 liter and 6.4-liter HEMI V8 powered Challengers, while a Torqueflite ZF HP90 variant 8-speed auto is supplied for the Hellcat.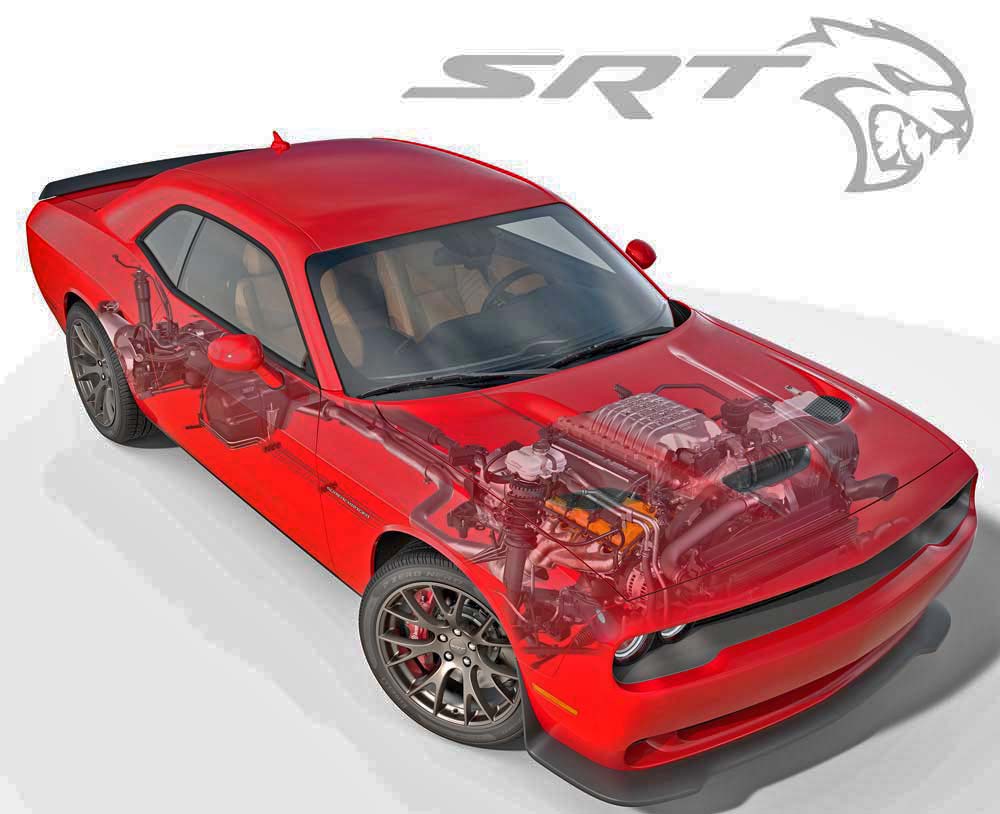 It is difficult to predict which 2015 Dodge Challenger model will wind up being the volume leader, but it will likely be one from the 5.7-liter V8 powered R/T lineup.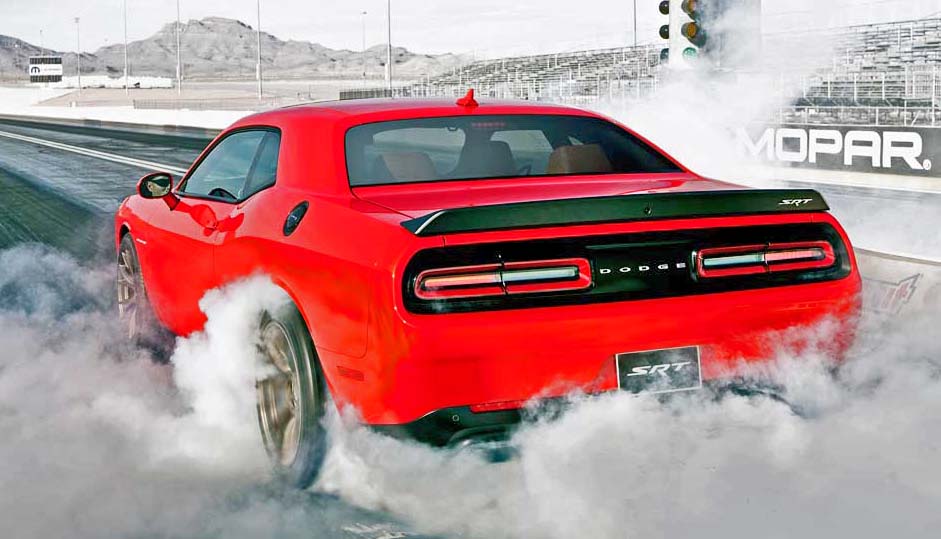 So, what's the appeal of the new Dodge Challenger? For starters, it's a real car with sporty, musclecar performance credentials, but it has a back seat and accommodates 5, it has a spacious trunk, it's easy to get into and out of, and it looks great. Okay, beauty is in the eyes of the beholder and somebody who owns a Hyundai Genesis coupe is going to like his or her car more. Never-the-less, it still looks great, featuring retro styling cues, but with a modern flair and contemporary touches. In essence, it celebrates the nameplate's muscle-car heritage, while displaying an authoritative Dodge attitude. 'Vette owners beware, the Challenger delivers more versatility and functionality while also serving up more muscle in the same price range. Granted the Corvette weighs less and in high-speed scenarios on a challenging road course it may fare better, depending on who's doing the driving.
Essentially, in terms of affordable high performance and practical attributes, the new Dodge Challenger is a "no-brainer".
In terms of its visual appeal, starting up front, the Challenger's all-new fascia design represents a sinister update of its 1971 inspiration. The power-bulge hood is larger, featuring more aggressive forward-located dual snorkel inlets for enhanced engine cooling, while an all-new vertical split-grille evokes the historic 1971 model. All-new quad projector headlamps give this Dodge muscle car a more detailed appearance, while a more aggressive brow "chops" the upper portion of the lamp design even more than before. Four halo LED headlamps display a cool glow from beneath the brow. Below, a wider trapezoidal front air dam and slimmer grille opening emphasize the coupe's width, while providing the necessary cooling. Integrated projector fog lamps are pushed to the corners, also accentuating width, while helping to illuminate the road, and a new duck-bill fascia spoiler helps to improve the vehicle's aerodynamics.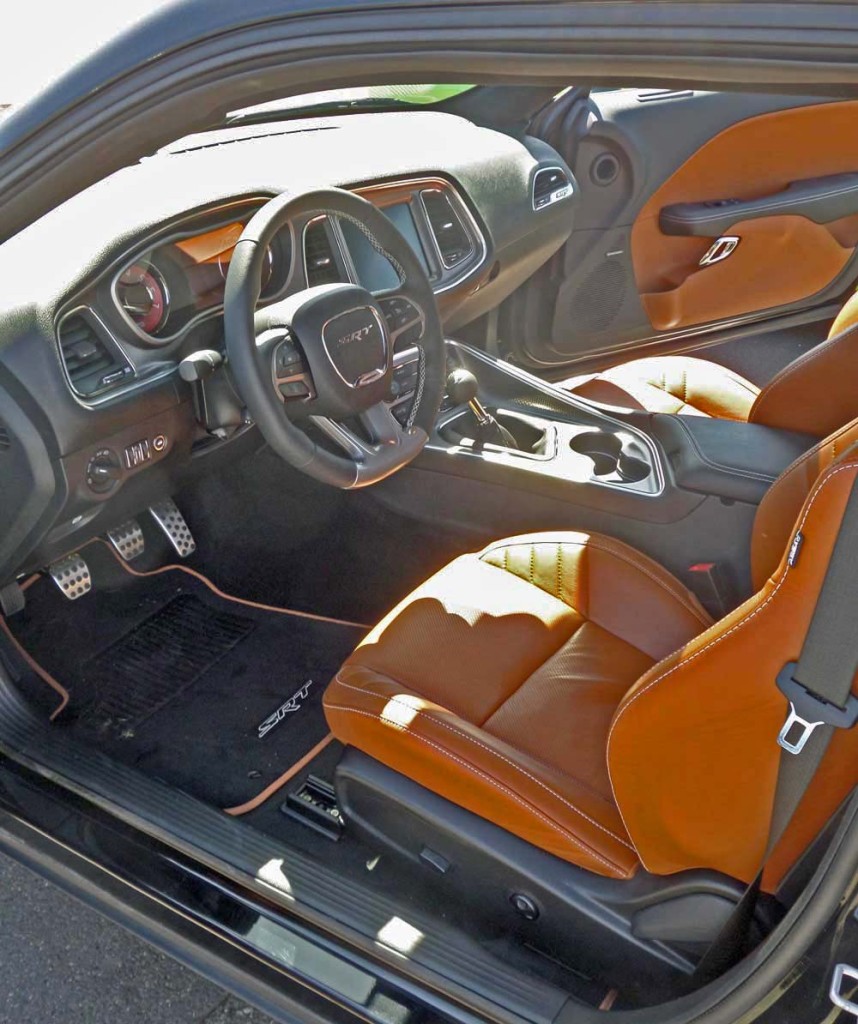 In profile, the 2015 Challenger's signature muscular proportions and large thruster rear-quarter panels stand out from the crowd, while fender and belt lines tie together at the front and rear of the car creating a sleek look. Black sills accentuate the proportions were re-tuned improving aerodynamics. Nine wheel designs are available to fill the wheel wells, including standard 18-inch satin carbon aluminum on the SXT and standard 20-inch Satin Carbon aluminum on the R/T. Hard-core enthusiasts, will likely prefer the new lightweight 20-by-9-inch forged aluminum wheel design finished in matte Hyper Black II, shod with three-season high-performance rubber to provide stellar road-holding properties. and a unique one-of-a-kind look.
Out back is a new split tail-lamp design and new rear fascia. Tail lamps feature Dodge brand's signature LED graphic with its smooth glow of LED lights. A redesigned rear valance gives a more planted on the ground impression, while fascia-mounted exhaust tips (with the Pentastar V-6 engine) provide an integrated look.
During the national media launch of the Challenger, I was able to get into an R/T 6.4-liter Scat Pack version with a Sublime exterior and Black interior. The base price was set at $37,495, while the final tally came to $47,860. I was able to experience wheel time on track at Portland's International Raceway in the same car (an automatic). I also was able to pilot an SRT Hellcat on track and later – also an automatic, and an SRT Hellcat finished outside in Pitch Black and featuring a Sepia and Black interior. The latter's base sticker was $59,995 while options bumped the final total to $65,365. I was not able to get behind the wheel of a V6 version or the SRT 392 HEMI.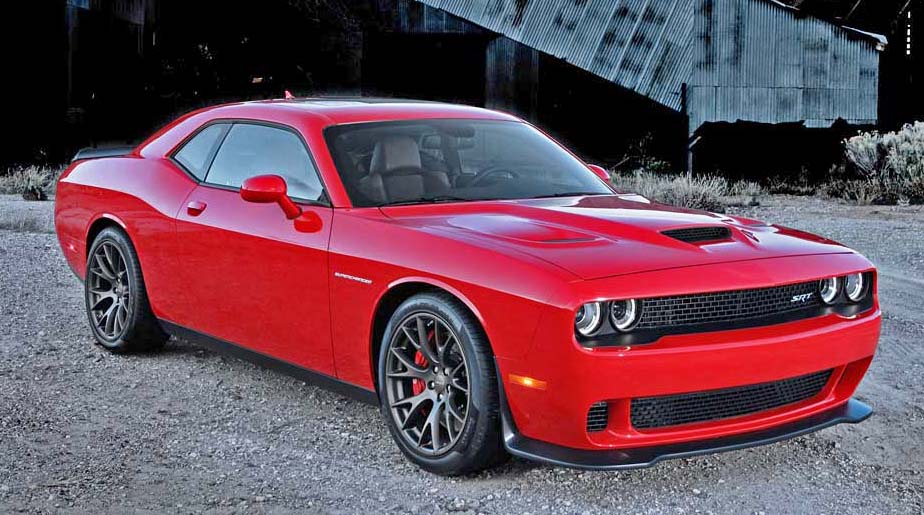 SUMMARY: Everything about this latest iteration Dodge Challenger combines to deliver a satisfying driving experience. The aura is definitely suggestive of the 1971 Challenger, while the technological updates reward the occupants with the latest in safety features, connectivity and infotainment. The automatic transmission's T-handle shifter is a nice throwback to the iconic pistol-grip shifter of yesteryear, yet modern in its execution. Perhaps the most memorable thing about the Challenger, aside from its blistering acceleration, is the intoxicating exhaust note. Romp on the accelerator, and you can't help but smile.
It's also a blast to nail the throttle off the line (using the launch control or not) and to light up the tires. Perhaps not a nod to frugality, but fun to slip and slide with no water needed. There was not only the opportunity to enjoy the prowess of the new Challenger on twisting roads and in freeway driving, but on track and on the drag strip, where the risk of receiving a reward from "Officer Friendly" for excessive sped or reckless driving was non-existent.