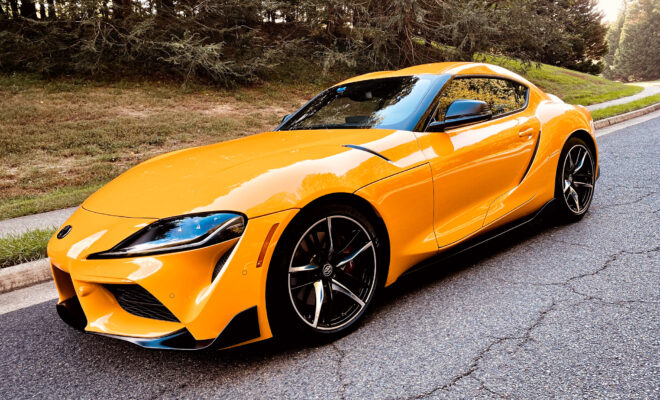 TEST DRIVES
We love the 2021 Toyota GR Supra
By
|
Toyota introduced the Supra in 2020, a completely new model, twenty-one years after the last Supra left the United States and we had the pleasure to drive it during the 2021 Carsfera Auto Fest this year.
The new Supra is a curious mix of German and Japanese parentage, since its bodywork is shared with the BMW Z4, including its engine and gearbox.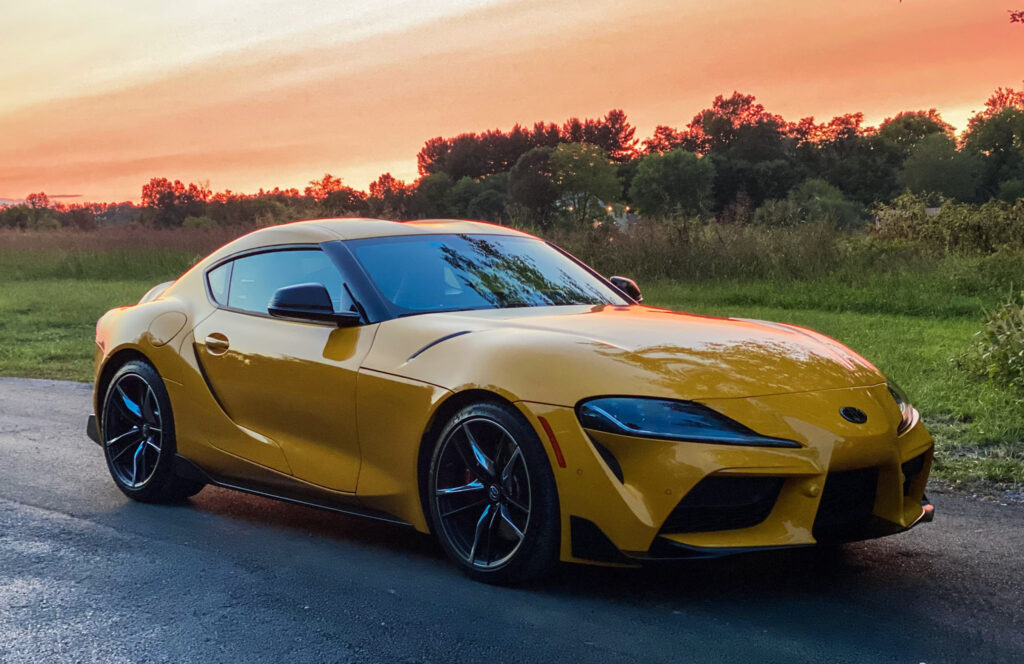 GR stands for Gazoo Racing, and the one we drove was a GR, a motorsport-influenced signature for special vehicles, an addition to the Supra moniker, which means that this car is important to the Japanese automaker's image.
Styles and options
The new 2021 Toyota Supra is a two-seat sports coupe, available in four models: The base 2.0, 3.0, 3.0 GR (the one I tested), and A91 Edition.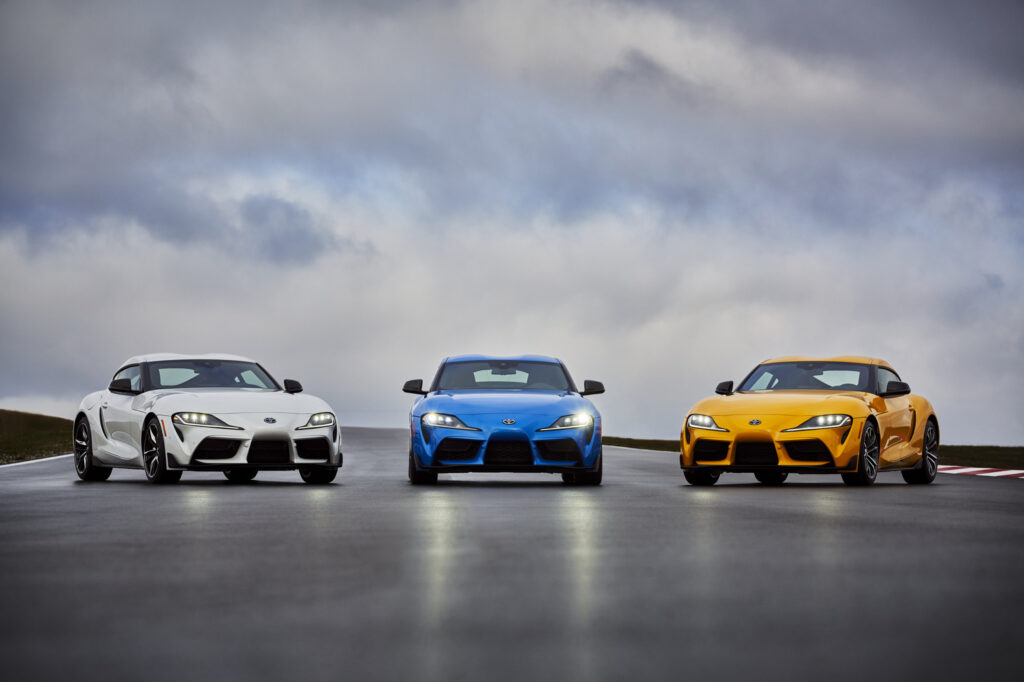 Standard highlights for the base 3.0 include 19-inch wheels, LED headlights, adaptive suspension dampers, dual-zone automatic climate control, simulated leather and suede upholstery, and power front seats with driver's seat memory functions. .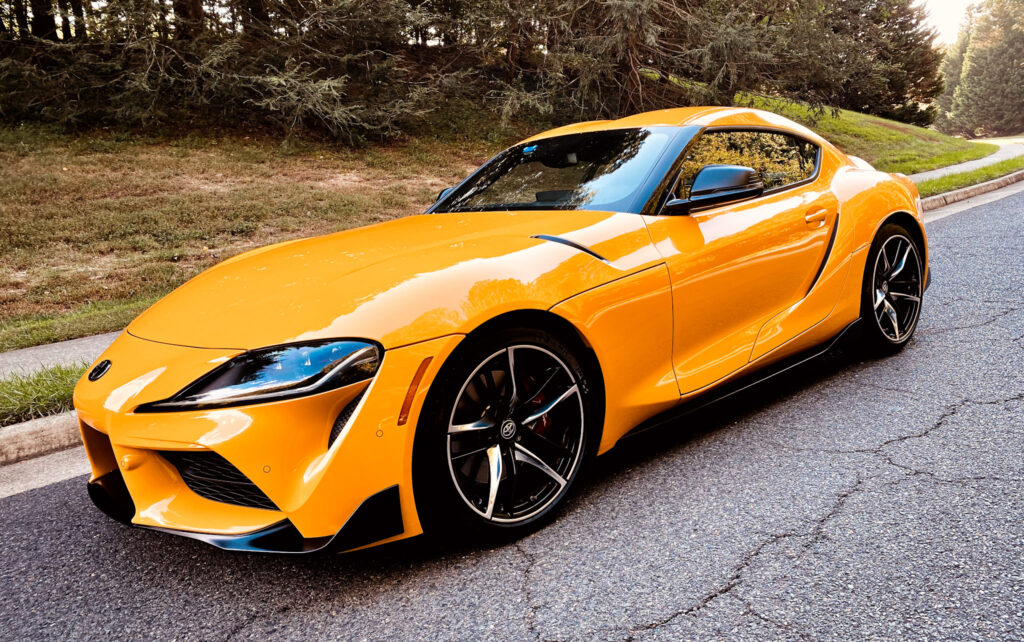 It also comes with a 6.5-inch infotainment touchscreen, a 10-speaker audio system, forward collision warning with automatic emergency braking, lane-keeping assist, and automatic high beams.
Optional for the 3.0 is the Navigation + JBL package that adds an 8.8-inch touchscreen, navigation, wireless Apple CarPlay, a 12-speaker premium JBL audio system, and Toyota remote services.
The 3.0 Premium brings the aforementioned and adds upgraded rear brakes, full leather upholstery, a front screen, wireless charging, and heated seats.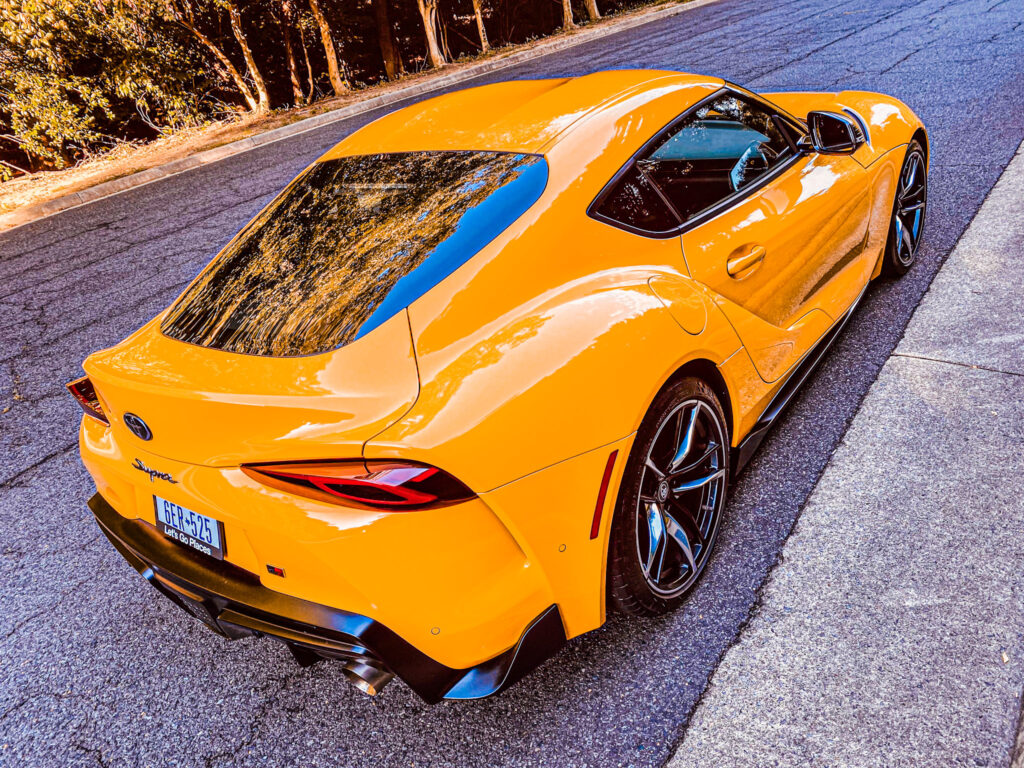 The A91 Edition version loses the front screen of the Premium, but adds carbon fiber exterior mirrors, carbon fiber rear spoiler, leather seats and synthetic suede with blue stitching, sport pedals.
On the road…
The 2020 Toyota GR Supra brought the revered model back in a blaze of speed, with acceleration and handling performance that outshone even its illustrious A80 predecessor. For 2021, Toyota is keeping the pedal down, boosting output of the Supra's turbocharged 3.0-liter inline-six from 335 hp at 5,000-6,500 rpm to 382 hp at 5,800-6,500 rpm, a 14-percent increase. Torque rises from 365 lb.-ft. at 1,600-4,500 rpm to 368 lb.-ft. at 1,800-5,000 rpm.
The increased output results from a slew of upgrades throughout the engine. The new dual-branch exhaust manifold, with six ports instead of two, improves airflow and heat management. A new piston design reduces the engine's compression ratio from 11:1 to 10.2:1 in order to prevent abnormal combustion due to high boost.
The greatly revised engine produces higher torque at higher rpm and retains the eagerness to rev with turbine-like smoothness. Toyota projects that the new engine will reduce the Supra 3.0 model's 0-60 acceleration time to 3.9 seconds, down from 4.1. The 8-speed automatic transmission with paddle shifters carries over for 2021. Even with the power boost, GR Supra 3.0 grades will achieve an estimated 25 mpg combined (22 city/30 highway/25 combined).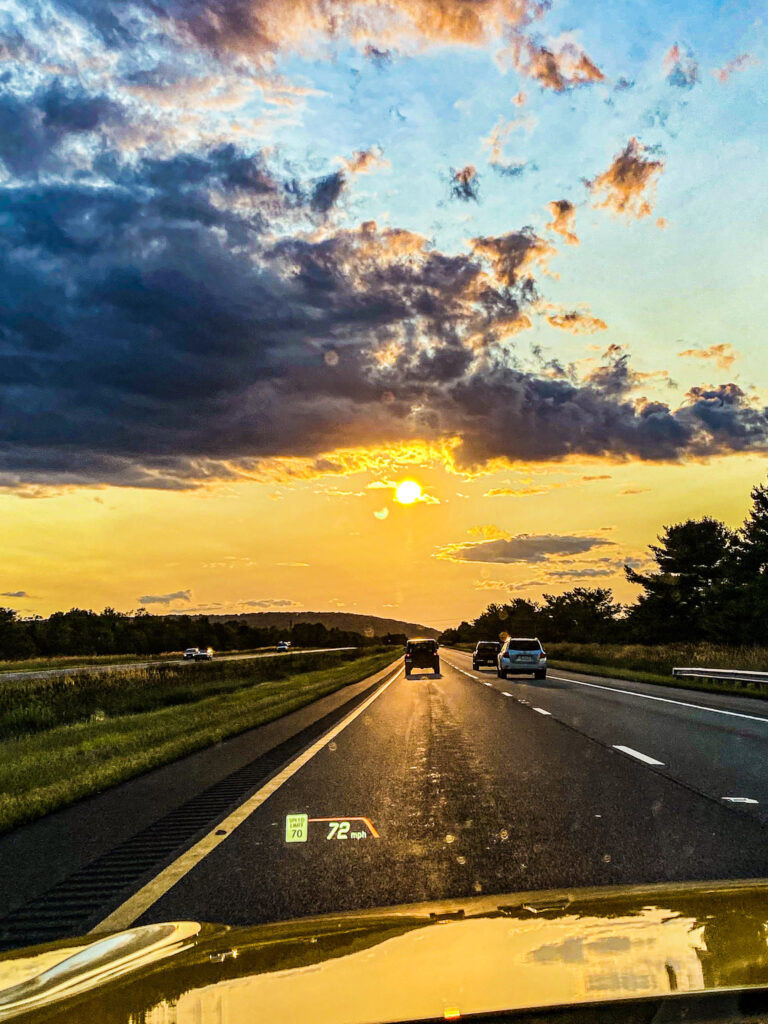 Interior Style
The interior styling has the treatment of a high-end sports car, it even smells like a new BMW.
The doors on the Supra are slightly shorter than average and quite light. If you are tall, watch your head when entering, but at least the seat cushions do not impede access.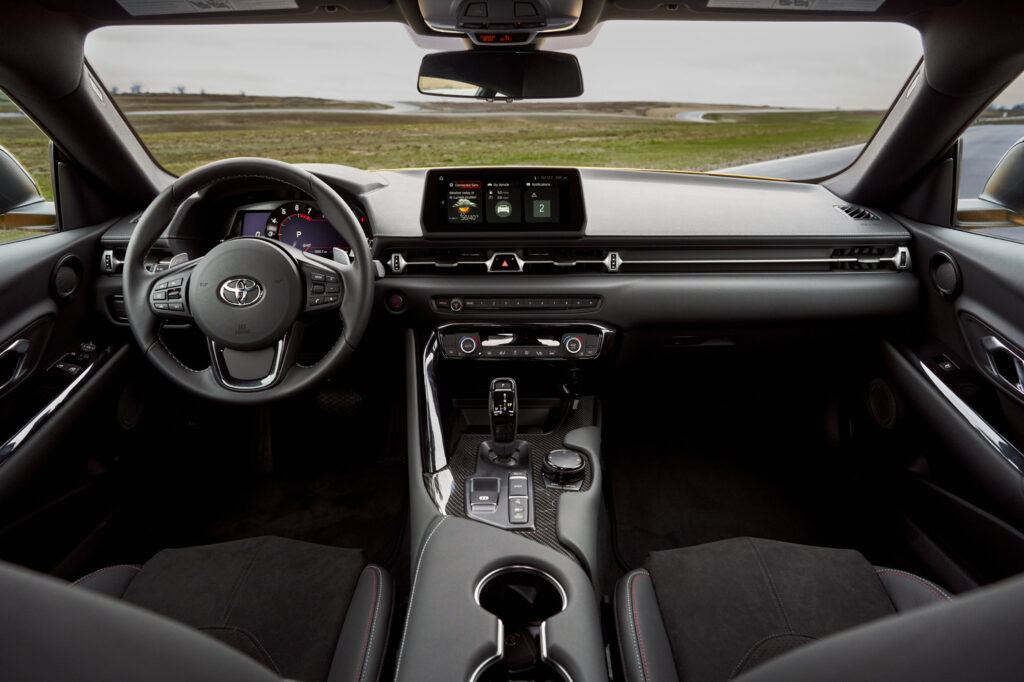 The seats provide excellent support, but you might find them a bit confined around your shoulders.
Overall, spaciousness isn't this car's greatest strength. The leather upholstery is not the best on the market, but its quality is very good.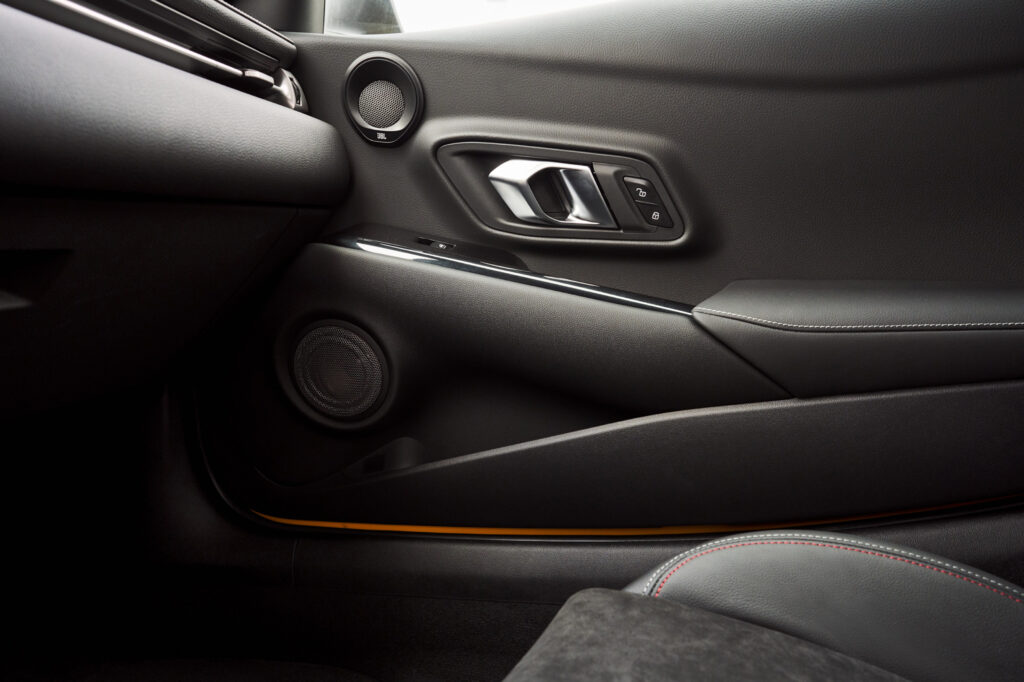 Sports cars generally get compromised when it comes to cargo space, and the Supra is no exception. At 10.2 cubic feet, the Supra's trunk has less space than the Porsche Cayman and BMW M2.
Technology
Those familiar with the old BMW iDrive system will feel right at home with the Supra infotainment and entertainment system.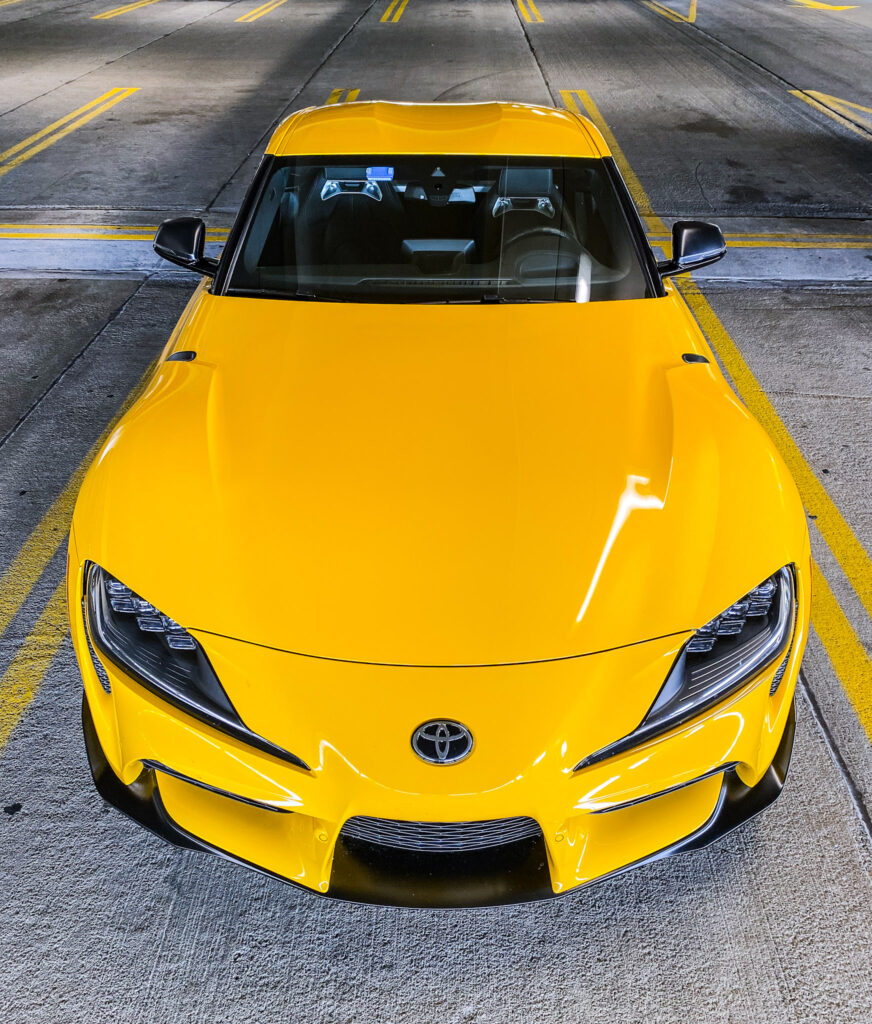 But if you are a new user, you will need to familiarize yourself with the system menu layout. All other controls are pretty straightforward.
As for integration, there is a USB port, an optional wireless charger, and wireless Apple CarPlay. Android Auto is now offered.
The audio quality is good, but it lacks the fullness that we would expect from a system that could be better.
Safety and Technology
The Safety and Technology Package is new for MY21 and will be available on the 2.0 and 3.0 grades. That package includes:
Dynamic Radar Cruise Control (Full speed)
Blind Spot Monitor (BSM)
Rear Cross Traffic Alert (RCTA)
Parking Sensors with Emergency Braking Function
Navigation
12-speaker 500-watt JBL Audio System
Wireless Apple CarPlay® compatible (iOS only)
Supra Connected Services: up to four-year trial includes Remote Services, Remote Maintenance, Automatic Emergency Call, Real Time Traffic Information, Concierge, Stolen Vehicle Recovery, and Map Updates.
The Driver's Assist Package will still be an available option on the 3.0 Premium and A91 Edition. That package includes:
Dynamic Radar Cruise Control (Full speed)
Blind Spot Monitor (BSM)
Rear Cross Traffic Alert (RCTA)
Parking Sensors with Emergency Braking Function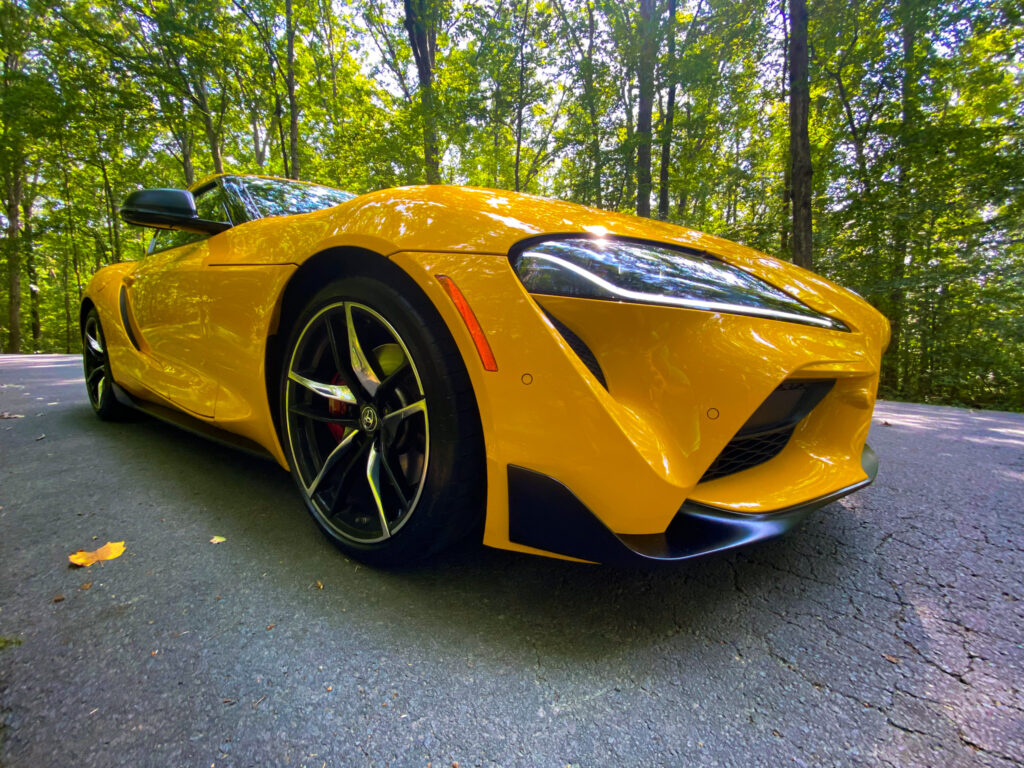 On the highway
The old Supras did not have as agile handling as this modern model and might be because of the combination of the Z4 and the Supra in one body.
If we look at the car we noticed the influence of Toyota in the aggressive design and the aerodynamic body work that allow the car to gain extra power due to the aerodynamic lines and air flow exits.
If we look at the BMW brand we get something really special, the dynamic steering from the BMW cars which allow the car to perform and high speeds and make every corner a pleasure to cruise.
Its turbo engine is just a gift to those drivers looking for fun and performance.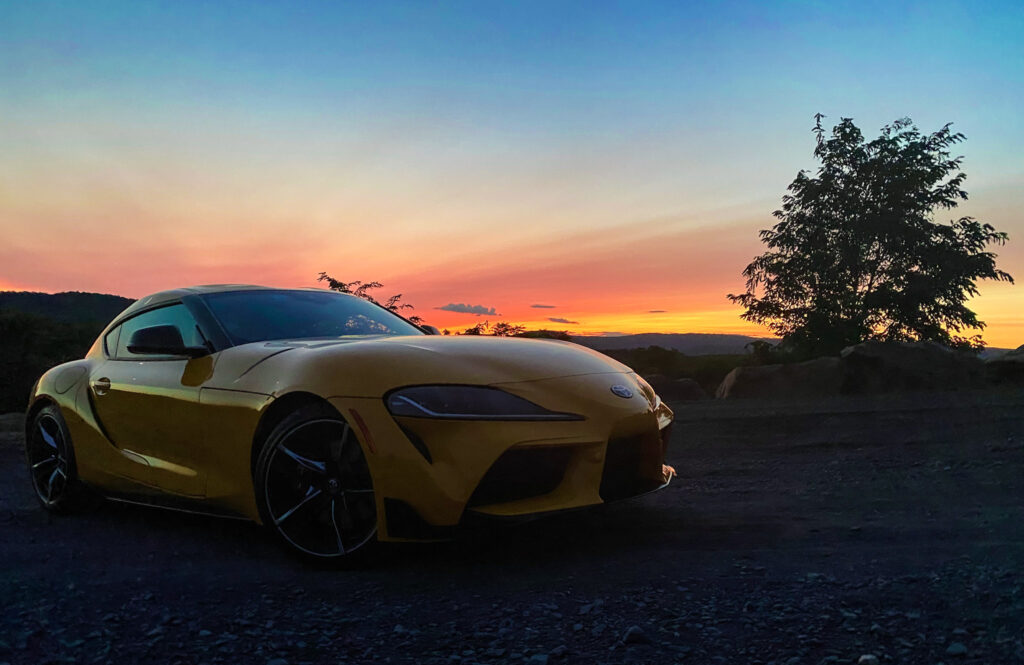 Conclusion
We love the time behind the wheel in the Supra. It is quiet, comfortable and offers excellent road grip making it the perfect vehicle for long trips, and back road fun. In our opinion, it strikes the right balance between sportiness and comfort. That's why we'd recommend the 2021 Toyota Supra 3.0 for buyers who want to feel the car instead of riding in boring luxury.