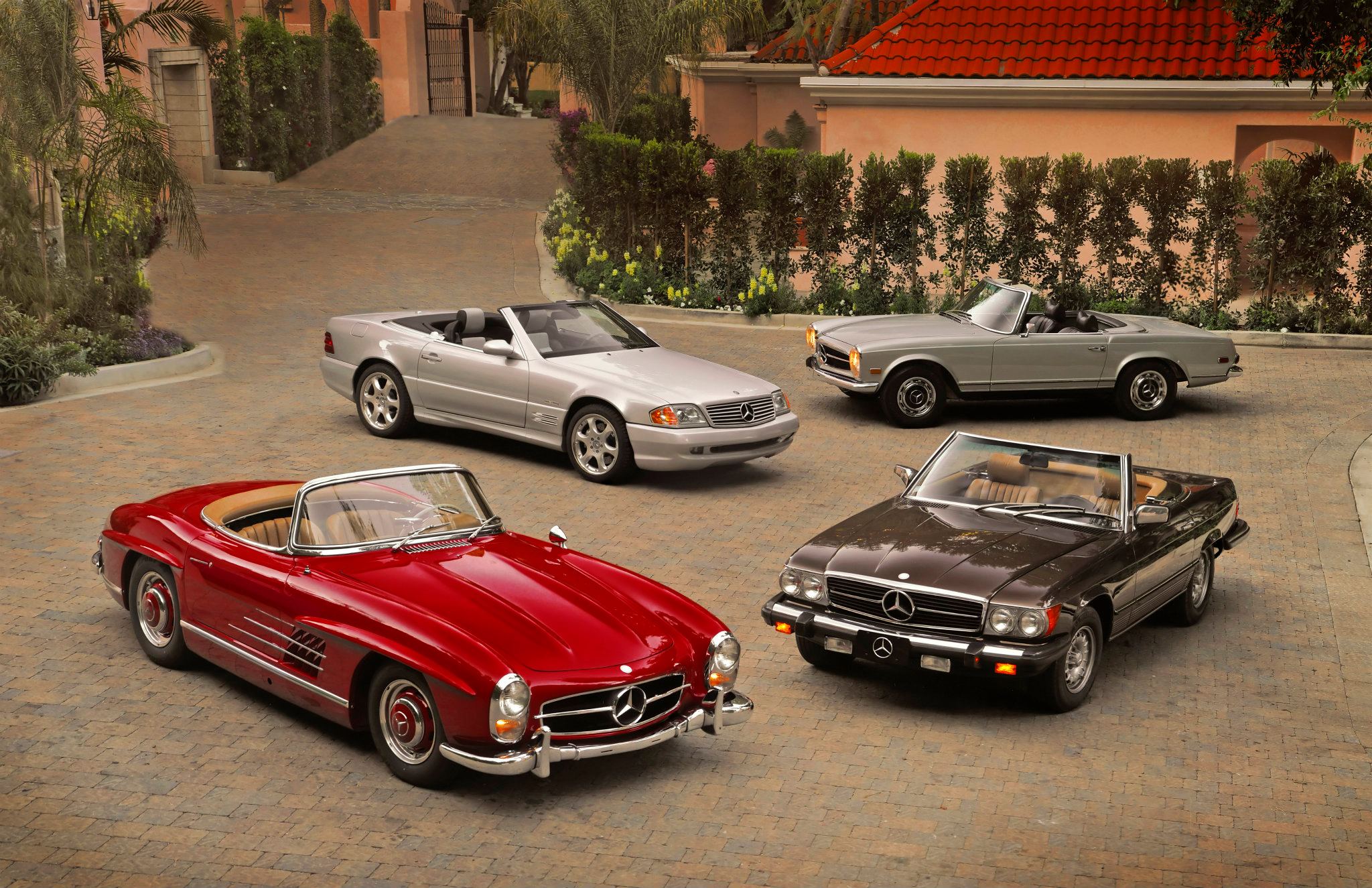 TEST DRIVES
The Classic Mercedes-Benz SL: An Icon for 60 Years
By
|
"A land of 1,000 stars and a million memories, our cars have been driven for 60 years by movie stars. This is pretty much one of our most iconic cars," noted Geoff Day, Director of Communications at Mercedes-Benz USA.
We were at the launch of the 2013 Mercedes-Benz SL at the equally iconic Hotel Bel-Air in Beverly Hills, California. Bel-Air, also in operation for six decades, is a noted destination for Hollywood celebs, intellectuals and world dignitaries. The property has been a refuge for luminaries like Marilyn Monroe, Howard Hughes, Grace Kelly, Tony Curtis, Oprah Winfrey, Nicole Kidman and Michael Jackson.
Hotel Bel-Air completed a major, two year overhaul in 2011 and updated the technology–adding phones with touch screens and iPads to order room service, improving cell-phone coverage and adding mood-lighting switches and multi-head showers. However, the renovation did not diminish the old-world charm that makes Hotel Bel-Air so special. The Spanish-Colonial style architecture with arches, winding paths with fountains, magnificent aging trees and a man-made lake (inhabited by three swans) have remained intact.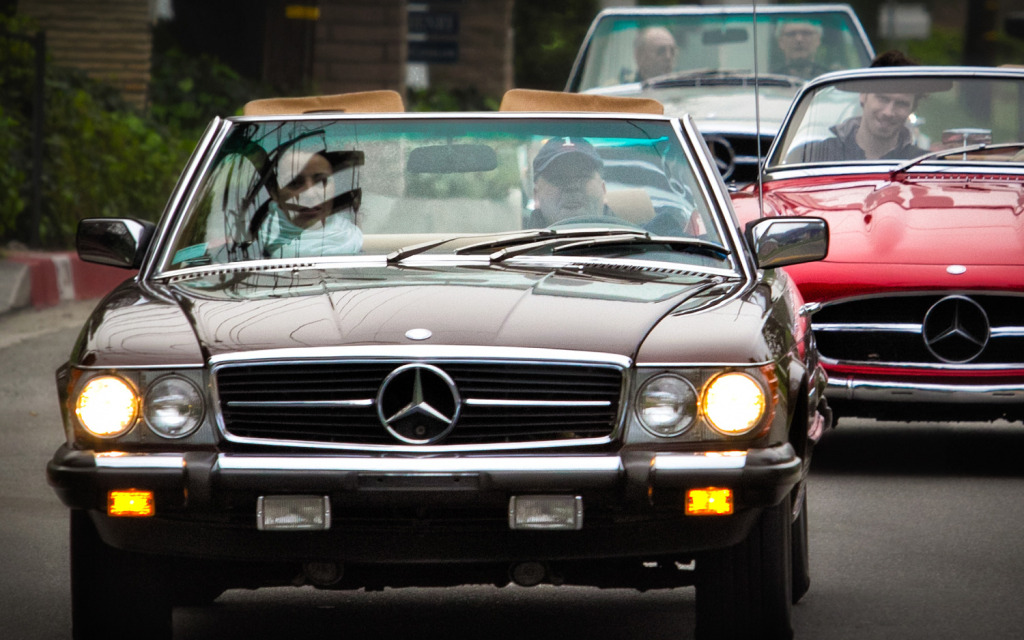 And like Hotel Bel-Air, the Mercedes-Benz SL series has continued to renew its attributes with enhancements that have retained its elite heritage while improving the technology to make life easier (and faster!). To follow, the magnetic history of a vehicle that still draws stars…and stares.
W 198 series 1954-1957
The first street version of the 300 SL "gull wing" was given the thumbs up by celebrities such as Pablo Picasso, Sophia Loren and Zsa Zsa Gabor. The SL (abbreviation for super and light) was immortalized in Andy Warhol's 1980's series of car paintings.
Inside Story:
300 SL Coupe
16 cylinders
0-60 10 seconds
Top speed 155
W 198 ll 1957-1963
In the late 1950's/early 1960's Mercedes-Benz launched the open top SL Roadster, the first-series production Mercedes-Benz available with safety belts and disc brakes (in 1961).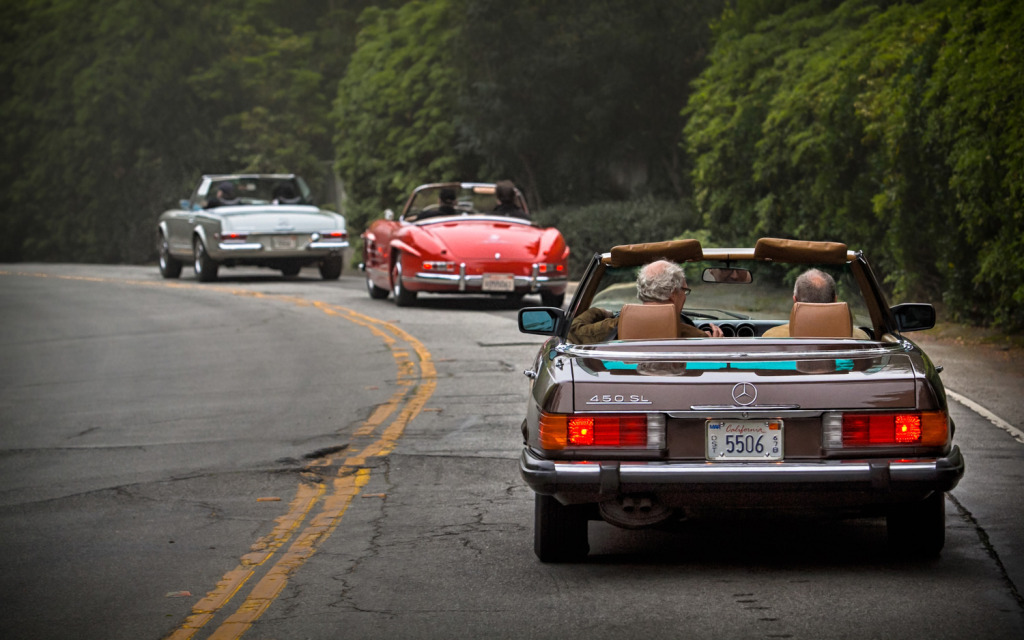 Luminaries including Gina Lollobrigida, the Shah of Iran, Elvis Presley and Clark Gable owned the classic roadster. A total of 1,858 units were produced.
Inside Story:
300 SL Roadster
16 cylinders
0-60 10 seconds
Top speed 155
W113 1963-1971
The W113 series SL Roadster is noted as the world's first sports car with safety bodywork and the first European roadster with power steering and automatic transmission. The SL Roadster was nicknamed "Pagoda" due to its slightly concave hardtop that resembled an Asian temple.
Owners included Charlton Heston, Peter Ustinov, John Lennon, John Travolta and Kate Moss.
It's worth mentioning that the two-seater also starred in "10" with Dudley Moore and Bo Derek (1979); "Life or Something Like it" with Angelina Jolie (2002) and "Frost/Nixon" with Frank Langella and Kevin Bacon (2008).
Inside Story:
280 SL
16 cylinders
0-60 9.0 seconds
Top speed 124
R 107 1971-1989
The SL Roadster encompassed the first four-spoke safety steering wheel, large headlamps, ABS (in 1980) airbag and seatbelt tensioner (1982). With 18 years of production, this generation of SL is one of Mercedes-Benz's longest running model ranges.
This series was the car of choice for Bobby Ewing in the TV show Dallas (1978); Sharon Stone driving a white one in "Casino" (1995) and Richard Gere choosing black in "American Gigolo" (1980).
Inside Story:
560 SL
V8
0-60 7.7 seconds
Top speed 139
R 129 1989-2001
The R 129 series SL introduced the world's first automatically extending rollover bar, which deployed in 0.3 seconds in an emergency. The electro-hydraulic top could also be opened or closed in less than 30 seconds.
By 1992 the two-seater was available with a twelve-cylinder engine! The sports car starred in "The Rookie" with Clint Eastwood in 1990 and "Heartbreakers" with Sigourney Weaver and Gene Hackman in 2001.
Inside Story:
600 SL
V12
0-60 6.1 seconds
Top Speed 155
230 R model series 2001-2012
A fully retractable roof made of steel replaced the soft-top and removable hardtop to make the 230 R series a year-round vehicle. Mercedes-Benz also added the AIRSCARF neck-level heating system. Ahhh….
Inside Story:
SL 600
V12
0-60 4.5 seconds
Top Speed 155
R231 2013
At 275 pounds lighter than its predecessor, this generation SL delivers 12 percent more power and 32 percent more torque. New technologies include all-aluminum construction, a front bass system for a concert hall top-down experience, and MAGIC VISION CONTROL windshield wiper system that cleans the windshield without slamming the view by directing the spray through tiny holes. The panoramic retractable hard top with MAGIC SKY CONTROL uses an electrical charge that flows through the glass panel, gives that top down feeling in clear mode and when darkened, prevents the interior from overheating in strong sunlight.
Inside Story:
SL 550
V8
0-60 4.5 seconds
Top speed 130
– Article by Holly Reich