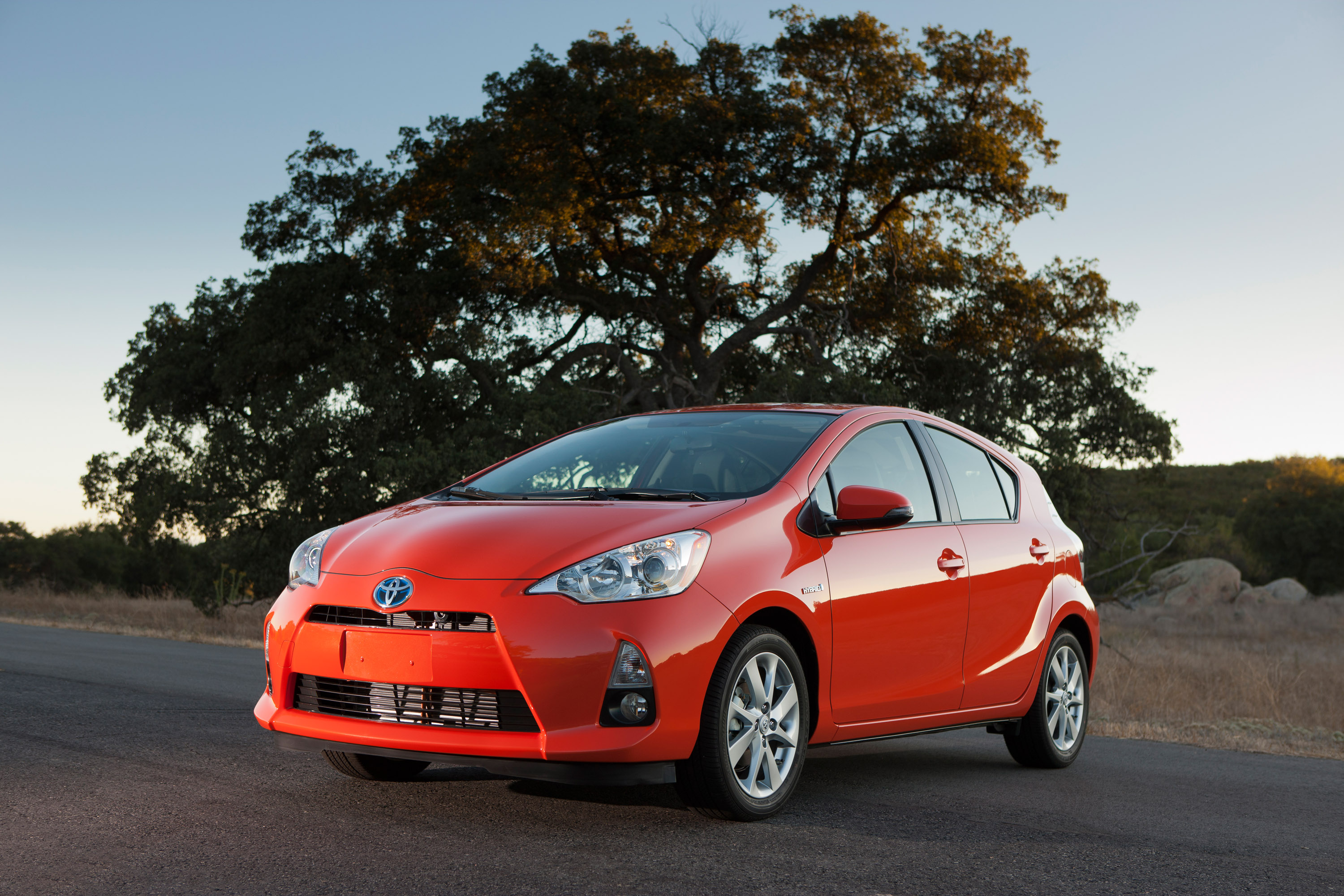 TEST DRIVES
2012 Toyota Prius c: Commuting Bliss
By
|
In 2000, Toyota in the U.S. came forward with a broad stroke, creating the then unique Prius Hybrid. Remember, this was pre-9/11, pre-auto industry crash and pre-$4 a gallon gas nightmares. But Toyota has always been a company with great vision, and their crystal ball showed that Americans (and indeed buyers worldwide) would snap up this emerging technology given the right mix of performance, comfort and efficiency.
The 2001 Toyota Prius went on sale in August, 2000 with an MSRP of $19,995. It featured a 70 horsepower engine with a 274 volt battery, and sported EPA mileage numbers of 52 mpg city and 45 mpg highway.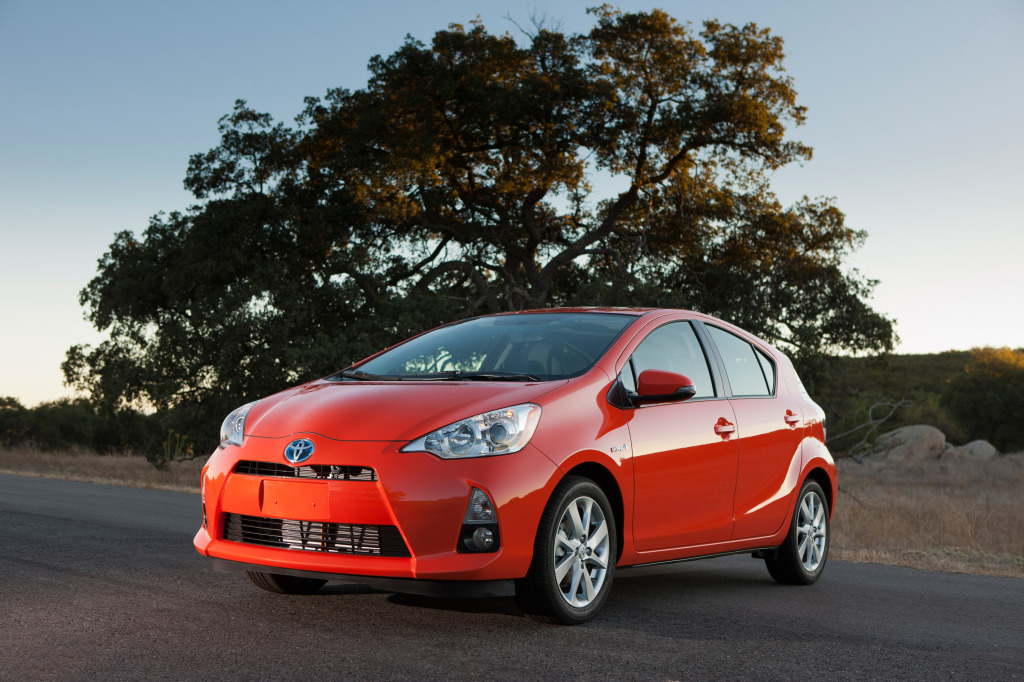 But it wasn't until the second generation Prius was launched in October, 2003 as a 2004 model that the lore of this automobile was set.
With radical styling, the second gen Prius screamed "I am Green." It boldly announced that you cared about the world and its finite fossil fuel resources. Suddenly, celebs ditched their Bentleys for Priuses. State governments created special rules for hybrids allowing them to use HOV lanes during rush hours, and literally, the "rush" was on.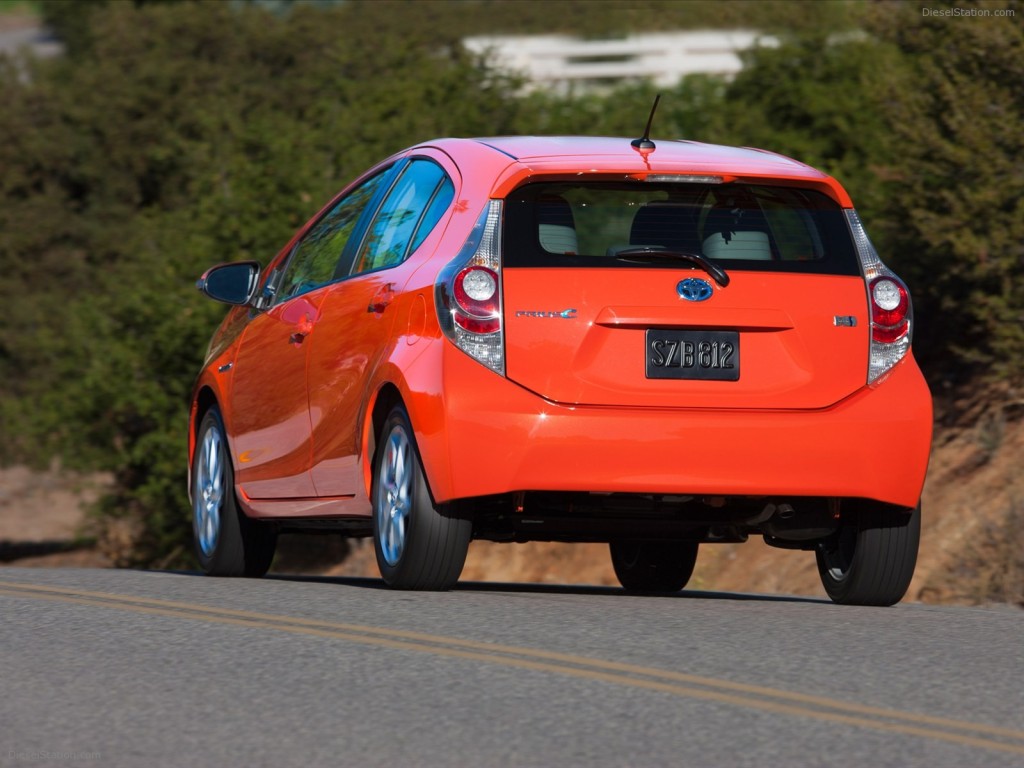 Toyota has sold 2.5 million Prius models worldwide since its Japanese intro in 1997, and 1.1 million in the U.S. Remarkably, given its new technology, some 96% are still on the road. The Prius has won just about every major car of the year, engineering and design award over its short life span.
There are three models of the Prius with its patented "Hybrid Synergy Drive" now on the market: The original Prius Liftback, the Prius v Crossover, and now the diminutive Prius c. Expect the Prius Plug-in Hybrid to be released soon.
Del Ray, Florida served as the backdrop for the launch of the Prius c, where the "c" stands for city. It's the perfect urban commuter, and would serve well on long distance trips as well, given the generous 17.1 cubic feet of rear storage room.
The Prius c comes in four trim levels: One, Two, Three and Four. Prices start at a pretty amazing $18,950 and escalate to $23,230 for the "Four." One models feature power window and door locks, automatic climate control, multi-information display, hill start assist control, keyless entry, projector beam halogen headlights, steering wheel-mounted audio and voice controls, USB outlet, Bluetooth, and more. Each successive trim levels bumps up the ante a bit until you get to level Four, with Display Audio with Navigation and Entune telematics, Touch Tracer display, Softex trimmed seats, push button start and more. No matter the trim level, this vehicle is well equipped for urban driving, though I'm not completely sold that the $4280 price difference between a One and Four is worth the added cost. I think most will shop, buy and be happy with trims Two and Three.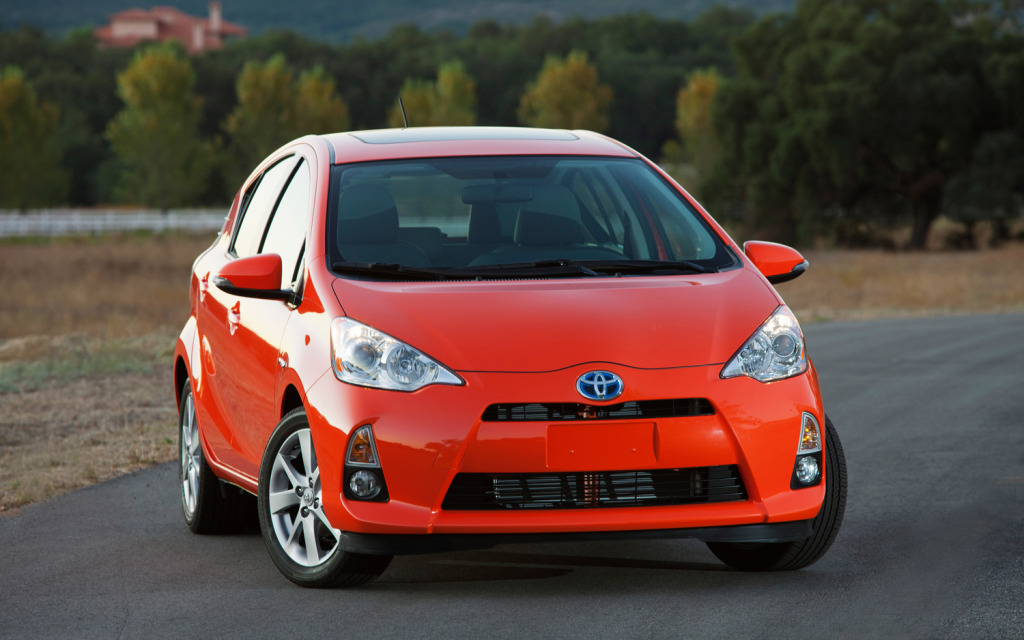 Styling is not as radical as the Liftback or the "v," and I like that. You can now make your green statement without visually shaking up the whole neighborhood. Though stubby, the Prius c is quite handsome, with a sharply flowing roofline, sculpted sides and nicely integrated taillights. Low coefficient of drag (.028) and vortex generators contribute to high speed stability often lacking in short wheelbase vehicles. The interior even earns style points, with a unique "60-60" dash and center console that gives the impression that 60 percent of what's important (controls for comfort and convenience) are on the driver and passenger side at the same time. Sounds weird, but it works. The up trim level Softex seats are comfortable and supportive, even for an off-the-charts sized guy like myself (6'9" 250 pounds).
Staying inside, I particularly like the Entune telematics. The navigation system works well, and shows route signs and offers lane guidance. Big on apps with your smartphone? Entune can seamlessly integrate your smartphone into "Display Audio," which not only shows audio functions but your favorite apps like Bing and Pandora. I've only got a few quibbles about the interior: The seatbelt anchors are not adjustable, and with my height I found the shoulder belt was always too low and slipping off of my shoulder; Toyota has incorporated small storage areas right in front of the driver, which seems like a recipe for disaster given the chance someone will reach through the steering wheel to get their gear; and the Prius c's center gauge/info cluster hood sits a bit low, making the display hard to read for tall folks.
Speaking of the gauge/info cluster (known in Toyota speak as the "Color Multi-Information Display), it's really comprehensive, and has the latest gee-whiz tech to show you just how efficient the Prius c is. For example, you can input the price you paid for gasoline and the computer will show you how much your trip just cost, and what the cost per mile is. You can compare this to other vehicles by inputting their EPA estimated fuel economy, which for the Prius c is 53 city/46 mpg highway.
Prius c also proves that being an itty bitty guy does not mean being unsafe. Nine airbags, including innovative seat cushion airbags that deploy front row occupants upwards to keep you from submarining under the belts, are part of an extensive safety suite. Traction and stability control, electronic brakeforce distribution with brake assist, and "Smart Stop Technology" (SST) are impressive standards across all trim levels. SST automatically reduces engine power when both pedals are pressed at the same time under certain conditions. No "runaway vehicle" worries with the Prius c.
There's also an impressive amount of engineering built into the "c." Lots of attention has been paid to reducing noise, vibration and harshness, and the Prius c is remarkable quiet. Other tech goodies like electronic braking and electric power steering belie the c's low MSRP.
On the road, ride quality is excellent and outward vision unfettered in any direction. There's plenty of power on tap for acceleration and lane changing. Be sure to toggle between "EV" and "ECO" modes as you learn how to most effectively get the most for your fuel dollars.
I challenge you to find a more complete, safer urban commuter at this price point. Congrats Toyota. This new Prius c is extremely well done.
– See more at: http://autoworldguide.com/content/2012-toyota-prius-c-commuting-bliss#sthash.kGuzQBPD.dpuf