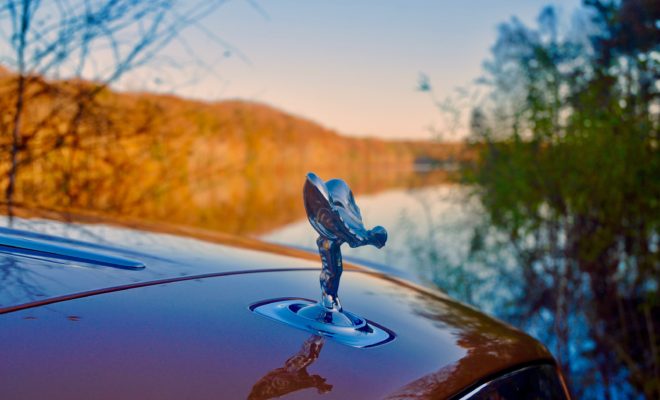 NOW TRENDING
Rolls-Royce Dawn: Impeccable Drop-head
By
|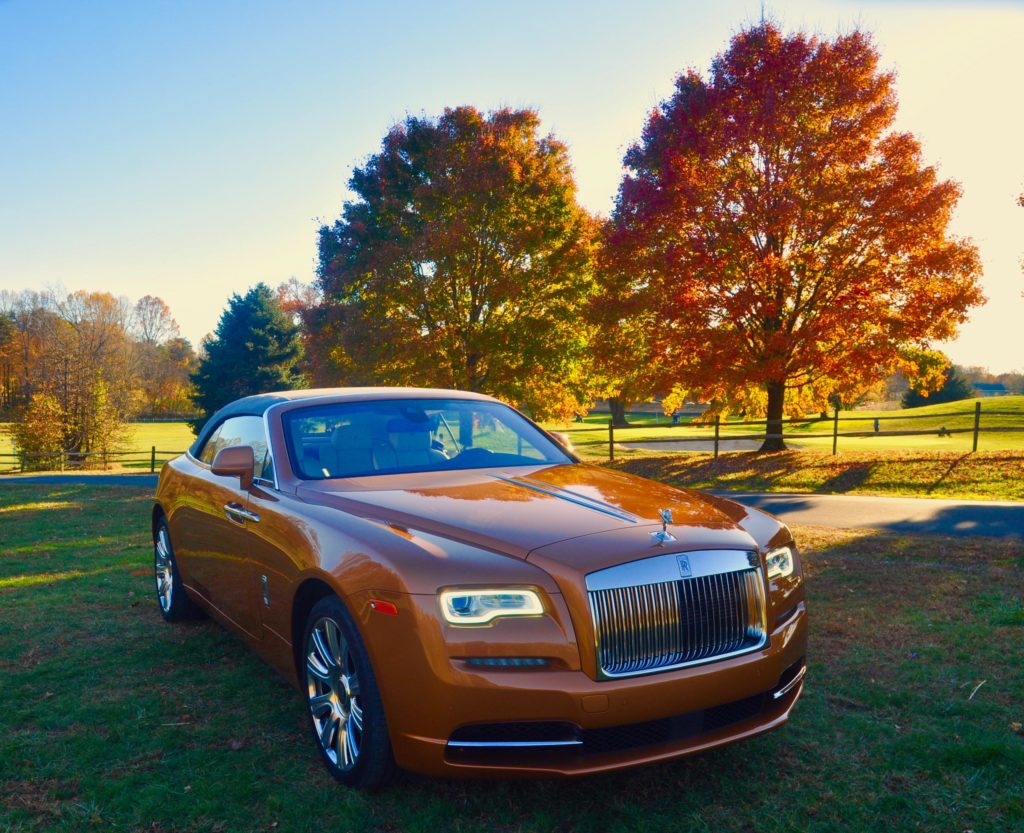 "Of the things we fashioned for them that they might be comforted, dawn is the one that works." 
― John Banville, The Infinities
Yes Mr. Banville, the Rolls-Royce Dawn is hand fashioned in Goodwood, United Kingdom, and it works very, very well.
But Dawn is not for everyone. First and foremost, the price of admission is high. My Tuscan Sun over Seashell leather tester costs more than $390,000. I recently drove a very competent and capable Honda Civic with a base price of about $20,000. You can buy 19 Civics for the price of one Dawn. But the Dawn and indeed the whole Rolls-Royce experience is not about fuel economy and pedestrian transportation, it's about driving or being driven in some of the world's finest motorcars.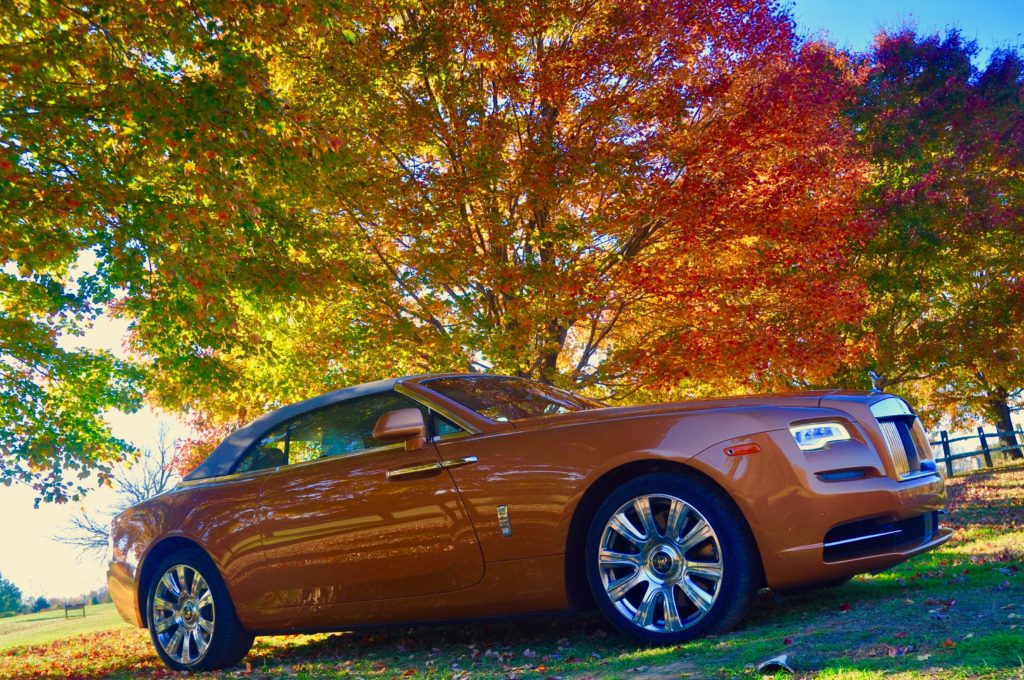 The history of this storied brand dates back to 1904 when Henry Royce was introduced to Charles Rolls in Manchester, United Kingdom. Royce ran an electrical and mechanical business, while Rolls was one of Britain's first car dealers. The thing that brought the two men together, however, was the two-cylinder Royce 10 that was made by Henry Royce in 1904.
In 1906, the two entrepreneurs formed Rolls-Royce Limited and started to look for an appropriate location for a car production factory. They considered several locations including Manchester where Royce had a factory but they eventually decided on Derby. The Rolls-Royce factory in Derby was designed by Royce, while the production began in 1908.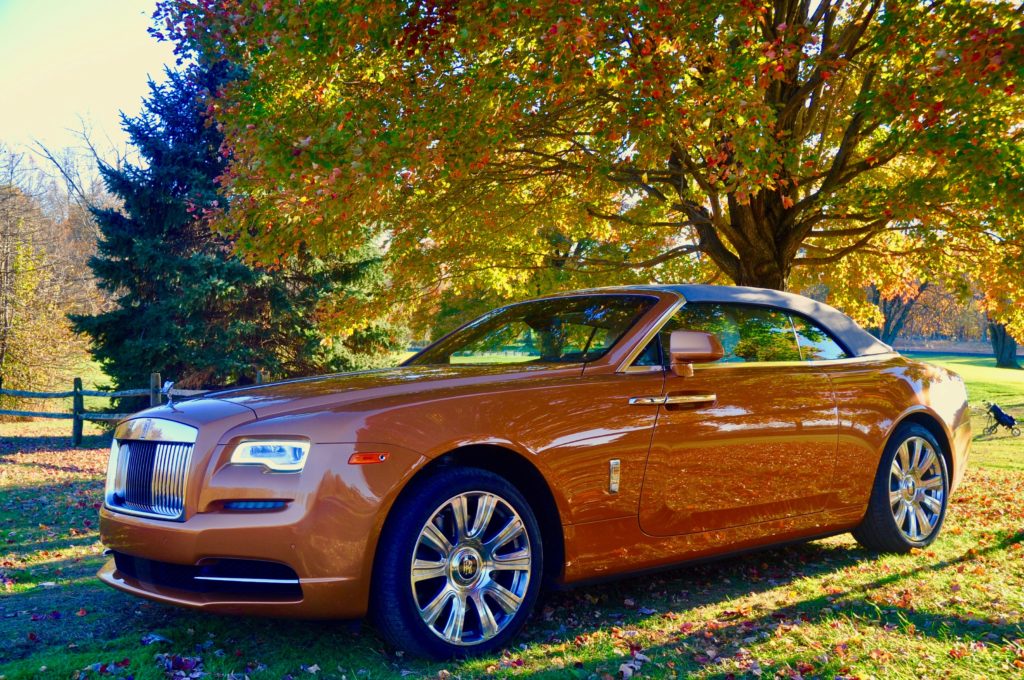 Rolls-Royce acquired Bentley in 1931. Bentley's factory in Cricklewood was closed and the production was moved to Rolls-Royce's facilities in Derby. Until WWII, Bentley was kind of a sporty version of Rolls-Royce. After the end of WWII until 2002, the standard Bentley and Rolls-Royce models were virtually identical.
Rolls-Royce Motor Cars Limited was eventually sold and today is a wholly owned subsidiary of German automaker BMW. Rolls-Royce Motor Cars Limited operates administrative and production facilities opened in 2003 across from the historic Goodwood Circuit in Goodwood, West Sussex, England, United Kingdom. Rolls-Royce Motors Cars Limited is the exclusive manufacturer of Rolls-Royce branded motor cars since 2003. Although the Rolls-Royce brand has been in use since 1906, the Rolls-Royce Motor Cars subsidiary of BMW AG has no direct relationship to Rolls-Royce branded vehicles produced prior to 2003.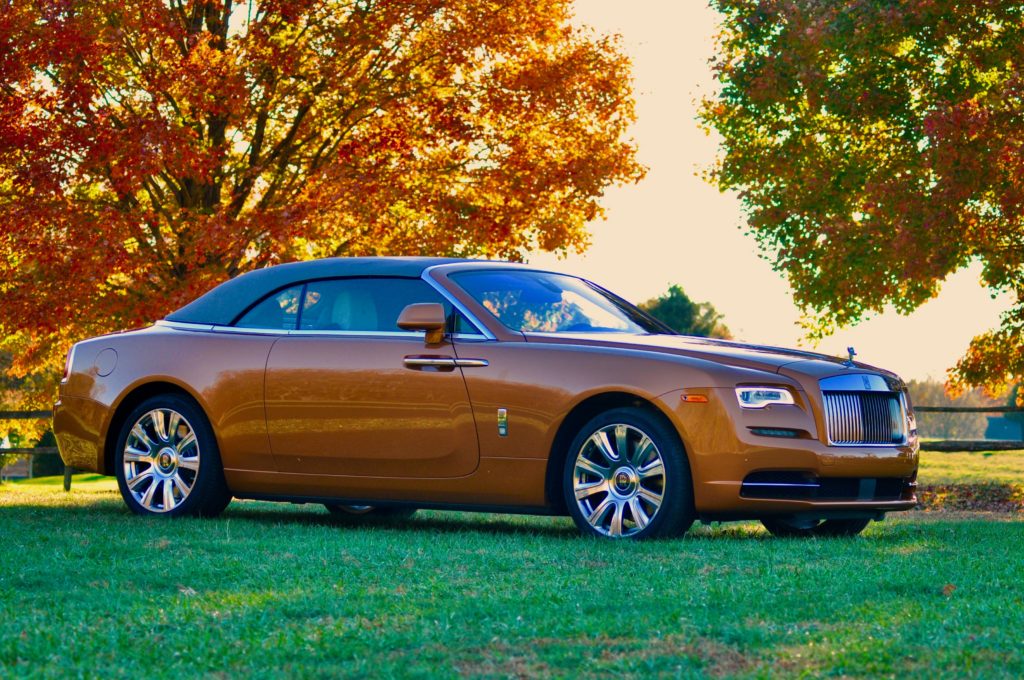 The Rolls-Royce Phantom four-door sedan was the first product offered for sale in 2003.
And while I've not yet had the opportunity to visit Rolls production facilities in Goodwood, I have been to Crewe, United Kingdom several times to witness construction of Bentley Motorcars.
If you recall the history timeline, Bentley and Rolls-Royce vehicles were co produced in shared facilities. All of the timeless hand craftsmanship witnessed in Crewe is essentially the same process, Rolls-Royce style, to assemble components and comfort systems in the Dawn.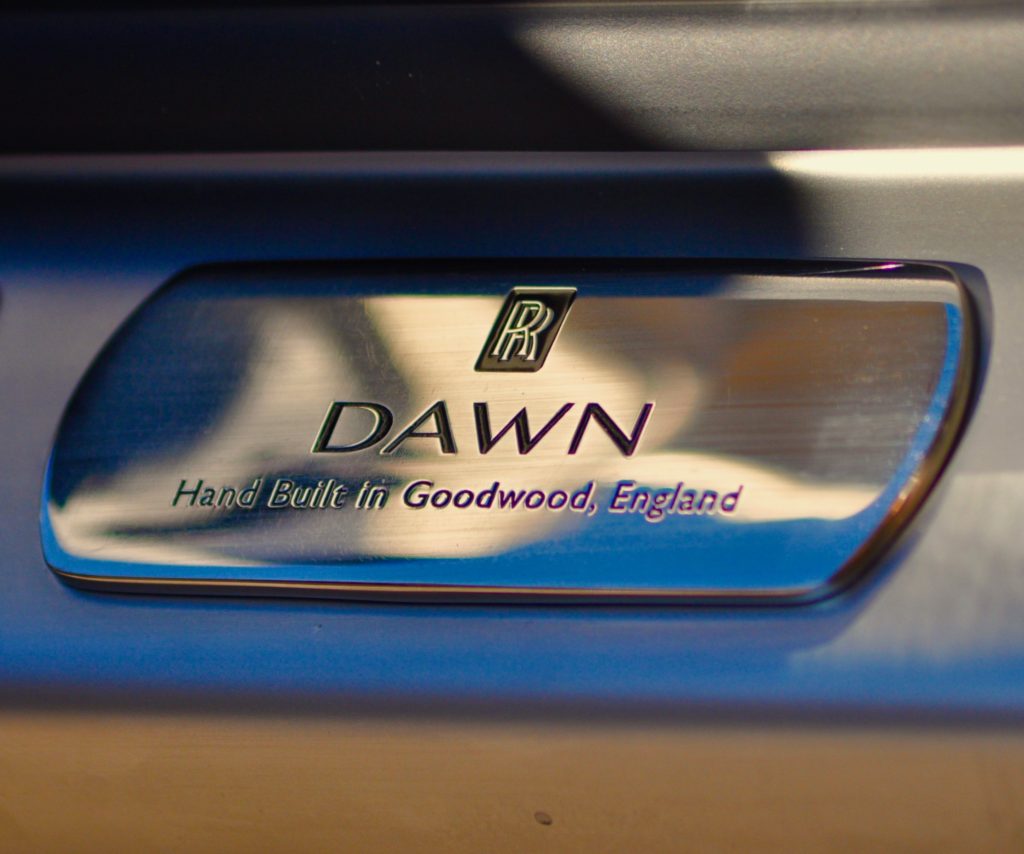 "Dawn is ever the hope of men." 
― J.R.R. Tolkein
Enter the ultra luxe Dawn cabin, be seated, and prepare to be coddled with buttery soft leathers, real metal accents and trim, and wood so meticulously specified the grain patterns are a mirror reflection of each other. If the wood grain patterns don't match, they're rejected. Press the "close" button at the base of the "A" pillar, and electronically regulated motors pull the large "Coach" doors to the point just before a full close. From there, power closers gently latch the doors so closing can be accomplished without any untoward slamming. Very impressive.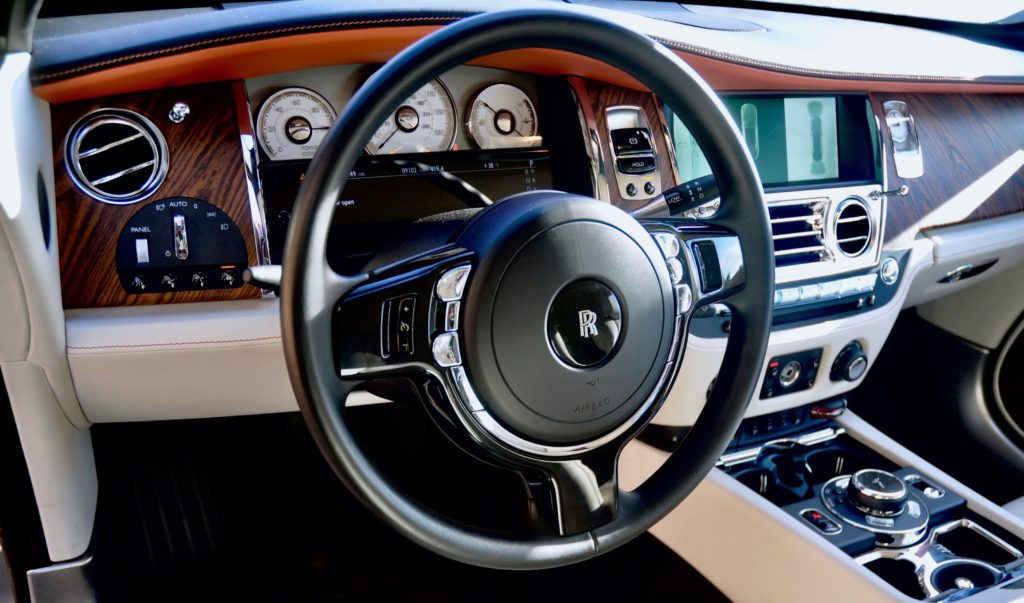 Weather permitting, reach down to the center console and engage Dawn's "roof" (top) open/close switch. In just 22 seconds, the British Coupé transforms into a proper Drop-head. Just witnessing the roof mechanism in action is a visual treat, as near silent hydraulic cylinders perform their opening and closing ballet. The six layer fully lined and insulated roof resides in a special enclosure in the "boot" or trunk. With the roof up, trunk space is generous enough for several golf bags and soft luggage. Roof down, pack lightly! As with any Rolls-Royce purchase, you have the option to customize your Rolls to reflect your ultimate tastes and desires. Custom fit luggage, special paint or leather colors, real wood decking for an impressive roof-down statement and much more are available based on the number of monetary digits you are willing to assign to this bespoke treatment.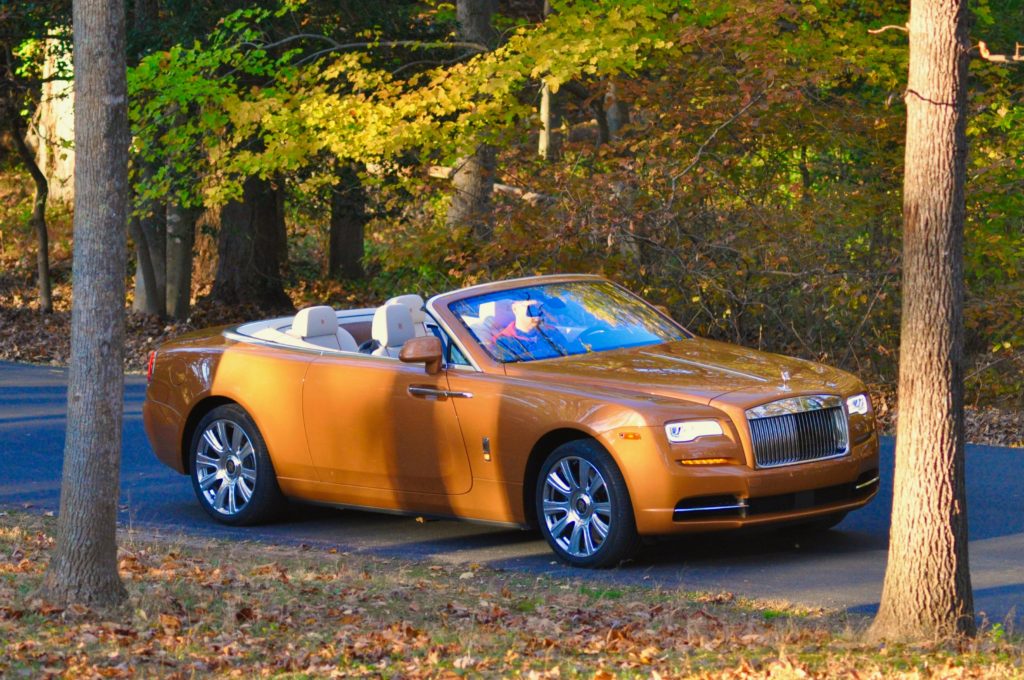 Slip the eight speed transmission drive selector into "D," and prepare yourself for a true luxury car experience. Don't be intimidated by Dawn's prodigious proportions, as she's just about a foot shorter than the Phantom Drop-head that's no longer in production. She's large and in charge but feels very nimble along motorways and back country roads.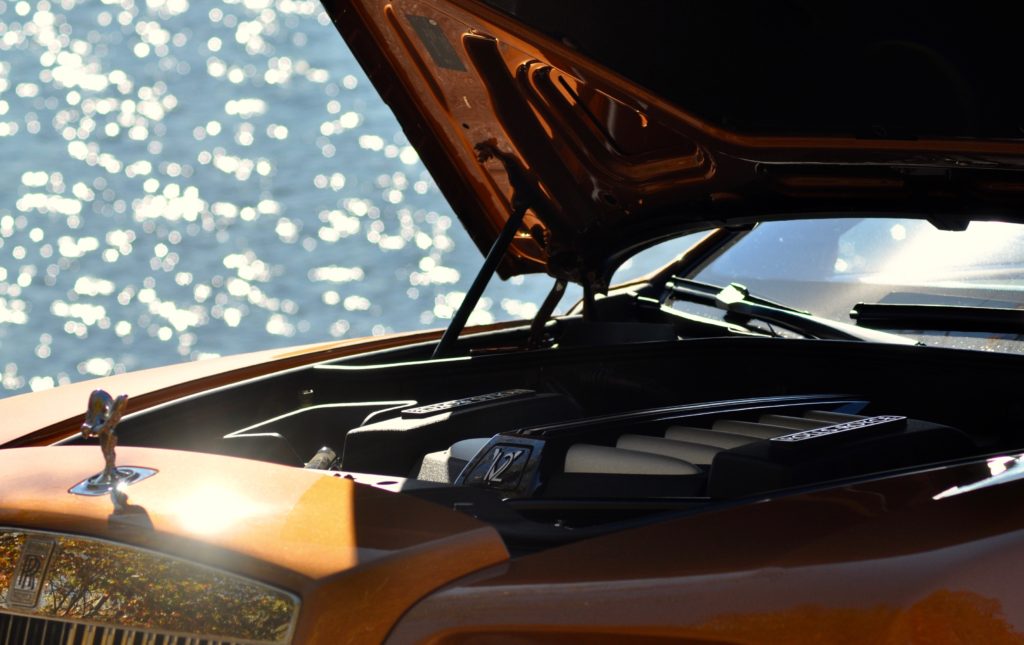 Pulling out of your driveway is akin to launching a mahogany speedboat circa 1960. Not that the Dawn is dated, because she's certainly not, but because you feel like the captain of a well-finished vessel. With 563 horsepower and 575 pound-feet of torque at your disposal, you'll devour sections of road with the same voracious appetite you apply to consuming the finest Beluga Caviar, all in complete comfort. If you are expecting a sports coupé type of experience, look elsewhere. If you appreciate power; a compliant, supple yet confidence-inspiring suspension; and absolute quiet, then this is the motorcar for you. Assuming you are in a steady – state cruising mode, the only noticeable noise you'll hear with the roof up is the music from the premium audio system that features 10 channels, 600 watts, and 16 speakers with subwoofer; or the gentle conversation you can have with three other adults sans aural drama.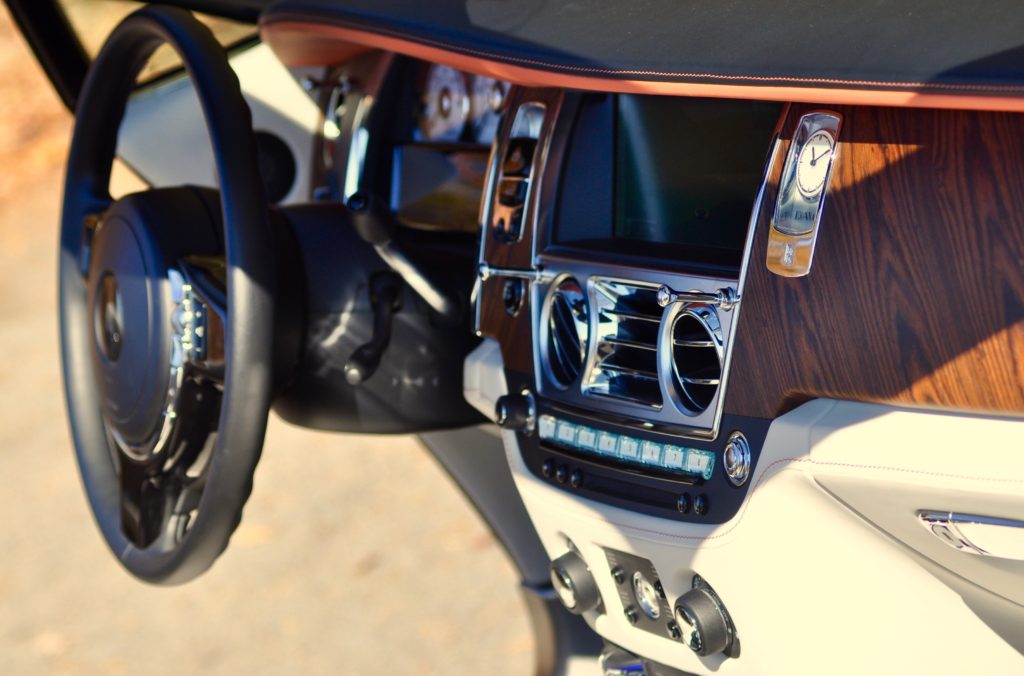 Top down kinetics are also impressive. Aside from a whisper of wind noise from the forward A-pillars, there's no excessive cabin wind buffeting, even without the rear seat windblocker in place. Clearly, extensive sound chamber and wind tunnel testing went into the sculpting of the Dawn Convertible.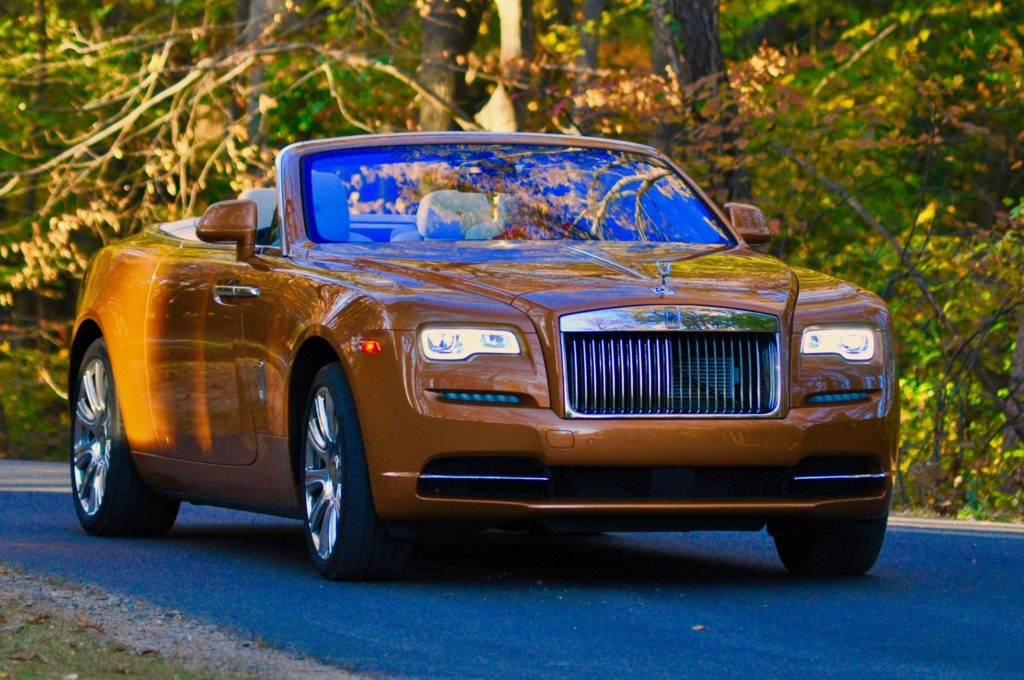 "And stay, my dear
stay…
forever, as my quiet song,
in my lilac dawn."
― Sanober Khan, A Thousand Flamingos
To ensure a "without compromise" driving experience, Dawn is outfitted with a raft of standard and optional luxury accoutrements. Bluetooth wireless technology handles hands free calling and serves as a platform for music streaming while a 10.25 inch main display features infotainment and telematics data. Below the large, central screen, crystal-like buttons are arrayed, ready to be programmed to suit your custom needs. For example, I programmed one button for direct access to the onboard digital owner's manual, and another to manually control the function of the iconic "Spirit of Ecstasy." So many admirers of the marque had heard of the power "disappear" function of the winged lady to stave off potential (and very expensive) theft. The beautiful "bonnet" (hood) ornament is available in standard Pewter, Illuminated Crystal, Uplit Pewter, Sterling Silver, or Gold-plate. Should your heart desire, bespoke Spirit of Ecstasy ornaments can be cast in solid gold. The ornament is designed to raise automatically when you start your Dawn, and drop away into a closed, protected compartment when you shut her down. With the crystal key programmed, I was able to raise and lower it at will, much to the delight of admiring onlookers.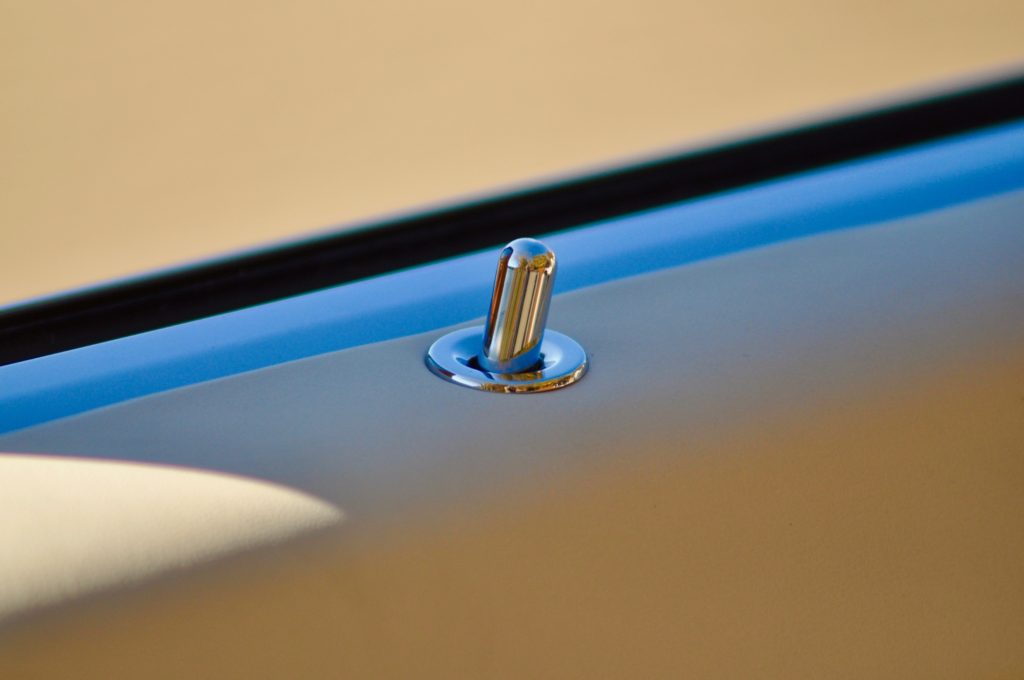 Other key interior features include, heated front and rear seats; dynamic cruise control with speed regulation; Satellite/HD radio; 20.5 GB hard drive for music files; voice recognition to control navigation, telephone and entertainment; park distance control; keyless access; and much, much more.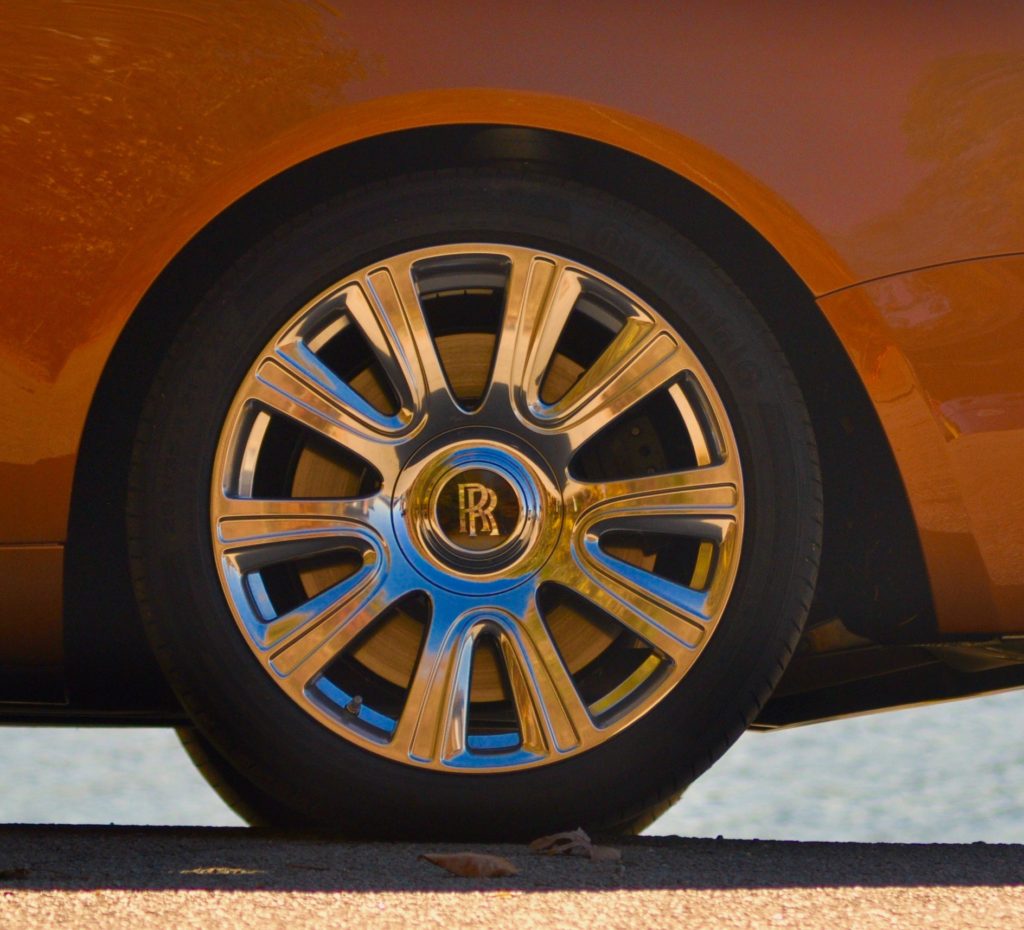 Notable exterior features include self righting wheel centers so the "RR" logo is always upright, lightweight aluminum bonnet, LED headlights with auto leveling and LED side and rear lights, and rifled exhaust diffusers. And one must not forget Rolls-Royce custom umbrellas in a special nacelle in each forward wing (fender) opening.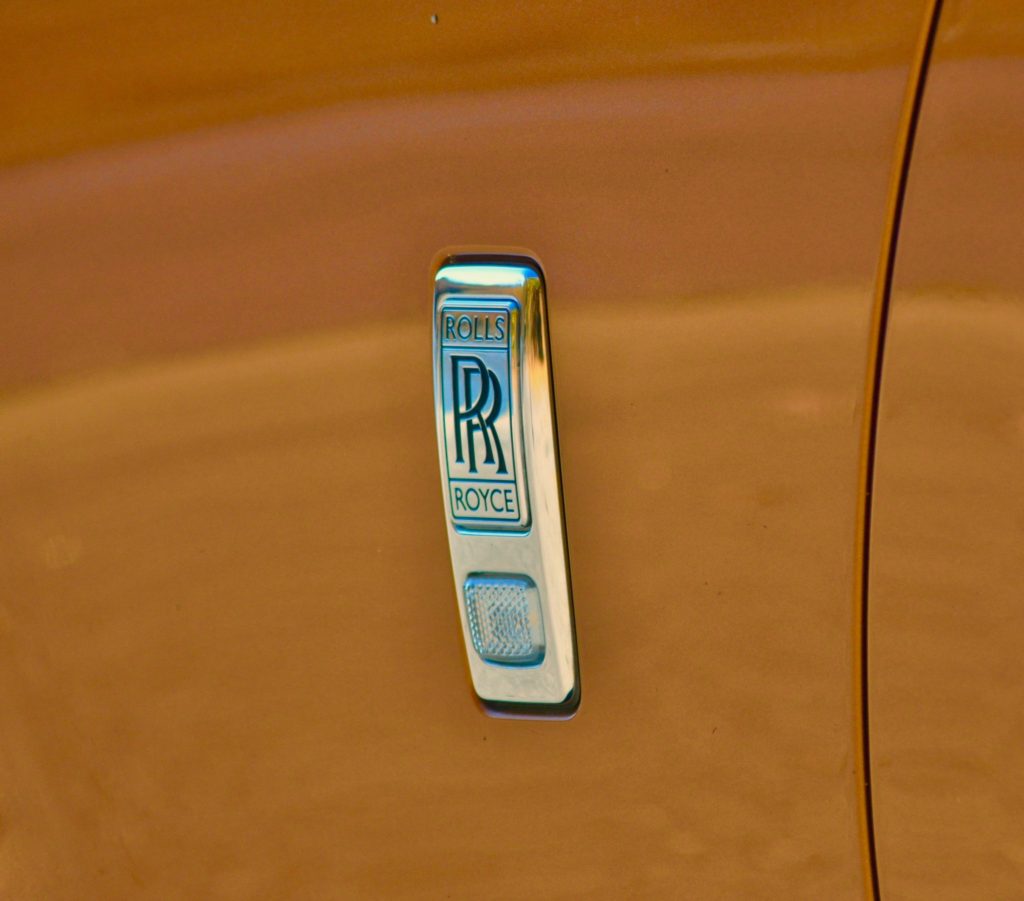 Key underpinning features include a double wishbone front and multi-link rear suspension with self-leveling air springs, anti-roll stabilization and variable damping control; light alloy wheels with low rolling resistance tires, four channel anti-lock brakes, brake energy regeneration, dynamic brake control, dynamic stability control with dynamic traction control and cornering brake control; electronic parking brake featuring hill hold control and dynamic parking brake, and automatic rollover protection system. Some of the key components, including the engine and transmission, rotary interior controller, and other components are sourced from parent company BMW's 7-Series.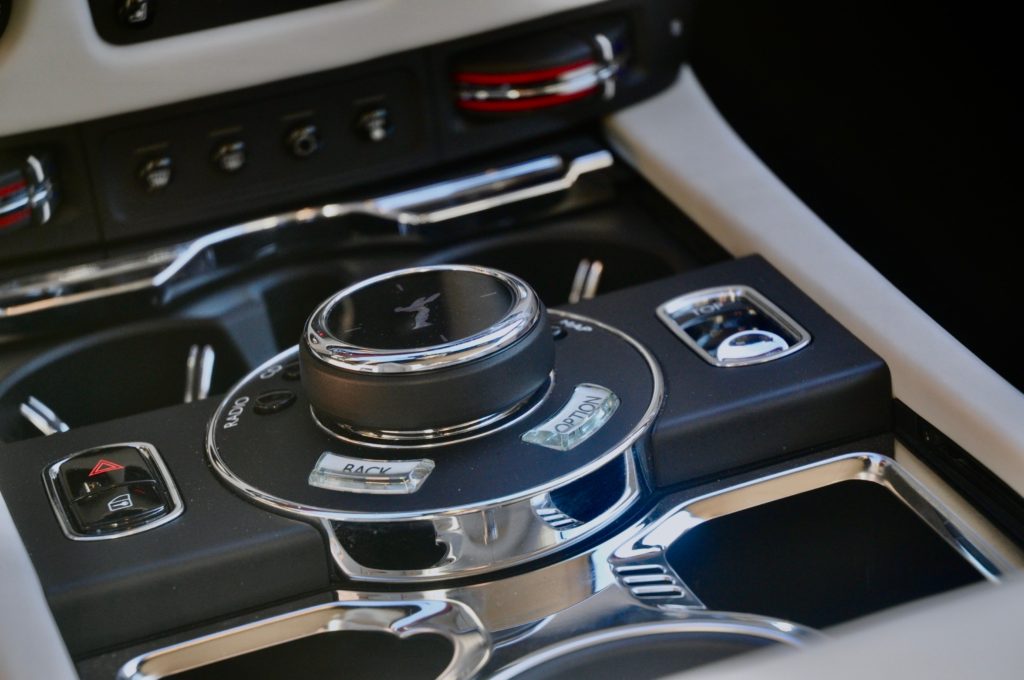 In several days of testing the Rolls-Royce Dawn, I have only one quibble: the white faced gauges with black pointer needles are quite attractive and fit perfectly with other things expected in a Rolls, like the push-pull "Organ Stop" controls that regulate cabin airflow. However, the gauges are hard to read with the roof down in daylight and could benefit from red painted tips to make them more readable. Not a lot to complain about for sure, but then again, a near perfect experience is the hallmark of Rolls-Royce motorcars.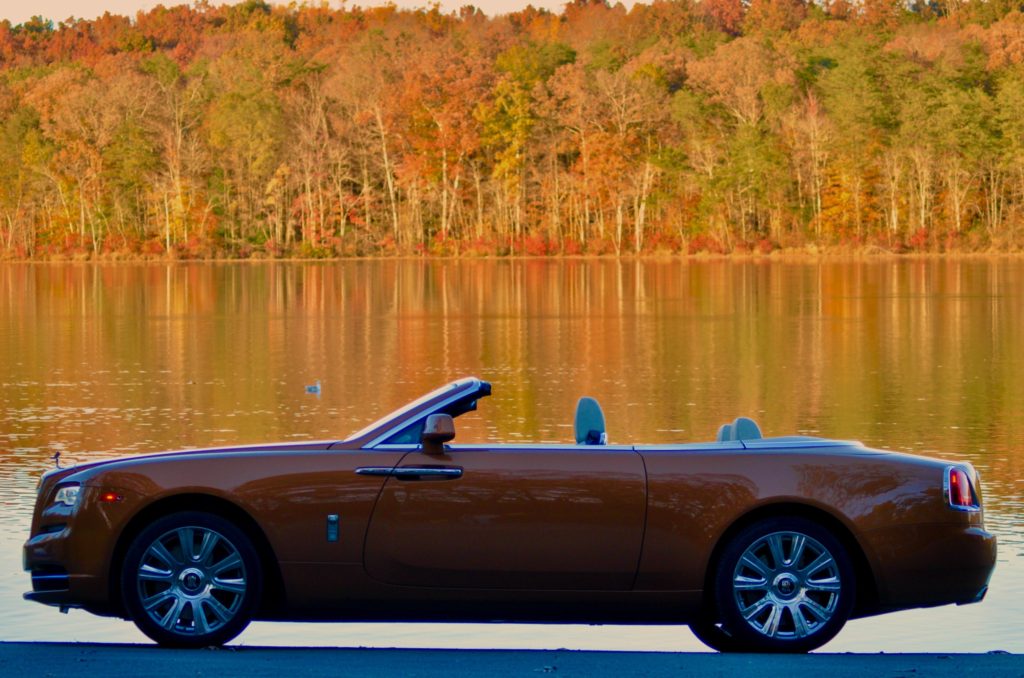 "Luxury is the enemy of observation, a costly indulgence that induces such a good feeling that you notice nothing. Luxury spoils and infantilizes you and prevents you from knowing the world. That is its purpose…" 
― Paul Theroux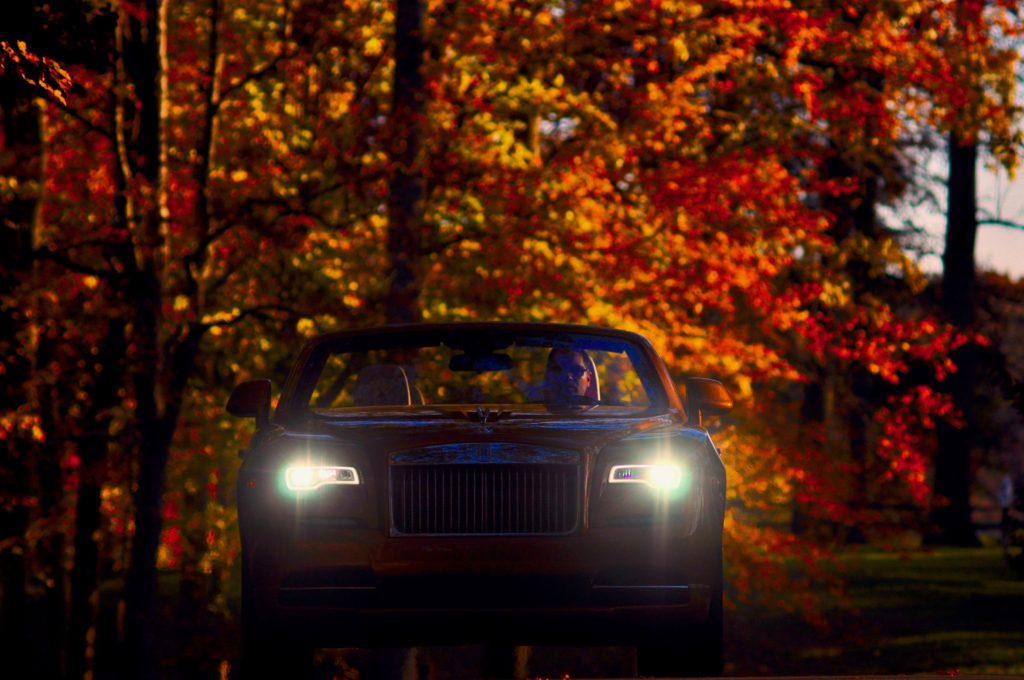 The Rolls-Royce Dawn is truly the complete package. It provides ultimate, bespoke luxury, head turning beauty, and legendary attention to detail. If you desire the ultimate convertible, then you should consider the Rolls-Royce Dawn.