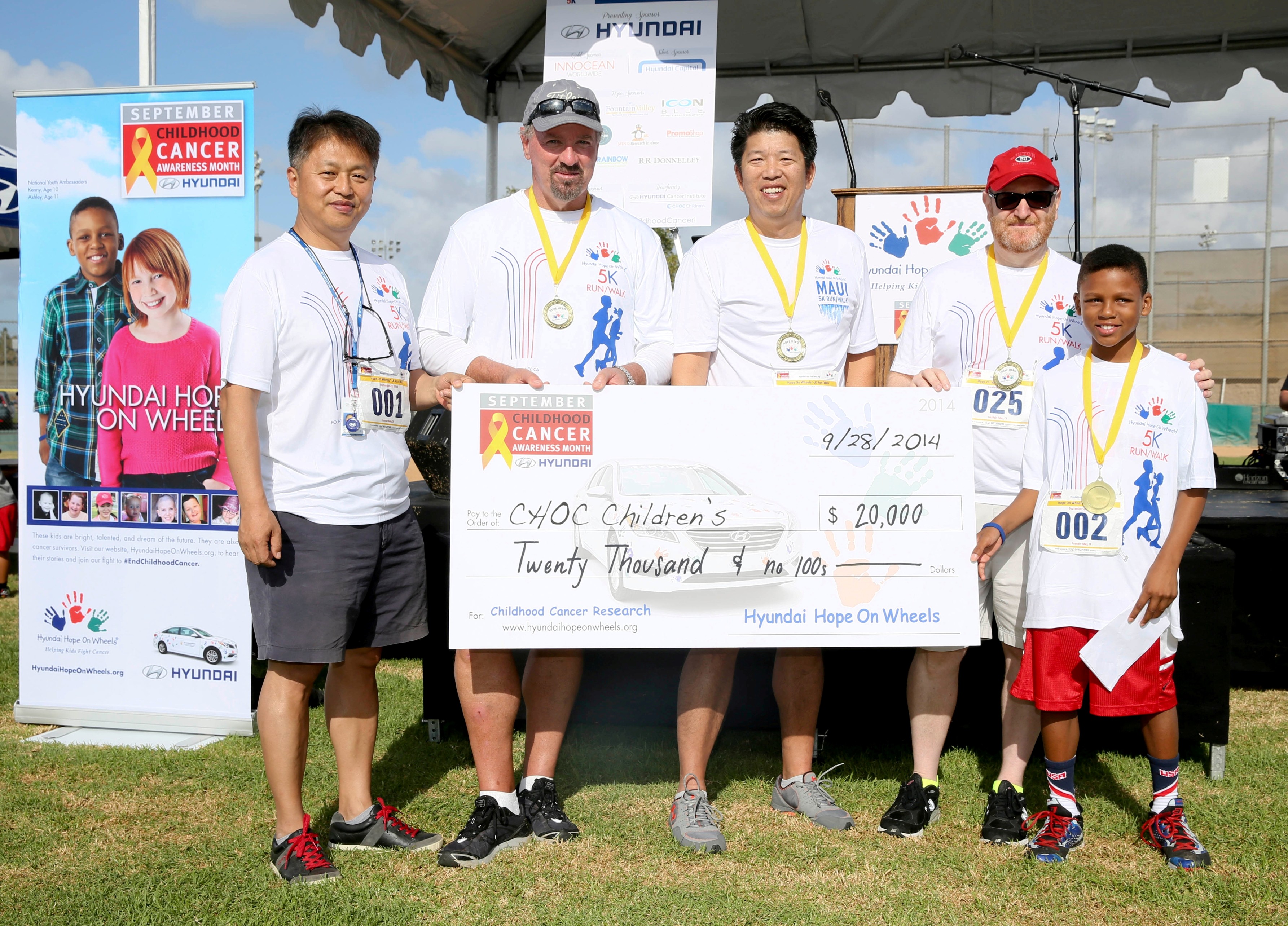 EVENTS
Hyundai Hope On Wheels hosts 4th Annual 5k Run/Walk benefiting the Hyundai Cancer Institute at CHOC Children's
By
|
The 4th annual Hyundai Hope On Wheels® 5K Run/Walk benefiting CHOC Children's was held on Sunday, September 28 in honor of National Childhood Cancer Awareness Month. More than 500 runners/walkers participated in the 5K at the Fountain Valley Sports Complex. Proceeds from the event totaling $20,000 were presented to CHOC Children's. The funds will be used to support the Hyundai Cancer Institute at CHOC Children's.
"This year's 5K was another great success thanks to the support of our sponsors and the Fountain Valley community." said Mickey Pong, Chairman of the Hyundai Hope On Wheels Board of Directors. "CHOC Children's has been a long-time partner of Hyundai and it is an honor for us to continue to support their efforts to treat kids battling cancer."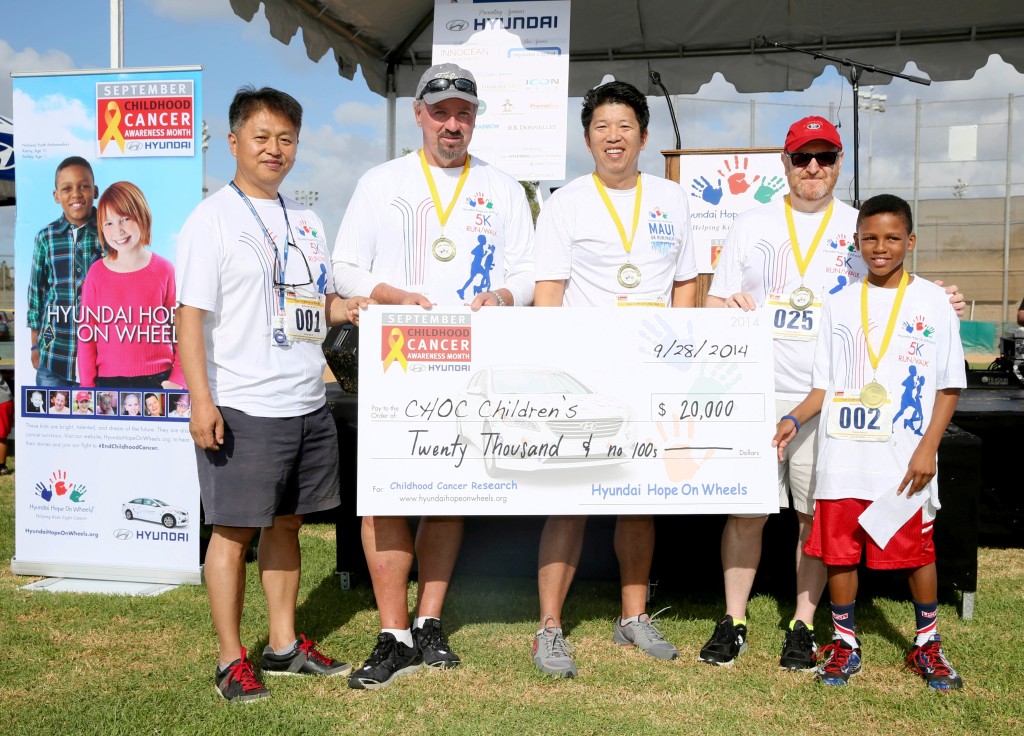 Sunday's activities were kicked off by Chris Schauble, co-anchor of the KTLA 5 Morning News show, who served as the master of ceremonies, and actor Aedin Mincks who served as the celebrity youth ambassador alongside the Hope On Wheels National Youth Ambassador Kenny Thomas. The event began with a Kids Dash before moving into the 3.1 mile course (5K) throughout the Fountain Valley Sports Complex.
Following the 5K Run/Walk, representatives from Hyundai Motor America including Dave Zuchowski, President and CEO, and Harry Han, Chief Executive Coordinator, were joined by city of Fountain Valley Mayor Michael Vo to kick off the post-race ceremony. During the ceremony, Dr. Leonard Sender, Medical Director of the Hyundai Cancer Institute at CHOC Children's, accepted a check for the proceeds of the event. A Hope On Wheels handprint ceremony was held to honor local children battling cancer, including cancer survivor Kenny Thomas. Aedin Mincks also added his honorary handprint to the white 2015 Hyundai Sonata, the official vehicle of Hyundai Hope On Wheels.
The event marked the end of Hyundai's annual campaign recognizing National Childhood Cancer Awareness Month. As part of its efforts during September, Hope On Wheels awarded $9 million to support childhood cancer research at 36 children's hospitals across the country.
5K participant Kris Chacon placed first overall with a time of 17:05 and Jamie Giddens placed first in the women's division with a time of 20:12. All race results are available at http://hyundaihopeonwheels.itsyourrace.com/results.aspx?id=222.
The event was made possible with the generous support of our sponsors: Hyundai Motor America, Innocean Worldwide America, Hyundai Capital America, Buchalter Nemer, Cenveo, Fountain Valley Chamber of Commerce, Ivie, McNeill, & Wyatt, Ketchum, MIND Research Institute, Miss Fountain Valley, PromoShop, Rainbow Environmental Services, RR Donnelley, and TELACU.
To learn more about Hyundai Hope On Wheels, please visit www.HyundaiHopeOnWheels.org. You can also follow us on social media at facebook.com/HyundaiHopeOnWheels, twitter.com/hopeonwheels, and youtube.com/hopeonwheels.