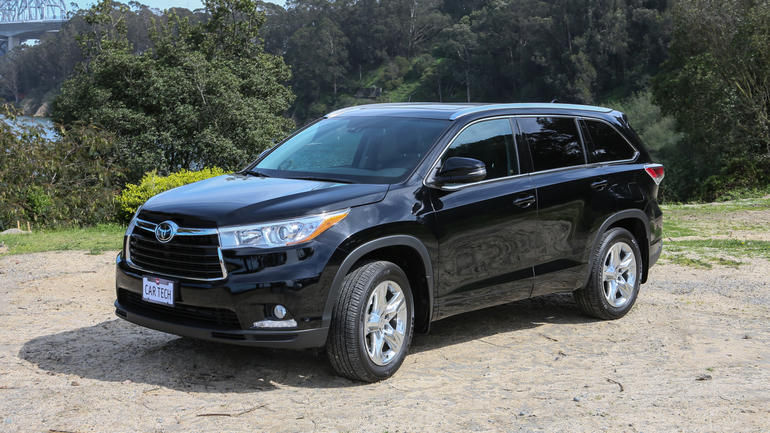 TEST DRIVES
2014 Toyota Highlander: The Weather Channel
By
|
The Weather Channel is my nickname for the all-new, 2014 Toyota Highlander. You see, it's adorned with all weather capability, with All-Wheel Drive an option or standard depending on trim level. With three zone climate control, it'll keep you warm and toasty, or cool as a cucumber, in keeping with your temperate desires. Finally, during the national launch for Highlander in Charleston, South Carolina, it got us around town during one of the south's rare ice storms—a storm that paralyzed Atlanta, Georgia and Charleston. Charleston was pretty much a ghost town as we drove around, with the exception of live reporting from you guessed it – The Weather Channel.
Aside from a sharp reflex knee to the groin of an unfortunate soul who tried to video bomb Jim Cantore of the Weather Channel's live report, we are pleased to report no "nuts" or "bolts" were otherwise damaged in Charleston, at least not on the super capable 2014 Highlander.
If you were to say Toyota pulled out all of the stops for the new Highlander, you would be correct. Now in its third generation, the Highlander is arguably the best Crossover Utility on the market. But this segment is hotly contested, with the likes of Nissan Pathfinder, Kia Sorento, Buick Enclave and others constantly nipping at the heels of each for segment superiority. So for right now, I'll say that Highlander is on top, and its game is more than just talk.
Highlander prices begin at $29,215; just a bump over the 2013 model's $29,020 MSRP. But it's so much better than the 2013 model. While Toyota is selling both on their Web site, do yourself a favor and ditch any ideas of buying the 2013 model, as the 2014 model takes it to the proverbial "next level."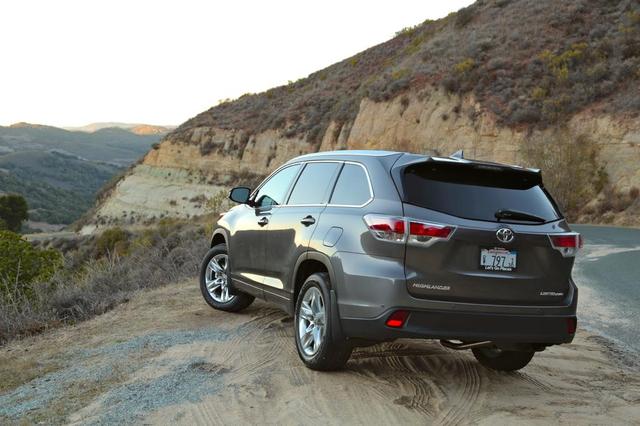 The first thing you'll notice about the new Highlander is the gorgeous styling. It's now rugged looking, with wider fender flares and a wide mouth grille. To the rear, frog eyed clear taillights make an aggressive statement. When compared to the first generation Highlander, the new model is much larger and much more luxurious. Fit and finish overall is higher, particularly inside, where the dash even features upscale stitching. You'll also like the dash shelf that sits below the optional 8-inch telematics screen and runs from center console to passenger door. You'll never wonder again where to put all of the devices you want to plug in or stash. It's great for phones and audio players as there is a wire routing port from mid to lower console so you can neatly plug everything in without a mess of cables strewn about.
The entire Highlander three row experience is all about comfort. Even those smaller folks designated to sit in the third row will find suitable entertainment choices. Driver Easy Speak, standard on XLE and Limited trims, allows intercom-like communication between driver/front passenger and third row occupants. Accessible through the telematics screen, it uses an overhead microphone to project your voice to speakers above the third row seats. So in the middle of the kid's video movie, the Voice of God reigns down from above to tell them to stop fighting over popcorn. First and second row entertainment is not interrupted. Nice, useful feature Toyota. And as expected from Toyota, the full suite of Entune features are available – Bluetooth, navigation, USB, aux ports, multimedia and voice recognition. Use Entune to pair with the Entune Apps Suite to get Bing, iHeartRadio, MovieTickets.com, OpenTable, Pandora and data services such as fuel prices, sports, traffic, and weather via most smartphones with a data connection.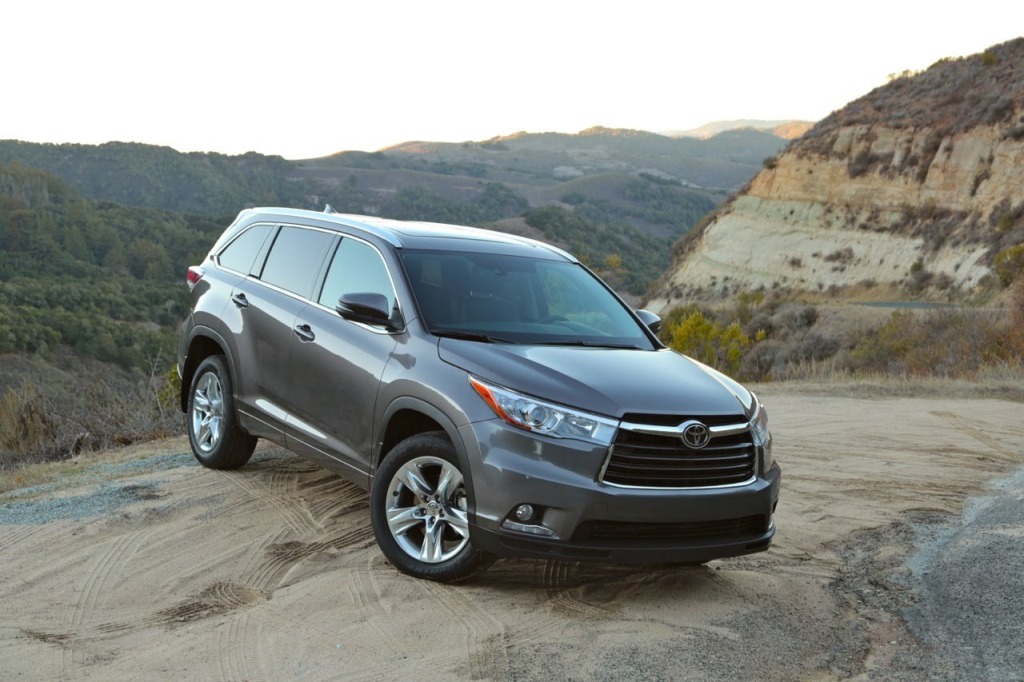 Other interior goodies depending on trim levels include perforated leather, heated and cooled front seats; second row Captain's seats (second-row, three-seat bench is standard on base trims, increasing seating from seven to eight passengers); a cavernous roll-top center console (which for demonstration purposes Toyota showed us it can hold 48 cans of soda!); second-row window sunshades; third row reclining seats; back-up camera and rear sonar; really nice wood grain trim; fat leather steering wheel with audio, voice and phone controls; and much more. There's more cargo room behind the third row thanks to Toyota moving all rows forward within the Unit Body construction. The interior is also very quiet, a nice touch for a rugged looking vehicle.
I drove several trim levels of the new Highlander, and my preferred test vehicle was a full bore Limited Platinum with All-Wheel Drive. And why not? You get some really nice extras such as Chromtec 19" wheels and Chromtec plated roof rails, among other aforementioned high-end features.
Road manners are good, and it handled Charleston's cobblestone streets with ease. Underpinnings include front McPherson strut and rear double wishbone suspension. Performance and fuel economy from my tested 3.5-liter V6 was also decent. There are quicker competitors, but none offer the total package of features, performance and decent fuel economy, which on the Limited Platinum was 18 mpg city/24 mpg highway. You can monitor vehicle activities on the 4.2 inch color Multi-Information Display, nestled between speedometer and tachometer.
Safety standards, irrespective of trim level, include the "Star" safety system that teams enhanced stability control, traction control, anti-lock brakes, electronic brake-force distribution, brake assist and smart stop technology, designed to automatically reduce engine power when both the brake and accelerator pedals are pressed at the same time under certain conditions. Additional safety standards include eight airbags (including driver's knee airbag) and whiplash lessening front seats. Optional safety features include a pre-collision system with dynamic radar cruise control and lane departure alert.
The "Weather Channel" is a fine all-around effort from Toyota, which to me had lost its way a bit over the last few years, seeming complacent with its first place status. Well, the Korean brands have changed the game for everybody, and Toyota has responded nicely. The new Corolla is another example of this. The 2014 Highlander is a "must drive" if you are looking for a SUV with tons of comfort features.
As a side note, my sister just purchased a new Toyota RAV4 from 355 Toyota in Rockville, Maryland. The dealership is part of the DARCARS Group, which owns a bunch of dealerships in the Washington Metropolitan Area. I've had a ton of experience with the Group, as I recommend them, particularly their Toyota and Volvo stores, to those who ask me what to buy and where to buy it. So they know me well and treat me and the customers I bring in well.
Recently, DARCARS started a "relationship" campaign where they pledge to make the buying experience no hassle and great for both parties. Television ads tout this new experience and signs hang in the dealership to reinforce the new mantra.
While at the dealership in the past and now after the new campaign, I'm happy to report that DARCARS is serious about building long-term relationships with their customers.
In the past at 355 Toyota, an "Army" would be waiting for you to pull up to the dealership, lurking around corners to be the first to get the chance to sell you a car. That did not happen this time, and everyone I met in the dealership was extremely friendly and helpful. Not everyone knew I was an automotive writer who had brought a ton of business to the dealership, but they treated me like I should always be treated – like a person first and a potential customer second.
I spoke to 355 Toyota Sales Manager Selorm Tsegah about this, and he broke it down. "We want to build relationships where you are pleased with the buying experience today, and also the buying experience tomorrow. In other words, we are doing what we should always do to make sure you come back to us when you need anything – a new car or service, a place to have a cup of coffee, or just to say hello." I've known Selorm for seven years, and could clearly see the passion he exuded when talking about the new Relationship Experience.
Many of these types of campaigns in my opinion are just bunk, and do nothing to undo the adversarial relationships that exist between car salesperson and customer, but you can really see and feel the difference with DARCARS. Congrats to the Darvish family who owns the stores for a job well done.
– Article by Brian Armstead