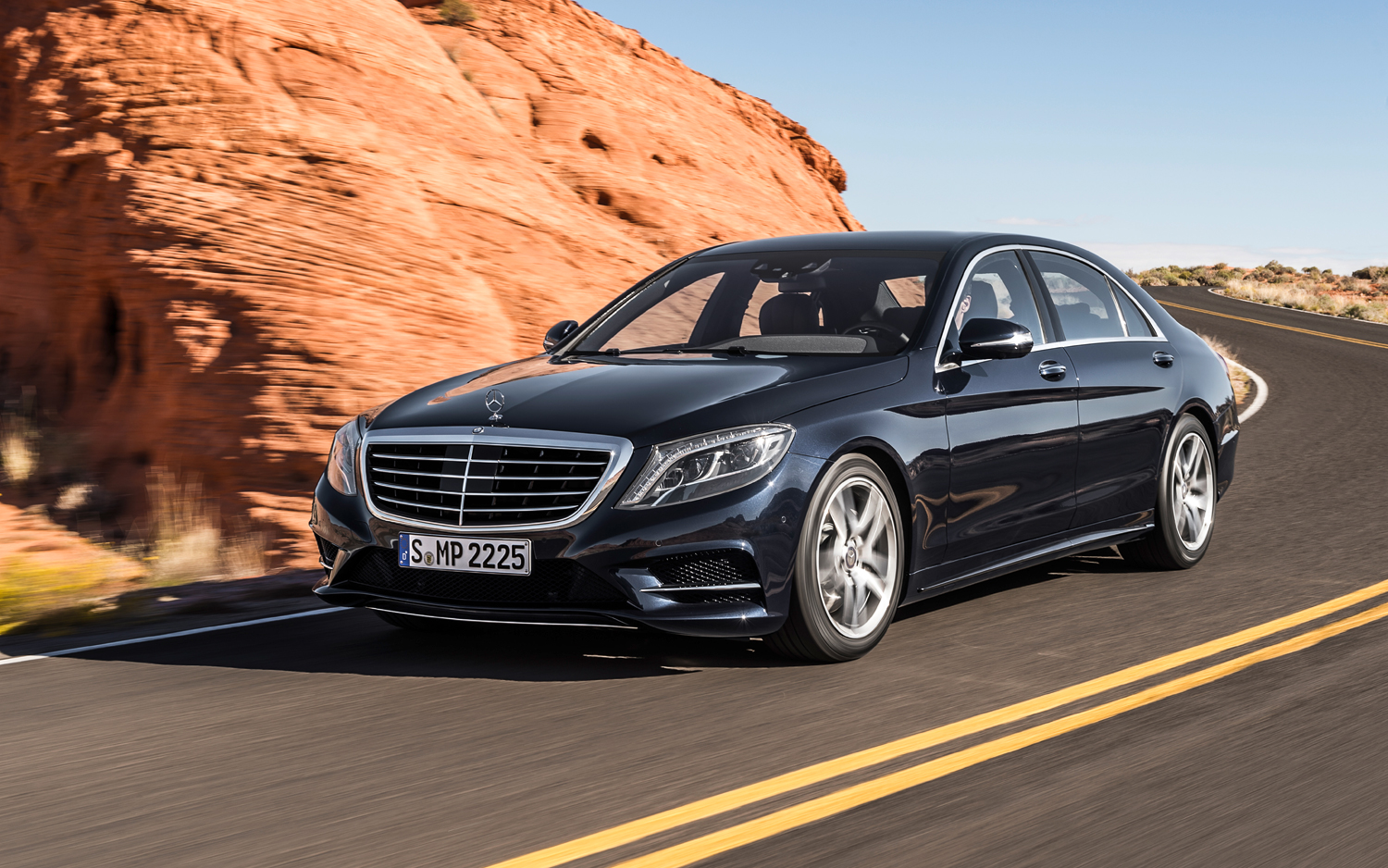 TEST DRIVES
2014 Mercedes-Benz S-Class: Teutonic superiority
By
|
Toronto, Ontario, Canada – The Mercedes-Benz S-Class has been the world's most successful luxury car for decades, and that tradition is sure to be upheld with the latest iteration – the 2014 Mercedes Benz S-Class, which will be available in a number of configurations. The roots of this model series dates back to the brand's origins, when Wilhelm Maybach, chief designer at Daimler-Motoren-Gesellschaft developed in 1903, the Mercedes Simplex 60 hp, a new top-of-the-range model that was also available in the form of a luxurious touring saloon. That vehicle opened up new avenues and possibilities for high end, luxury automobile travel which has continued to this day. The first actual S-Class designation appeared in 1956 with the launch of a revised and more powerful 220 S, with the "S" becoming a permanent fixture in the names of high end Mercedes-Benz models and referring to the special status of saloons.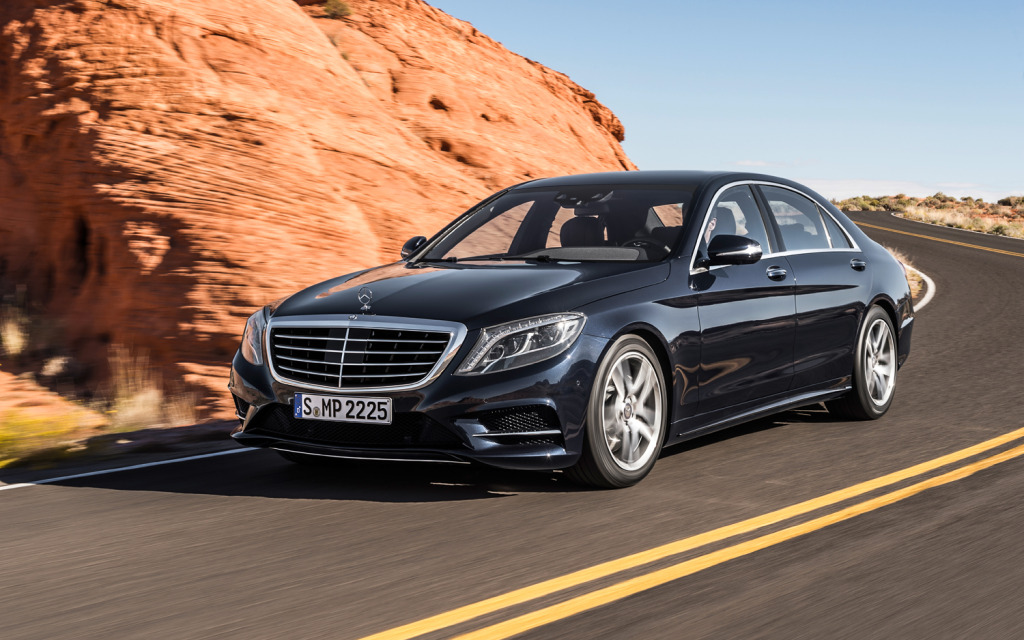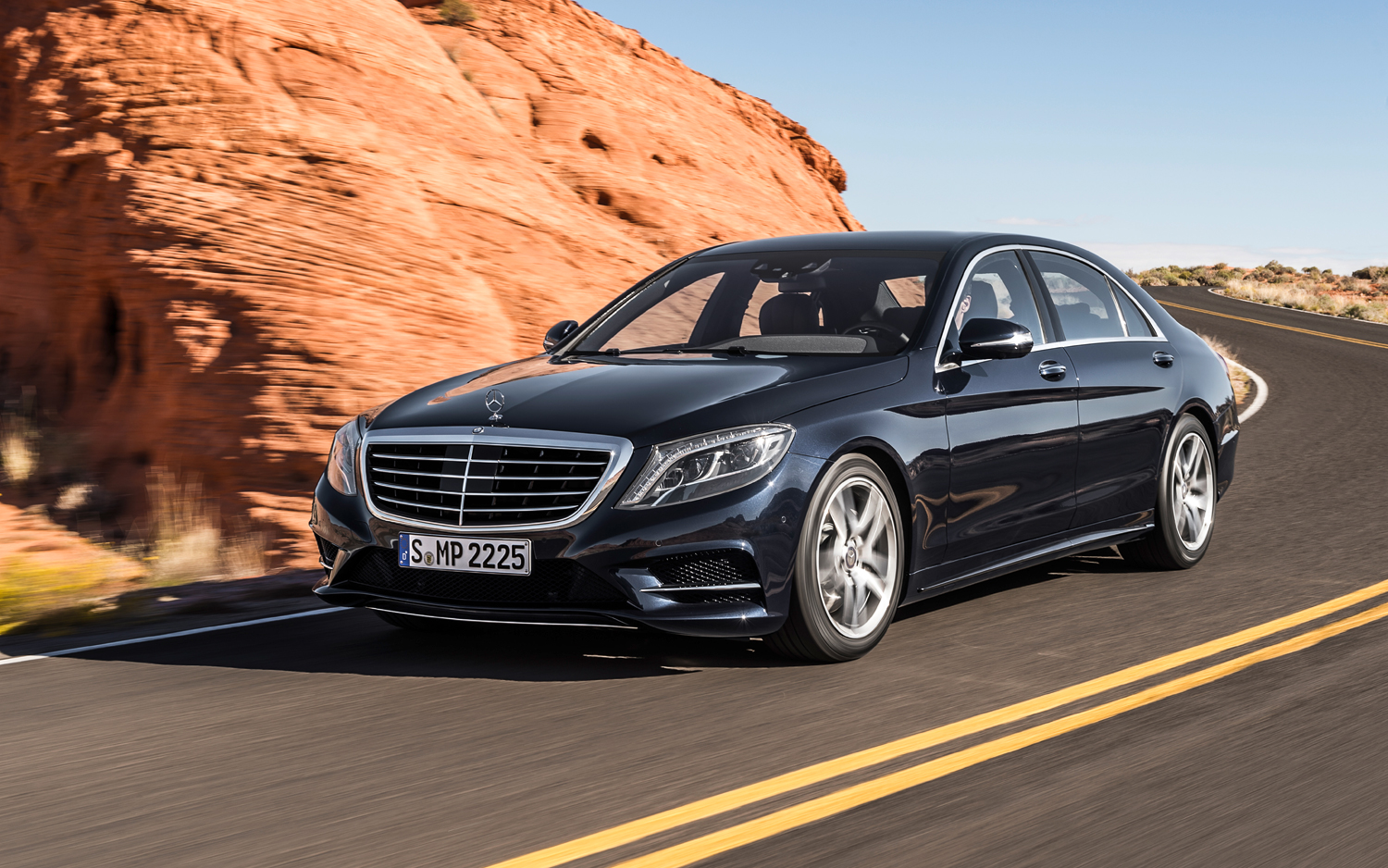 At a recent preview of what the new 2014 S-Class has to offer, international automotive journalists were afforded the opportunity to put the Euro-Spec version of an S500 Long Wheelbase through its paces in a variety of real world driving scenarios as well as closed course exercises that demonstrated the new car's many new state-of-the-art technologies. The European S500 will be badged as an S550 in the North American marketplace.
The stable of S-Class vehicles for 2014 will consist of: an S350 BlueTec diesel V6; an S350 BlueTec Hybrid; an S400 Hybrid; and the S500/550. Models are configured in both a regular and Long Wheelbase offering. A 4MATIC all-wheel drive version will appear later, along with a Plug-in Hybrid example. An AMG version will become available at some point in the near future.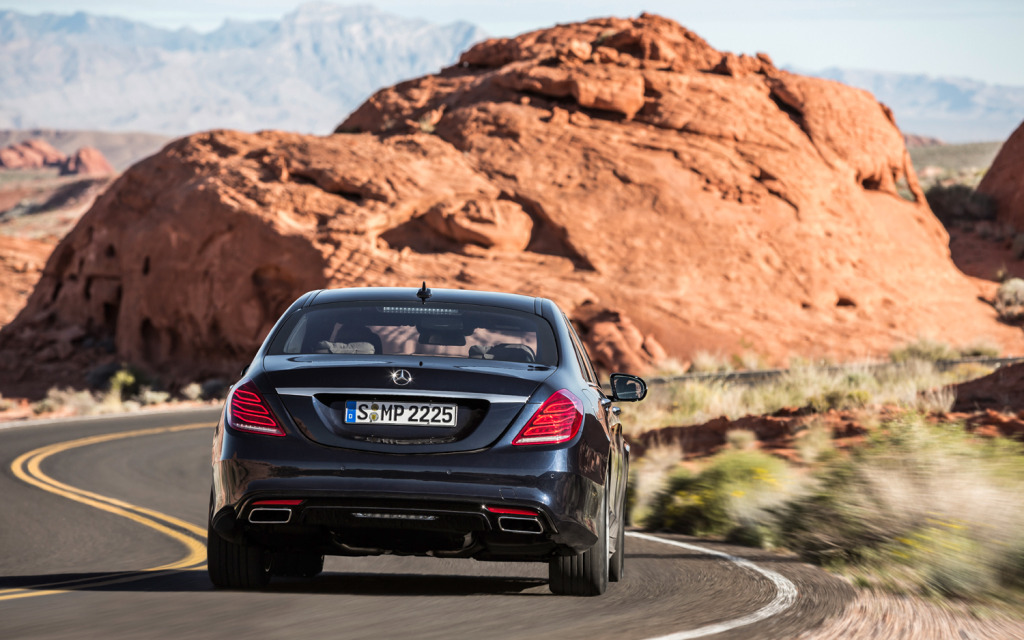 The 2014 Mercedes-Benz S550 (or European S500) will draw its motive force from a 4663cc/ 4.6-liter, DOHC, 32-valve, twin turbocharged V8 engine with high-pressure fuel injection. The engine, which is mounted forward in a longitudinal orientation, makes 449 horsepower from 5,250 to 5,500 rpm while generating 516 pound feet of torque in a range from 1,800 to 3,500 rpm. Driving energy is transferred to the rear wheels via a 7-G-TRONIC PLUS automatic transmission.
In terms of styling, the 2014 Mercedes-Benz S-Class continues to display instantly recognizability, but with bolder design cues. Up front, the radiator grille is now larger, more upright and distinctly three-dimensional, with three pronounced air intakes – a large center mesh grilled opening that reflects a reversed image of the new grille, which is flanked by two outer sculpted and grilled openings. The grille, which flows into the new LED headlamps, is followed by a long hood with accented side creases and a flowing domed roofline. The rear end slants gently, and the overall effect showcases classic saloon proportions, while projecting a coupe-like profile with blacked out "B" pillars and athletically sweeping character lines – one a dropping line below the shoulder, from the headlamps to the rear wheel well and the other rising above the rocker panel from the front to rear wheel well, creating a subtle convex-concave effect of the entire flank. The tail finishes with a spoiler lip integrated into the deck lid, LED taillamps and dual rectangular exhaust tips. Bottom line, the overall image of the new S-Class reflects a notable sensual clarity.
The S-Class embraces LED lighting technology, making a complete switch to LED, and making it the first car in the world to light both the interior and exterior without a single light bulb.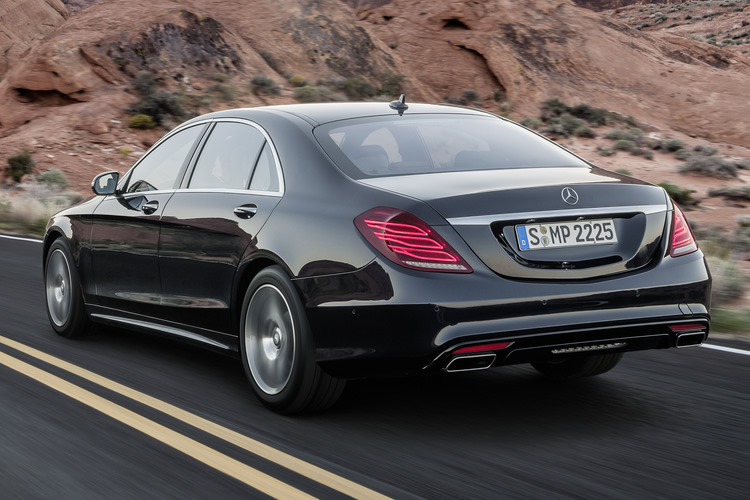 The ultimate goal of Mercedes-Benz is to create a luxury vehicle that is the best in the world, and to one day achieve an accident-free driving environment. In that quest, the new S-Class features more than twenty active safety systems – some completely new and some that are vastly enhanced or improved. The systems are based partially on a networked sensor system. A new stereoscopic camera with two "eyes is able to see a 3D view of the frontal area up to around 50 meters, and in the form of "6D Vision" to perceive the spatial position and movement of objects, monitoring the overall scenario ahead of the vehicle over a range of up to 500 meters, while this data is combined with data from the radar and ultrasonic sensors.
The S-Class is able to detect bumps in the road through Road Surface Scan, and when combined with the optional innovative Magic Body Control suspension system for 8-cylinder models, instantaneously sets up the suspension to deal with and smooth out the ride. Standard for S-Class is the continuously operating Active Damping System ADS Plus as well as an enhanced version of the AIRMATIC full air suspension system.
Other safety features that contribute to Mercedes-Benz's Intelligent Drive experience include: Distronic Plus with Steering Assist and Stop&Go Pilot; Active Lane Keeping Assist; BAS PLUS with Cross-Traffic Assist; PRE-SAFE Brake with pedestrian detection; PRE-SAFE PLUS; Traffic Sign Assist with wrong-way warning function; Adaptive Highbeam Assist Plus; Night View Assist Plus; Active Parking Assist; Collision Prevention Assist; and Attention Assist, all utilizing gauges that incorporate TFT technology in two high-resolution color displays in an 8:3 format on a 12.3-inch screen.
Available options not already mentioned include: Driving Assistance Plus; 360 degree camera; LED Intelligent Light System; Burmeister surround sound system; AIR-BALANCE package for ionization, air filtering and fragrance, which offers four fragrance moods – Nightlife, Sports, Downtown and Freeside (or you may add your own favorite aroma); First-Class rear compartment seating appointments for LWB models including available head restraint cushions; a Warmth Comfort package; an energizing massage function; and a rear seat PRE_SAFE package that includes illuminated seat belt buckle extenders and beltbag.
There are non-metallic, metallic and special exterior paint finishes from which to choose along with a variety of interior materials, color combinations and trim accents available for personalization.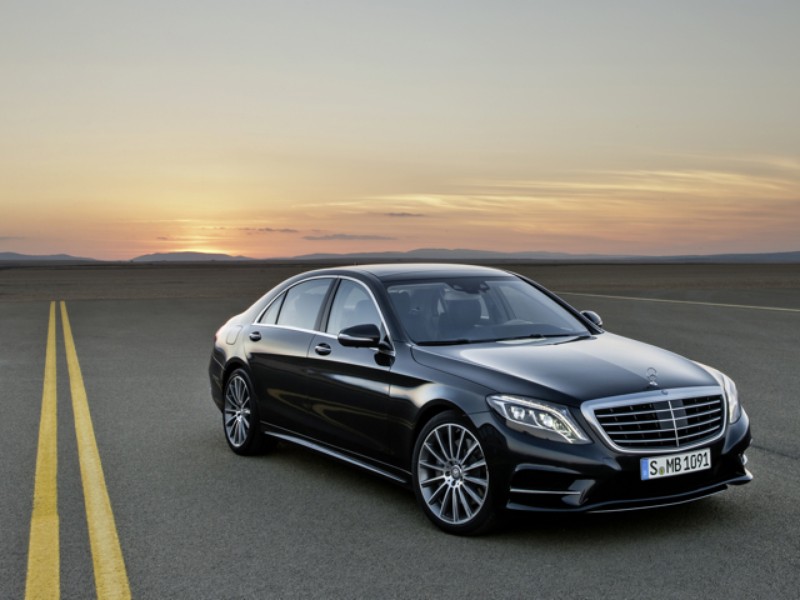 My test 2014 Mercedes-Benz Euro-spec S500 came in a LWB configuration and featured Magic Body Control and the Driver Assistance Package. The base price was set at $92,900, while options and the Destination charge elevated the final sticker price to $96,625. The exterior finish was Iridium Silver metallic, while the interior was executed in quilted Bone leather with Piano Black accents. The base price reflects a $2,100 reduction from the 2013 model S-Class while adding technological content and features. November will see the launch of the S-500 4MATIC which will start at $95,900. And the S63 AMG 4MATIC beginning at $139,500.
SUMMARY: The 2014 Mercedes-Benz S-500 (S550 for the U.S.) may well be the most advanced luxury saloon model available in today's marketplace. It gets high marks in virtually every category: acceleration, handling characteristics, safety technology, ride comfort and styling.
I was able to drive on challenging rural roads as well as freeways, in addition to experiencing a simulator exercise that demonstrated many of the new and innovative features that the new S-Class has to offer. Journalists were also afforded the opportunity to experience the Mercedes-Benz Intelligent Drive systems on a closed airport runway course at the Muskoka Airport in Quebec's Muskoka resort region. Following these exercises, we were transported to a marina for a speedboat ride to a private residence – the Muskoka Lodge for lunch and back for a chauffeured ride returning to the airport, while experiencing the luxury of the sumptuous executive rear seating. A charter flight took us to the Toronto airport for return flights home.
Mercedes-Benz is well on their way to delivering the near perfect luxury sedan, that approaches an accident-free driving scenario. The new S-Class lacked but one thing – a sliding sun shade or visor, with a supplemental fold down visor would be a welcome plus. Never the less it is a true example of Teutonic superiority that delights practically all of one's senses. There's literally a model to satisfy nearly everyone's desires and requirements, and the AMG version is sure to deliver the heightened performance sought after by enthusiasts.
– By Arv Voss