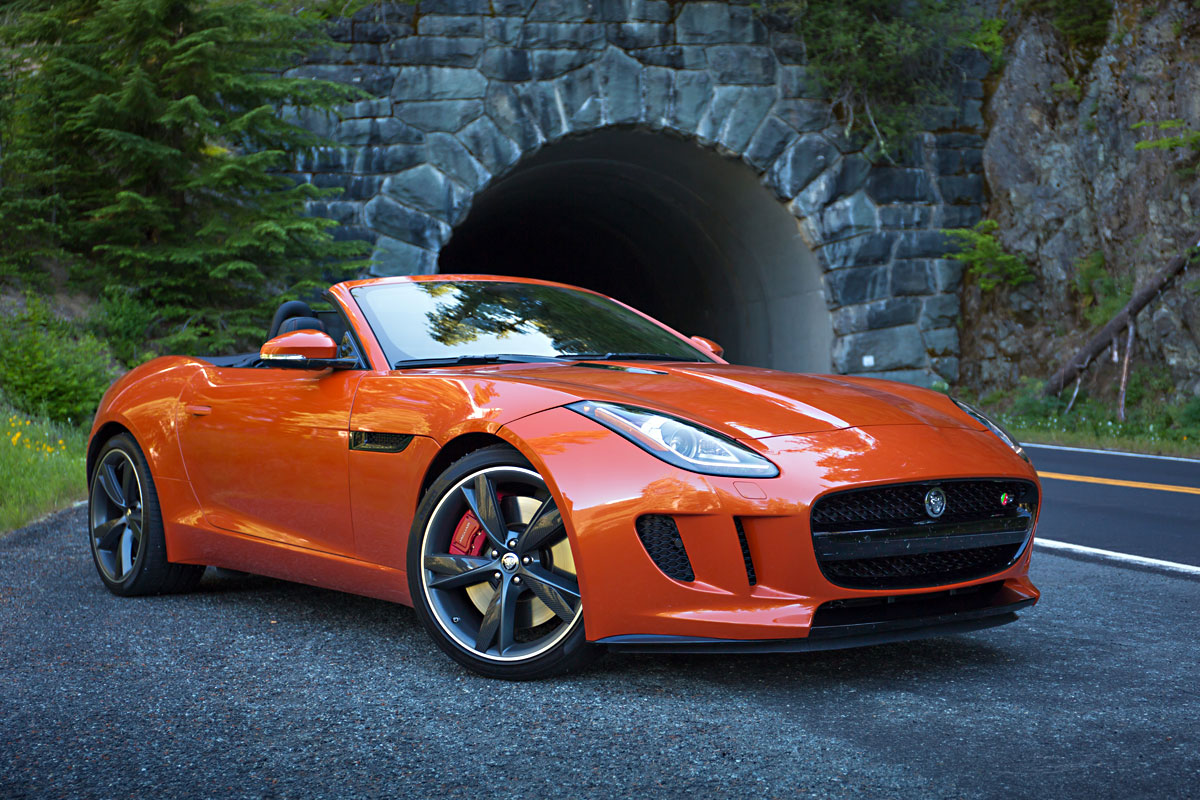 TEST DRIVES
2014 Jaguar F-Type: Return to a true sports car
By
|
The launch of the all-new 2014 Jaguar F-Type heralds the marque's return to a classic, two seat convertible sports car – something missing from the iconic manufacturer's model lineup since the legendary XKE. The F-Type represents the rebirth of a seriously sexy sports roadster for two, with performance to spare. Okay, we'll admit that Jaguar currently produces a luxurious and highly desirable lineup of vehicles, but certainly nothing more alluring and capable than the all-new, 2014 F-Type roadster, which comes in three distinctive versions.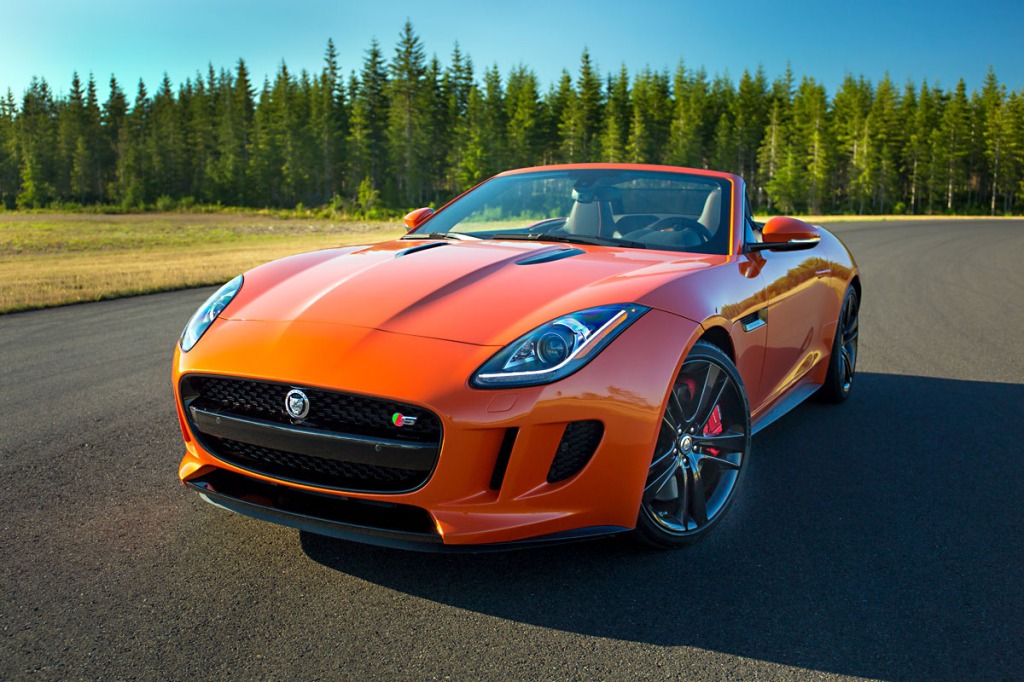 All F-Types are powered by supercharged engines. The base F-Type draws its energy from a 3.0-liter V6 that produces 340 horsepower along with 332 pound-feet of torque. Next up is the F-Type S model, also powered by a 3.0-liter V6 that pumps out 40 additional horses for a total of 380, while boosting the torque level to 339. At the top of the F-Type lineup is the V8 powered S, which delivers a more than substantial 495 horsepower while generating an impressive 460 pound-feet of torque. All are equipped with a new Intelligent Stop/Start system to enhance fuel economy under certain driving conditions. The lightweight body structure is attributable to the extensive use of aluminum.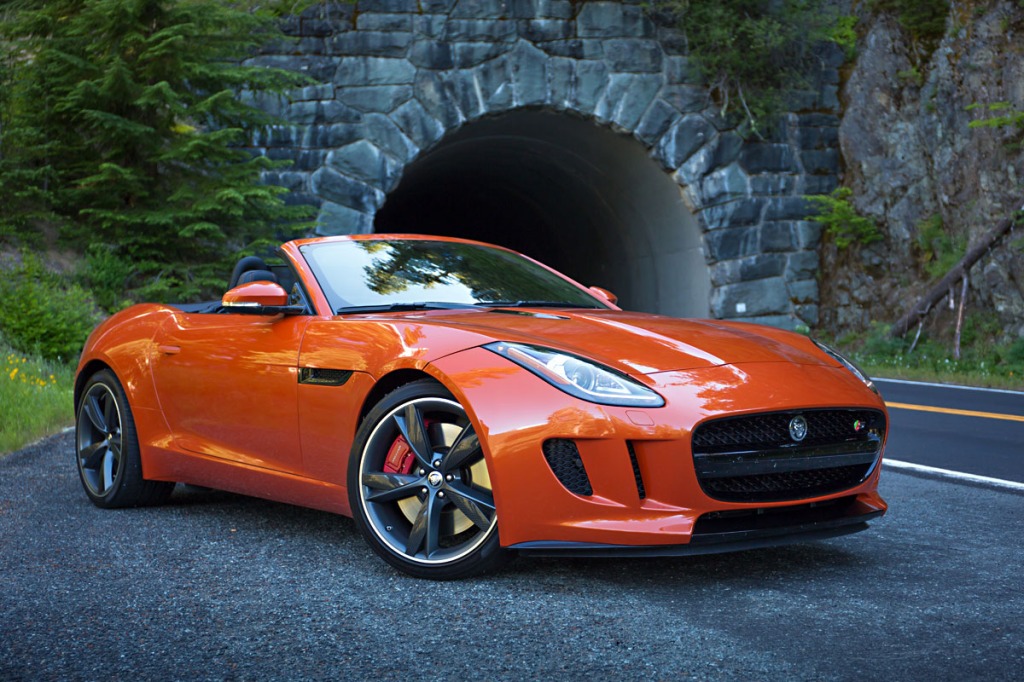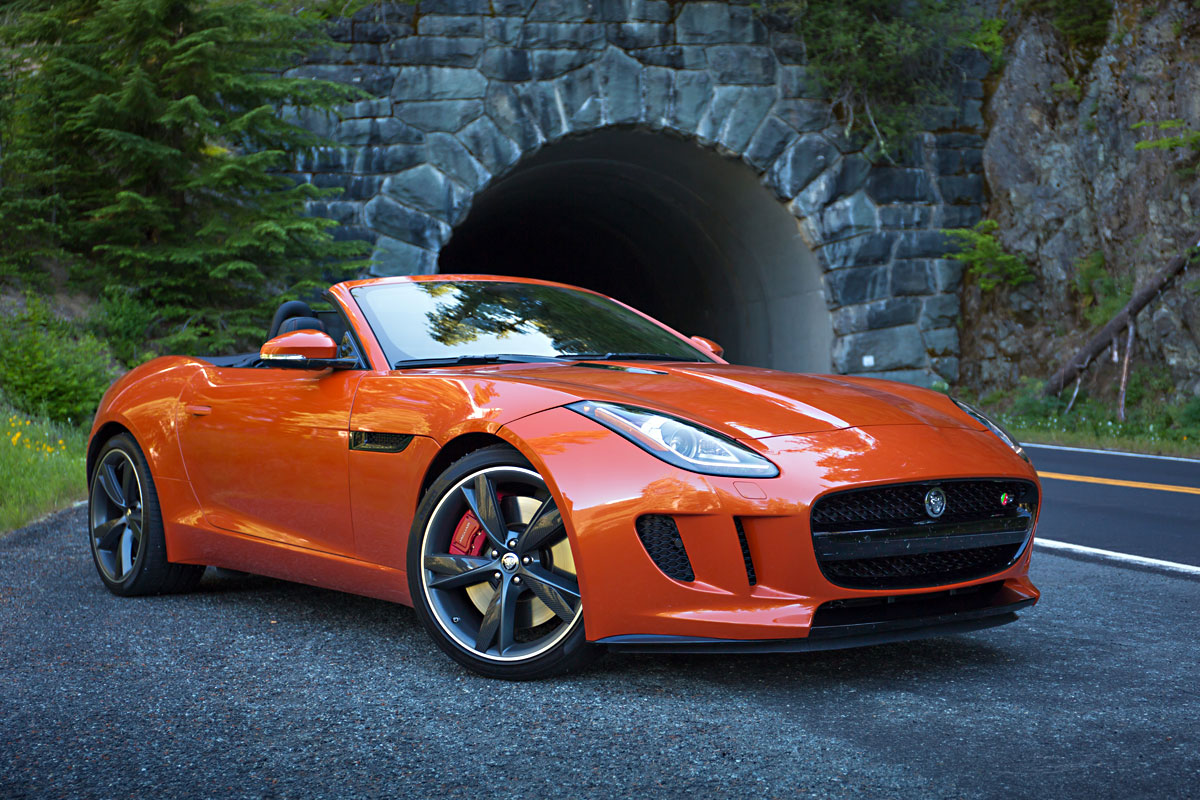 Engine power is routed to the rear wheels through a limited slip differential; mechanical on F-Type and F-Type S, and active electronic on F-Type V8 S. S-models also feature Dynamic Launch Mode. All F-Types handle gear changes through an eight-speed "Quickshift" automatic transmission with a centrally mounted SportShift selector that provides full manual sequential control with steering wheel-mounted paddle shifters. Six-cylinder F-Types feature a dual exhaust system that pays homage to the E-Type introduced in 1961, while the V8 S model F-Type rids itself of exhaust gasses through outboard, twin-dual (quad) exhaust tips. An Active Exhaust system, standard for the V6 S and V8 S models and optional for the V6, enhances the exhaust note. Electronically controlled bypass valves in the rear section of the exhaust open under hard acceleration, effectively providing a straight-through, free-flowing arrangement. At cruising speeds, the valves close, retaining a powerful exhaust note with comfortable sound levels.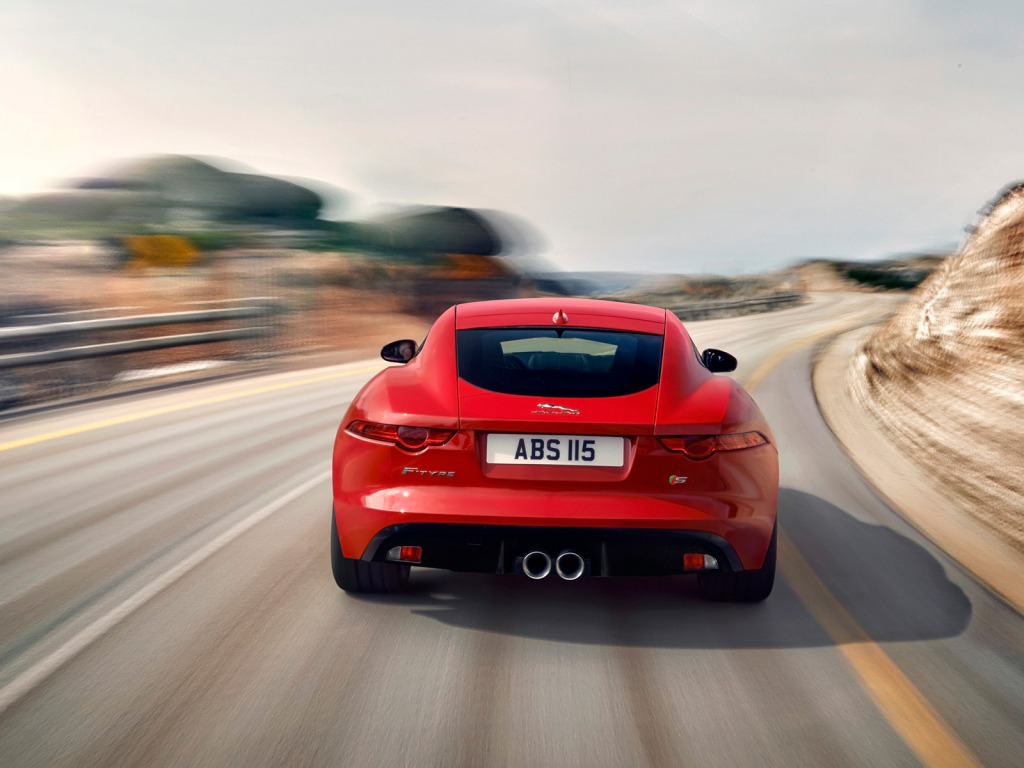 Visually, the 2014 Jaguar F-Type is seductive from every angle, continuing Jaguar's sporting bloodline that reaches back more than 75 years according to Ian Callum, Jaguar's Design Director. The new F-Type displays a sophisticated glamour and beauty in a design that is destined to stand with its predecessors as a sought after, collectible classic. It exhibits a near perfect proportion and stance, with a long bonnet (hood), a rearward-positioned cabin, and a short rear deck and overhang. The F-Type more than satisfies Jaguar founder, Sir William Lyons' edict that "All Jaguars have to look fast, even when they are standing still."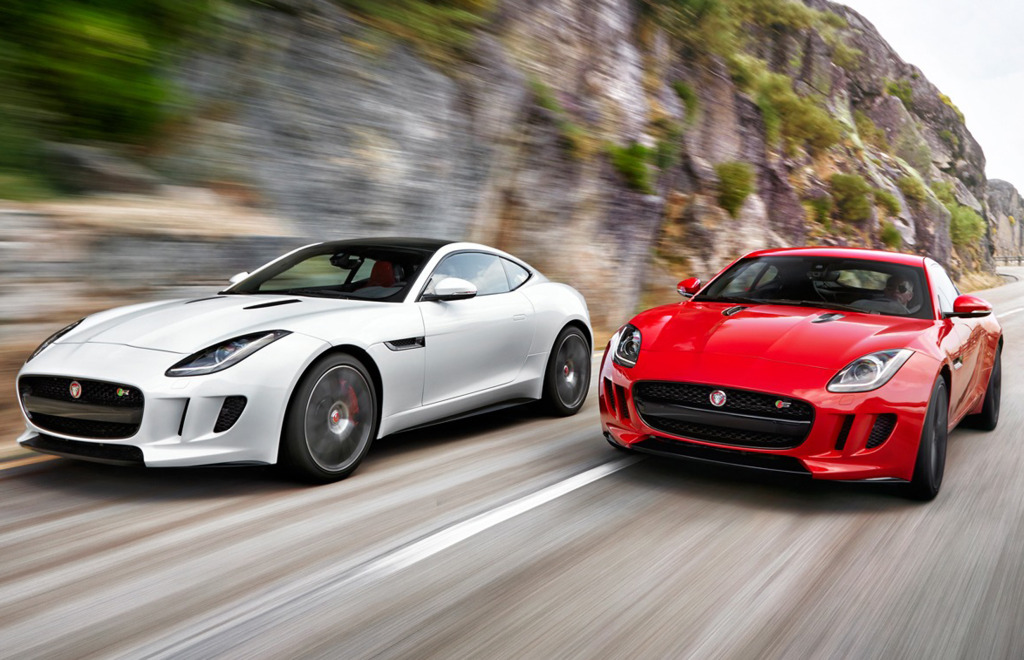 In profile, a rising light catcher or character line reinforces the body section, running from the front diffuser to the rear, with a "coke-bottle" curvature from the shoulder to the rocker, as well as in the overhead form with a tapering tail section. Up front, the sculpted, clamshell hood features a central power bulge and functional, slotted vents, blended with powerful fenders that appear to be "shrink-wrapped" over the car's mechanical form. The projector-beam headlamps appear appropriately as cat-eyes, just above and outboard of the large main grille, which sports a piano black, horizontal bar ahead of its mesh inset. The grille is flanked by twin air inlets that sit above a lower grille and front splitter.
The car's rear view emphasizes its width, with narrow, distinctive horizontal LED taillamps and broad diffuser that houses the exhaust outlets. There is a deployable rear spoiler that operates automatically or manually. The F-Type is equally attractive with the top up or down. The top, incidentally, is a "Z"-fold unit that operates in either direction in 12 seconds at up to 30 mph. Exterior door handles pop out, activated by touch or fob and retract to a flush position when the car is in motion.
Moving inside, the 1+1 cockpit is unashamedly driver-focused in terms of controls and switchgear positioning. The dashboard is low, and provides optimum visibility. A deployable center vent atop the dash disappears from view along with control icons with the ignition off. The purposeful, bronze accented toggle switches below the three dual purpose rotary knobs, and paddle shifters along with the substantial three-spoke steering wheel blend contributing to the sporty persona of the F-Type that is not unlike the feel of a jet fighter cockpit.
During the national press launch, I was able to experience both the F-Type S and F-Type V8 S in freeway driving, twisting backroad scenarios, on track and on an autocross course set up at Ridge Motorsports Park in Shelton, Washington. Both cars wore an exterior finish of Fire Sand metallic, with a Black interior and Black convertible top. The base sticker for the F-Type S was $81,000 while the final tally came to $98,420 after adding the Climate Pack, Premium Pack, HD Radio and SIRIUS satellite radio, illuminated door sill treadplates, metallic paint, Extended Leather Pack, Meridian Premium Audio Sound System, Performance Pack S, Vision Pack, 20-inch Blade forged wheel with Carbon Fiber trim and Destination and Delivery charge. The F-Type V8 S was base priced at $92,000 and came with the Climate Pack, Black Pack, Premium Pack, Vision Pack, metallic paint, HD Radio and SIRIUS satellite radio, illuminated door sill treadplates, metallic paint, Extended Leather Pack, Meridian Premium Audio Sound System, Performance Pack S, 20-inch Cyclone wheels and Destination and Delivery charge which elevated the final sticker to $104,770.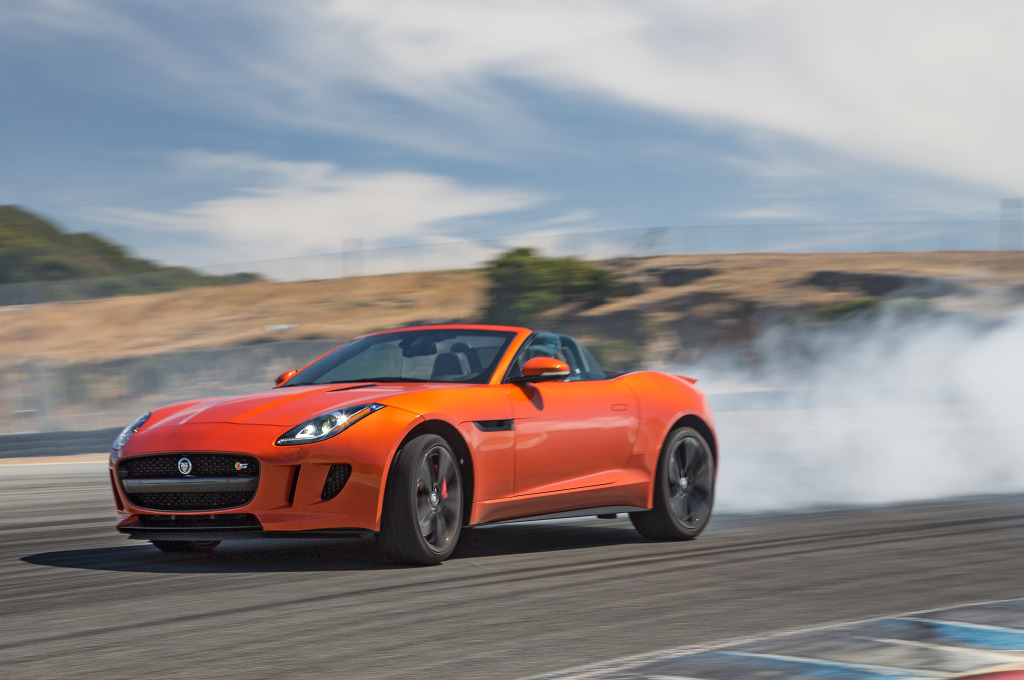 In a word, the 2014 Jaguar F-Type S and F-Type V8 S are both phenomenal, both in terms of styling and performance. The technology level is phenomenal as well. The Performance Packs include performance seats, Configurable Dynamic Mode, performance brakes with red calipers, a flat-bottomed steering wheel, selectable Active Exhaust and interior Black Pack.
The Configurable Dynamic Mode allows the driver to select which elements of the Dynamic Mode are desired, for instance, steering feel and throttle response may be sharpened while allowing the ride on models with Adaptive Dynamics to remain unchanged. Configurable Dynamic Mode also adds functionality to the central touchscreen geared to track use of the car. The system allows drivers to record lap and split times and will provide information on throttle and brake inputs as well as G-forces generated.
Acceleration is awesome and braking is positively confidence-inspiring thanks to the oversized rotors. The ride quality and stability renders the car solid and totally planted, but without any harshness. The steering input is positively spot-on, with instantaneous response. In fact, every response from the steering to transmission shift points, throttle response, braking and suspension has been finely tuned to deliver the most connected, accurate and involved driving experience possible.
The driver's environment is emphasized through an asymmetrical cabin layout with all the controls placed naturally to hand and logically grouped, allowing for maximum attention to the driving experience. A grab handle sweeps down the center console on the passenger side, delineating it from the driver's position and wrapping around the center console.
Virtually everything about the Jaguar F-Type delivers a warm, fuzzy feeling. In this writer's opinion, it may well be the quintessential sports roadster. Perhaps the only negative feeling about it comes form the fact that it is not within my personal financial reach – if it were, I would order it today in Italian Racing Red and live happily ever after. Which model would I opt for? The F-Type S certainly delivers more than satisfactory performance (definitely all I can handle and then some) and its exhaust note is more velvety. On the other hand, the F-Type V8 S, despite its more raucous and raw exhaust tone generates considerably more power for not that much more expense when comparably equipped, and it may even offer a better resale value. The latter is actually a moot point, because given its sure-to-become-classic and collectible status, why would one ever want to get rid of it? Either way, the F-Type marks Jaguar's return to offering a true sports car.
– Article by Arv Voss