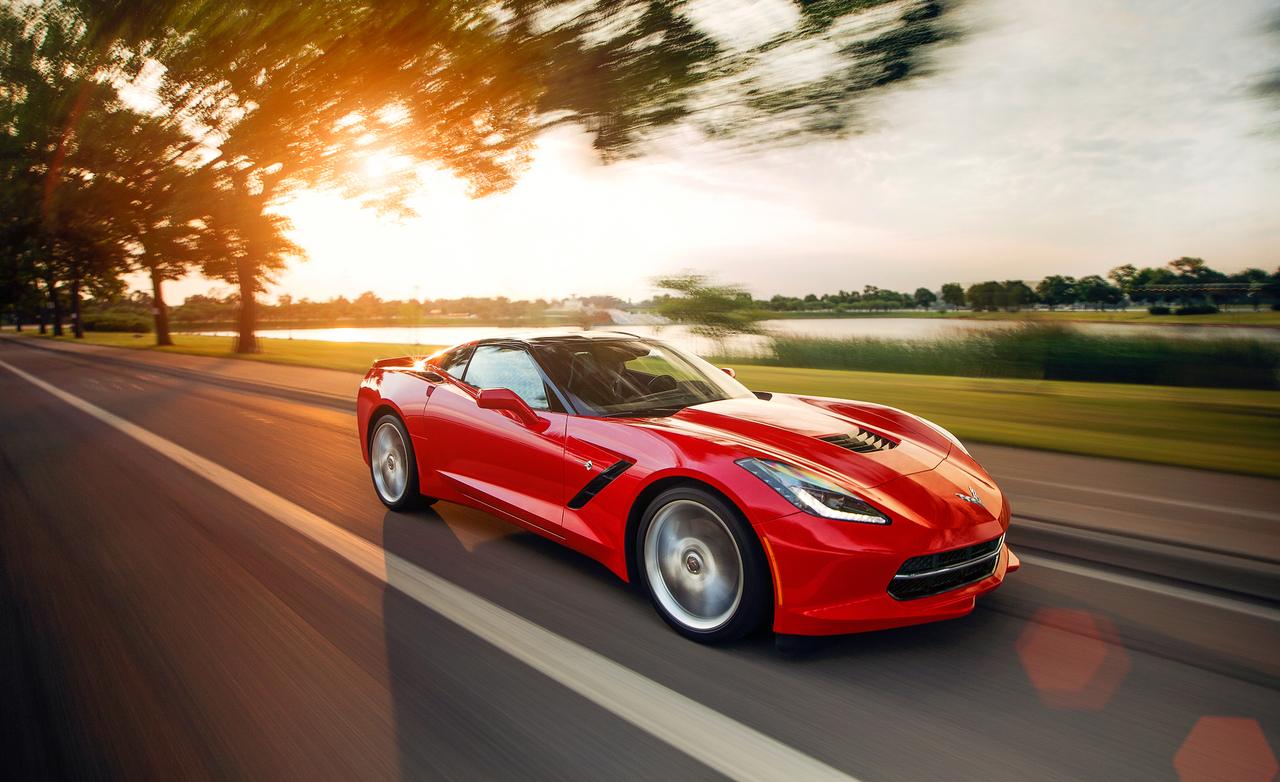 TEST DRIVES
2014 Chevrolet Corvette Stingray: Powerfully Explosive
By
|
Chevrolet gave birth to the first Corvette back in 1953. It was, as everyone knows, a fiberglass-bodied sports car created for the open-air crowd. Well, it was at least sporty looking for its time, but in today's sports car arena, it would be probably be laughed at – not for it's styling mind you, but for its performance potential or lack thereof. That first example Corvette was powered by an inline Stovebolt "Blue Flame" six-cylinder engine that mated to a cast-iron, three-speed Powerglide (not-so lovingly dubbed "Powerslide") automatic transmission. It was a two-seat roadster with a cloth convertible top and an optional, removable hardtop. The "bow-tie" team has continued to evolve the Corvette to a true sports car to be reckoned with. The first Stingray appeared as a 1963 model. The latest iteration, or seventh generation C7 version–the 2014 Chevrolet Corvette Stingray–is living proof of the iconic car's magical evolution.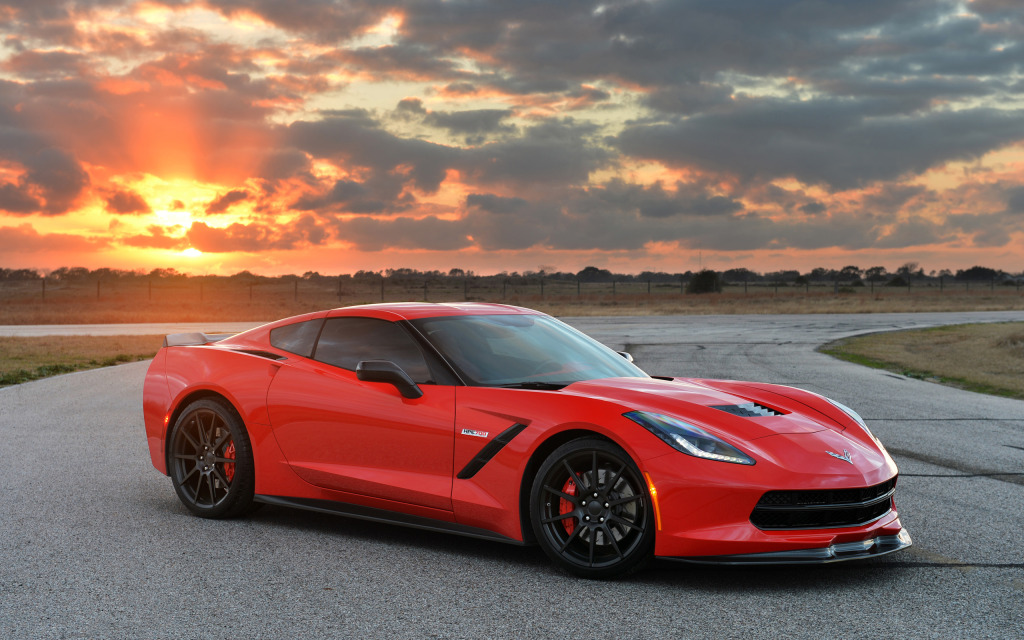 The 2014 Chevrolet Corvette Stingray is also a two-seater, but may be ordered as either a convertible, or as a coupe with a targa-type top. The convertible top is a fully automatic affair that operates in seconds at speeds up to 30 mph. The Stingray Coupe is base priced at $51,995. including the $995 destination and handling charge, and the Stingray Convertible starts at $56,995. Both models share a nearly identical curb weight, as well as identical chassis tuning and performance technologies. Construction materials consist of the aluminum frame, a carbon fiber hood and removable roof panel in the case of the Stingray Coupe, composite fenders, doors and rear quarter panels and carbon-nano composite underbody panels, all of which contribute to the car's optimal, nearly 50/50 weight balance (49 front/51 rear).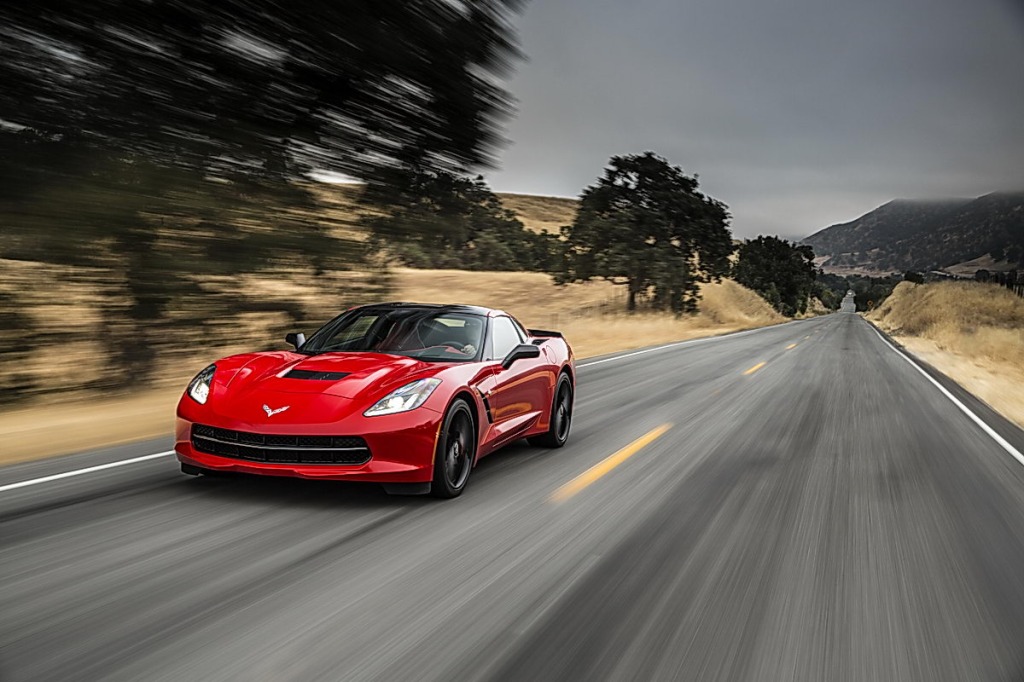 Nestled in an all-new aluminum frame that weighs less, and is stronger than the previous steel frame, is the most powerful and most efficient standard engine to be found in a Corvette to date. It is a 6.2-liter, pushrod V8 with Direct fuel Injection that produces 460 horsepower at 6,000 rpm, while developing 465 pound feet of torque at 4,600 rpm with the available performance exhaust. The engine meters its driving force to the rear wheels through either a new 7-speed manual gearbox, with Active Rev Match technology, or a 6-speed automatic transmission with paddle shifters. It is rated as the most efficient sports car on the market with an EPA estimated 17-mpg city and 29-mpg highway. No other car offers more than 455 horsepower and greater than 29 mpg on the highway. Despite the fuel economy, the new Corvette Stingray is capable of rocketing from 0-60 mph in a mere 3.9 seconds and reaching a top speed of 185 mph.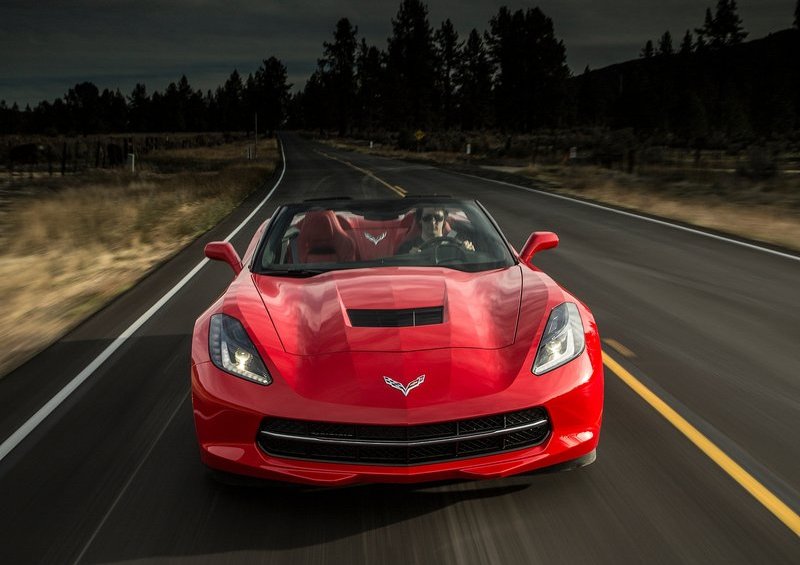 The all-new Corvette Stingray shares only two parts with the previous-generation Corvette, incorporating the all-new frame structure and chassis, a new powertrain and supporting technologies, as well as completely new exterior and interior designs. The sculpted exterior features advanced high-intensity discharge and light-emitting diode lighting and racing-proven aerodynamics that balance low drag for efficiency and performance elements for improved stability and track capability. On the subject of racetracks, there's an available Z51 Performance Package that includes an electronic limited-slip differential; dry-sump oiling system; integral brake, differential and transmission cooling; along with specific wheels, tires, brakes and a unique aero package that improves high-speed stability.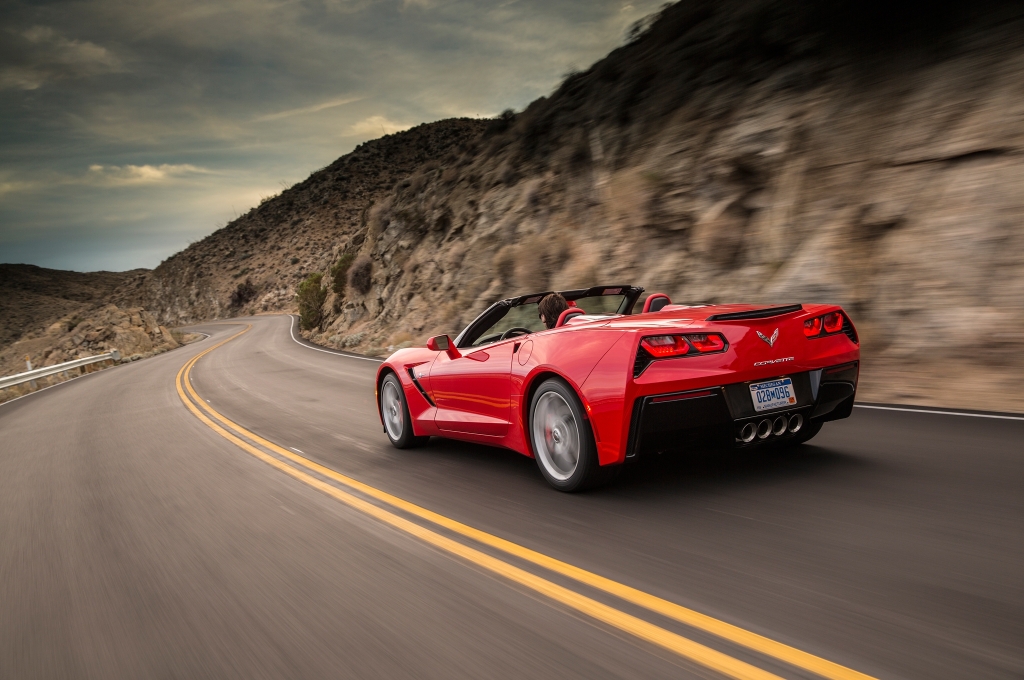 At the heart of the Corvette Stingray's driver-focused technologies is a cockpit-mounted Driver Mode Selector that allows drivers to optimize the car to suit their driving preference and road conditions through a choice of five settings: Weather, Eco, Tour, Sport and Track, which ultimately tailors 12 vehicle attributes. The Driver Mode Selector is an easy to use rotary knob near the shifter. The Tour mode is the default setting for everyday driving; Weather mode is designed primarily for added confidence while driving in inclement or slippery scenarios; Eco mode is for achieving optimal fuel economy; Sport mode facilitates spirited road driving, and the Track mode is obviously for track use. The all-new Corvette Stingray is actually three cars in one, providing the comfort and functionality of a long-distance GT car, the connectedness and infotainment of a daily driver, and the acceleration, grip and braking of a capable track car according to Harlan Charles, Corvette product manager. "With the Driver Mode Selector, we wanted to give drivers an easy way to tailor virtually every aspect of the car to fit their driving environment. The result is a more rewarding, more confident experience, whether you're commuting in a downpour or charging through the corkscrew at Laguna Seca."
The all-new Corvette Stingray is visually provocative and stimulating. With styling that is not only elegant, but functional as well. The design goal was to make a bold statement, embracing the car's advanced technology, while enhancing its overall performance from the wind tunnel to the track. It breaks new ground, while remaining true to elements that define a Corvette as a Corvette. No single detail was repeated from previous generations, and the new Corvette Stingray includes the distinctive profile defined by a long dash-to-axle ratio – a low, lean proportion that's emphasized even more on the convertible. The greenhouse suggests the canopy of a fighter jet with dual-element taillamps. Designers built on this foundation, a form vocabulary from two dissimilar sources: aerospace and nature. The all-new, dual-element taillamps represent the greatest departure from tradition and are among the car's most dramatic elements. The three-dimensional, sculpted lenses house innovative indirect LED lighting. The state-of-the-art lighting uses hidden LED lamps that cast their light up from the bottom of the housing into a reverse reflector, creating an even glow. LED lamps are also used for the white backup lamps. The taillamps integrate functional aircraft-style air outlets for the available differential and transmission coolers. The centered quad exhaust outlets hint at the car's performance potential.
The interior combines fine materials and craftsmanship with advanced technologies that contribute to a more connected and more engaging driving experience. Each of the interior's features and details were designed to enhance the driver's connection to the car, beginning with the fighter jet-inspired wraparound cockpit; and continues with the smaller (14.1-inch) diameter steering wheel, more supportive seats, and high-definition, configurable screens. Two seating choices are offered: a GT seat for all-around comfort and a Competition Sport seat with more aggressive side bolstering that provides greater support on the track. The frame structure for both seats is made of magnesium for greater strength and less weight than comparable steel frames. There's a steel-reinforced grab bar on the center console for the passenger and soft-touch materials on the edge of the console, where the driver naturally braces during high-load cornering. High-performance driving influenced elements of the configurable display screens and available head-up display, which vary depending on the driving mode, including the Track display inspired by the C6.R.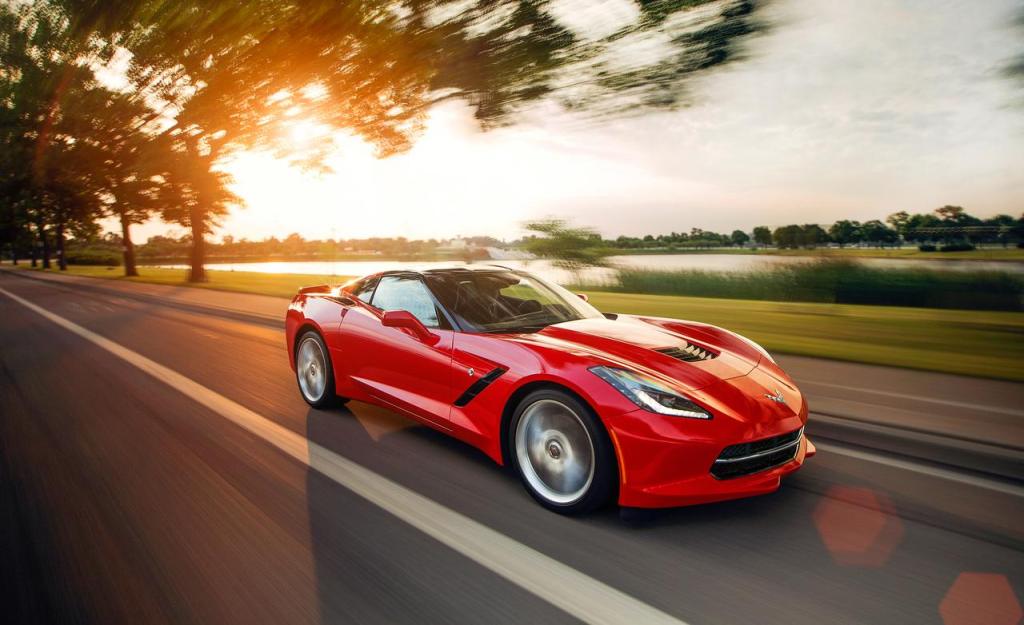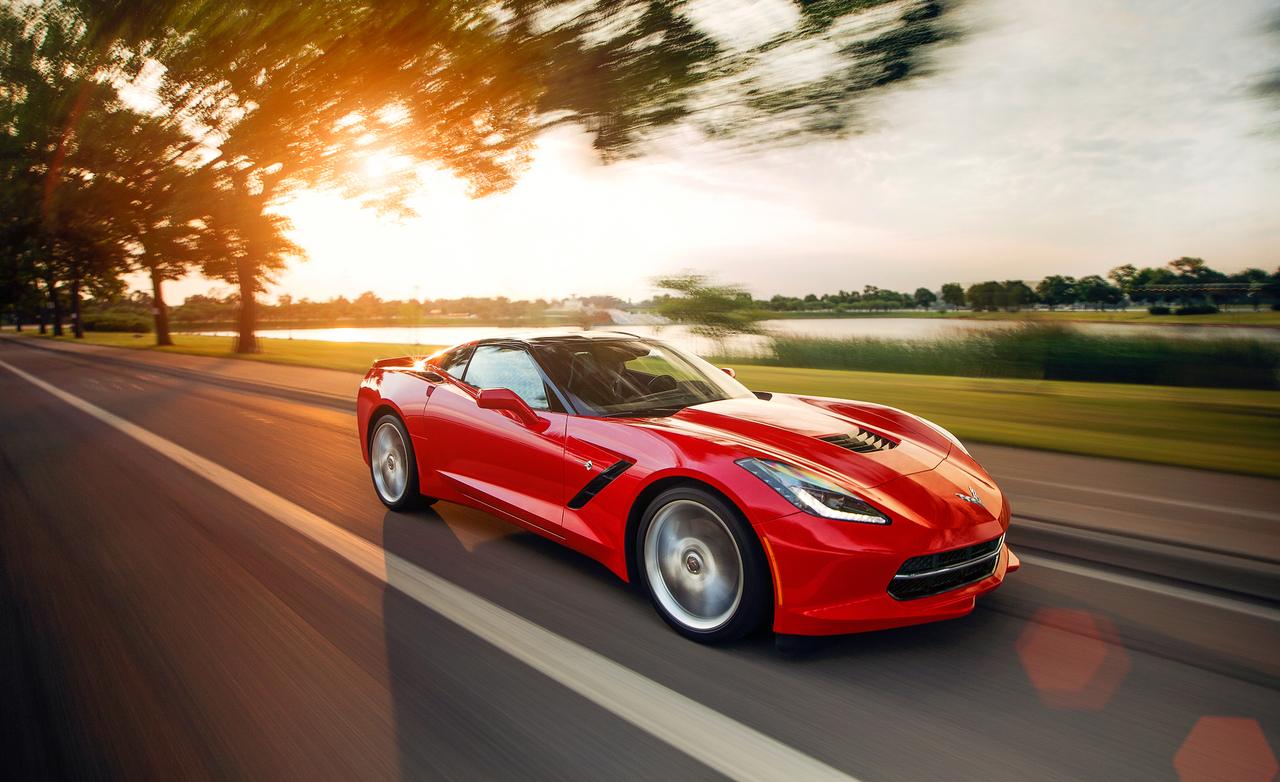 All models feature a fully-wrapped interior, where all surfaces are covered with premium, soft-touch materials. Available materials, depending on the trim level, include Napa leather, aluminum, carbon fiber and micro-suede.
The 2014 Corvette Stingray is clearly the best production Corvette ever. Essentially, it is engineered to race, but is also built for on-road driving enjoyment. It boasts a better power to weight ratio than Audi's R8 and Porsche's 911 Carrera.
The new Stingray is, in a word, incredible. Other words would be phenomenal and awesome. It behaves in a docile and civilized manner when called upon to do so, but it is also a screamer when poked and prodded. It handles with both an athleticism and preciseness never before available in a Corvette. It rides comfortably when simply cruising, but may be firmed up for track exercises or more aggressive driving when the mood strikes.
Photographs do not do the Stingray justice – it is not only a purposeful and functional design, it is also stunningly gorgeous. Yes, there are some Corvette purists who feel that the new headlight and taillight treatment violates the heritage and purity of the iconic sports car, but I hereby disagree vehemently. Everything about this seventh generation represents a step up. I have my past favorites too, such as that first 1953 example; and the 1957 four-speed, fuel injected model. Another early favorite is the 1962 Corvette, but it's clearly time to move on.
The 2014 Chevrolet Corvette Stingray is built at GM's Bowling Green, Kentucky assembly plant and goes on sale in September. If you can find a better high performance car at a more attractive price, then buy it.
– Article by Arv Voss