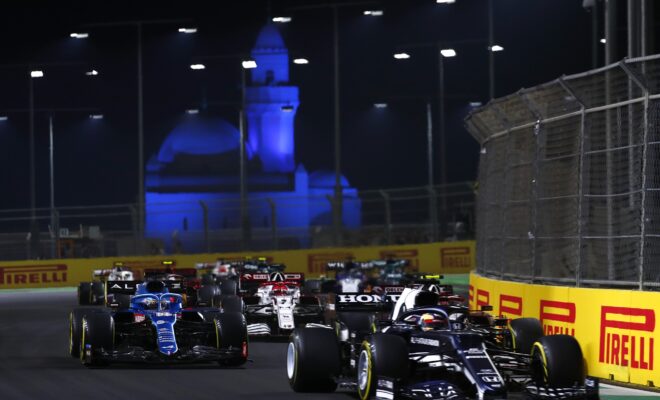 RACING
Honda's Verstappen Tied For F1 Lead Going To Final Race
By
|
After 21 Formula One races that was punctuated Sunday by the series' chaotic first visit to the street track built in Jeddah, Saudi Arabia, title protagonists Max Verstappen and Lewis Hamilton find themselves right where they were back in March – tied for first in the championship.
Verstappen's Red Bull Racing Honda suffered through a rollercoaster day that saw great passes for the lead, penalties that took the lead from him and a collision with Hamilton, to finish second in the inaugural Saudi Arabia GP. Verstappen's result, when coupled with Hamilton's win, gave both drivers 369.5 points heading into next weekend's season finale in Abu Dhabi.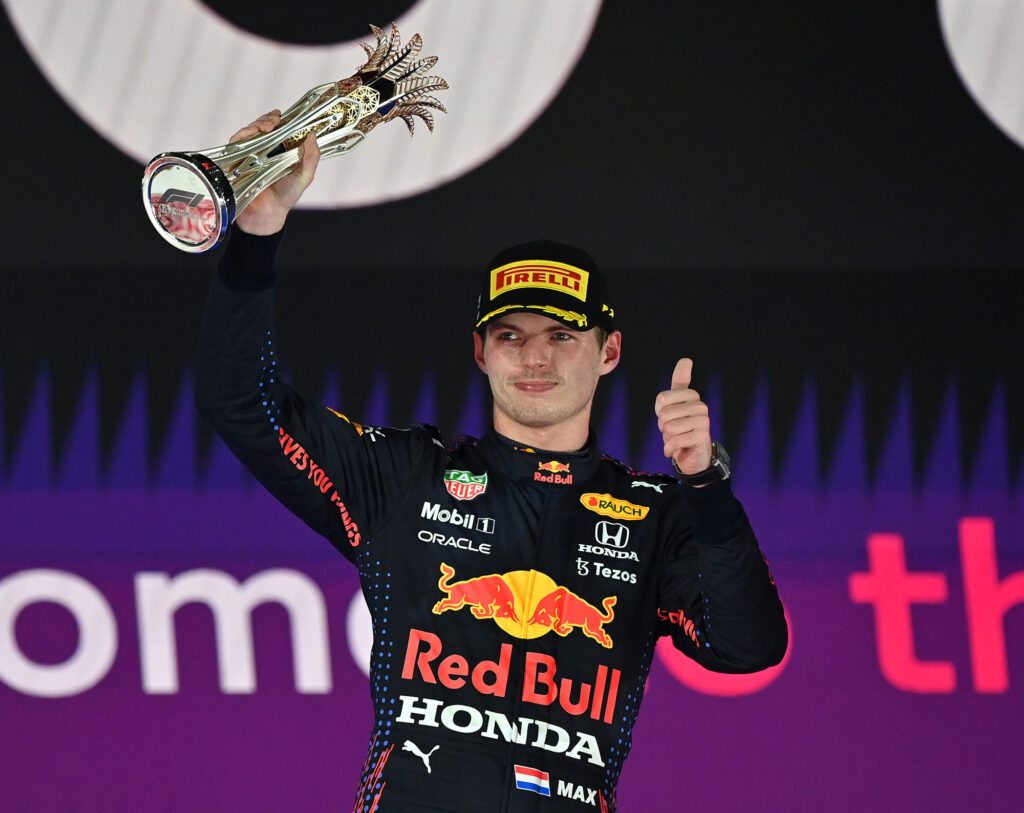 Starting third, Verstappen caught the first break of the day when a safety car period turned into a red flag for Mick Schumacher's crash, allowing the Honda driver to leapfrog the Mercedes of Hamilton and Valtteri Bottas as the two leaders pitted early in the safety car period. Verstappen held the lead on the restart, but a crash involving Charles Leclerc and Red Bull's Sergio Perez stopped progress. Perez suffered race-ending damage and retired after 15 laps.
The third standing start saw Verstappen take the lead from Hamilton and Esteban Ocon, coming from third after stewards determined the Verstappen had cut the course on the original start. Fighting off the seven-time World Champion saw Verstappen and Hamilton go wide through Turn 1 as the Dutchman maintained his position at the front, but he was advised to cede the position to Hamilton.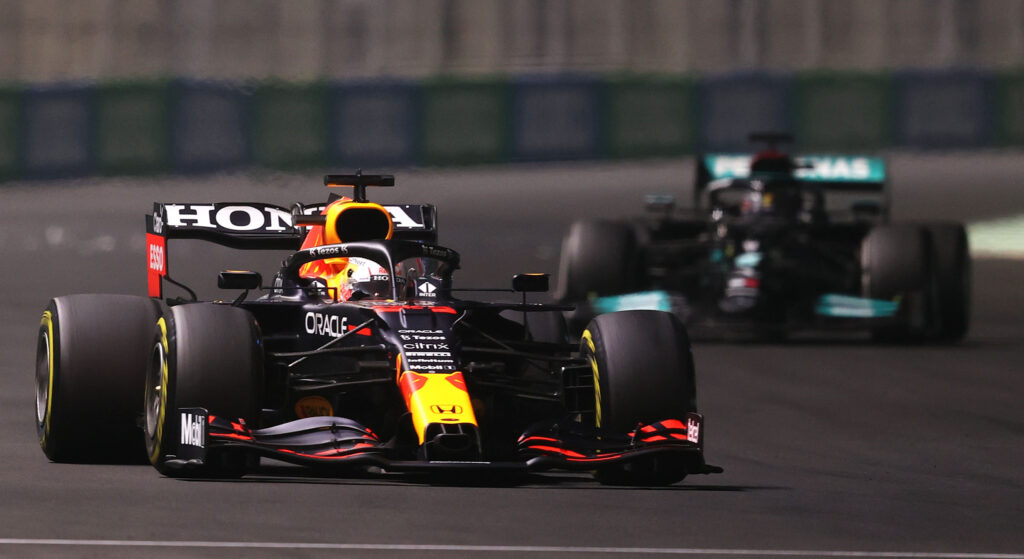 Verstappen avoided disaster soon after as confusion reigned while he tried to yield the lead. He slowed on a straight but Hamilton ran into the back of the Honda driver before recovering. Soon after, the Stewards implemented a five-second penalty on Verstappen for the original incident, dooming him to second place.
The Scuderia AlphaTauri duo had strong starting positions again with Gasly starting sixth while rookie Yuki Tsunoda gridded eighth. Gasly had a solid race, running strong all day and finishing sixth. Tsunoda has a couple of instances of contact and also received a time penalty from the Stewards, leaving him to place 14th.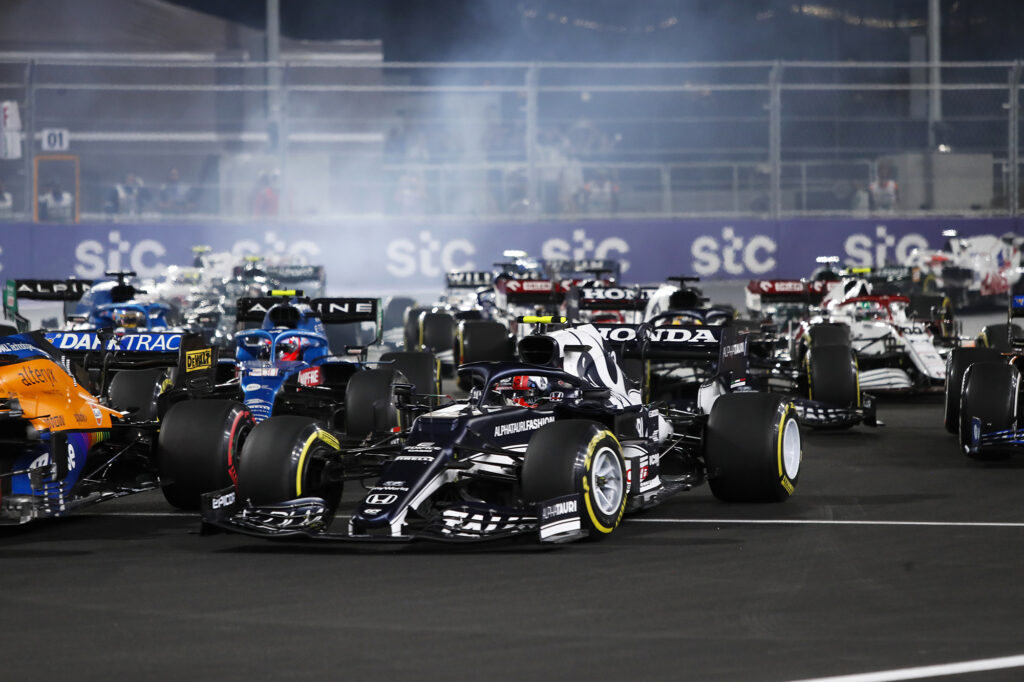 So the title chase is a dead heat going into next weekend's Abu Dhabi GP, marking the first time since 1974 when Emerson Fittipaldi and Clay Regazzoni went to Watkins Glen in a tie for first in a championship chase that eventually went to Fittipaldi.
Toyoharu Tanabe
Technical Director, Honda F1

The first Saudi Arabian Grand Prix turned out to be a very chaotic race, which had to be red flagged twice. For Red Bull Racing Honda, Max who maintained third place at the first start, got the benefit of the first stoppage in terms of pit stop strategy and was able to lead for a while. However, in the end, he had to settle for second place, which is not ideal in terms of the Drivers' title. As for his team-mate, Checo suffered an unfortunate collision which meant he retired just after the first restart. For Scuderia AlphaTauri Honda, Pierre did a good job of managing a complicated race to finish where he started in sixth place. After a slow start, Yuki was up in the points until his collision with Vettel, eventually finishing 14th, but for a rookie at a difficult track like this, his pace had been good all weekend. In terms of the Drivers' championship, Max and Lewis are now equal on points, while Mercedes has extended its lead in the Constructors.' It means both titles will be decided at the final race in Abu Dhabi next Sunday, which will also be Honda's last Formula 1 race. However, we will not change our approach and simply concentrate on having the best race possible with our two teams and all four drivers."
Max Verstappen – Red Bull Racing Honda
Start 3rd, Finish: 2nd

"There was definitely a lot of action today, a lot of things happened. I was told to give the position back, so I moved off the racing line and slowed down, Lewis just stayed behind me, I don't understand why he didn't pass. I don't agree with the five-second penalty, but it is what it is and we'll just move on. We didn't have perfect pace in the race today, so that's something to work on looking ahead to Abu Dhabi. We're on equal points now heading into the final race, it's going to be an exciting end to the season."
Sergio Perez – Red Bull Racing Honda
Start: 5th, Finish: DNF

"It wasn't the best weekend for the Team, we lost crucial points in the Constructors' Championship, so we are going to Abu Dhabi now to try and turn things around. We were slightly unlucky with the first red flag but we got away well after the second restart. We got past Gasly and Charles and as I was coming out of turn three there just wasn't enough room for everyone, given how the corner was. I ended up tangling with Charles, he clipped my rear tire with his front right tire. It was a bad moment for everyone but just a very unlucky one. It is just a big shame because we needed those points today. I stayed with the car out on track because we were trying to turn the engine back on, we thought we could restart it but it was a bit on the hot side so we had to retire. It was a very important race for the Team today so this one hurts a lot but there is hope for Abu Dhabi. There is still optimism and something to fight for and we will give the final race of the season everything so let's look forward."
Pierre Gasly – Scuderia AlphaTauri Honda
Start: 6th, Finish: 6th

"I'm very pleased with today, finishing in the top six in front of Ferrari, I'm really happy with that result and we're taking home a lot of points again. We knew it was going to be tricky coming to a new track, but we've performed well throughout the weekend and had a strong starting position today. It was a difficult race, with lots of things happening and it was very long, which meant it required a lot of focus. We know how complicated it is into the first corner here, so having three starts was intense, but we tried to take every opportunity we could and in the end I think we did a good job."
Yuki Tsunoda – Scuderia AlphaTauri Honda
Start: 8th, Finish: 14th

"It's been a tough afternoon. I struggled at the beginning of the race, but I think the final restart went well and I managed to gain back some places. Unfortunately, I pushed a bit too hard and I had the collision with Vettel. The pace in the car was looking quite good at that point in the race, so I should've held off and waited for another opportunity to overtake, it was my mistake and I've apologized to him. It's frustrating as I feel like points were on offer today."