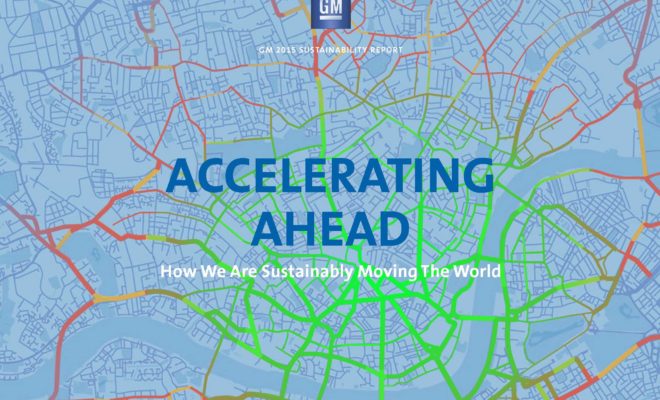 TECH
GM Strengthens Business, Communities through Mobility
By
|
The rules of vehicle use and ownership are changing rapidly, according to GM's latest Sustainability Report (gmsustainability.com) released Tuesday. Connectivity, car-sharing, alternative propulsion and autonomous vehicles are key elements toward a future of safer, cleaner and more efficient mobility options for customers.
"We see tremendous potential in these technologies and the long-term benefits for our customers and communities around the world," said GM Chairman and CEO Mary Barra. "The GM team is looking to lead this transformation of personal mobility and will continue to deliver on our commitment to responsible manufacturing."
Independent third parties have also recognized GM's progress.
"GM is quickly and appropriately adapting its business to our rapidly changing world, from addressing climate change through public policy advocacy to helping move electric vehicles into the mainstream," said Mindy Lubber, president of Ceres, a nonprofit advocating for sustainability leadership.
The interactive report outlines strategic technology investments that are helping GM strengthen its core business and reshape the future of personal mobility. Here are some highlights:
The road to autonomous
GM is using its 20 years of OnStar connectivity expertise to enable advanced safety technologies and car-sharing. GM is paving the way for autonomous vehicles and vehicle-to-infrastructure technology. These efforts will help reduce congestion, crashes and pollution. The company is working with stakeholders to create the largest V-to-I enabled corridor in the U.S. on 120 miles of Metro Detroit freeways. It also will bring SuperCruise, the industry's first semi-autonomous driver-assist technology, to market next year on the Cadillac CT6.
Urban mobility
Earlier this year, the company launched its Maven car-sharing brand and invested $500 million in a strategic alliance with rideshare provider Lyft. Chevrolet also is building the affordable, all-electric Bolt EV, which will offer a more than GM-estimated 200 miles per charge.
Focus on fuel efficiency
GM is addressing climate change, in part, by continuing to provide customers with fuel-efficient models across each vehicle segment given that 77 percent of the company's carbon footprint comes from driving. Nine models get an EPA-estimated 40 mpg on the highway or better, up from six last year. GM's electrified vehicles on the road increased 9 percent to 196,861 vehicles.
Carbon reduction
Last year, Barra and 12 other automotive CEOs convened through the World Economic Forum committed to the vision of decarbonizing automotive transport. GM also signed the White House American Business Act on Climate Pledge, advocating the economic opportunity in addressing climate change.
The company is also aggressively pursuing ways to use more renewable energy. Two wind deals in Mexico and Texas will add 64 megawatts to its 106 megawatt global portfolio, enabling GM to achieve its renewable energy target four years early.
GM's progress provides topline growth through new revenue streams such as $1 billion from recycling and reuse in recent years, to bottom-line savings through greater efficiencies, such as $237 million in energy savings since 2010. GM was the only automaker to appear on the Dow Jones Sustainability Index in North America in 2015, and it earned perfect scores on climate change disclosure from CDP, a group serving more than 800 investors.
GM works with its dealers and supply chain to further reduce its carbon footprint. To date, 435 dealers joined the company's Green Dealer program and 77 percent of invited suppliers participate in an environmental efficiency program through CDP.
Manufacturing responsibly
The company is on track to meet all of its 2020 global manufacturing commitments. Since 2010, the baseline year, GM has accomplished the following:
Achieved 131 landfill-free facilities toward a goal of 150
Reduced total waste by 22 percent toward a goal of 40 percent
Reduced water intensity by 10 percent toward a goal of 15 percent
Reduced energy and carbon intensity by 14 percent and 15 percent, respectively, toward a goal of 20 percent
Earned certified wildlife habitats at half of GM's manufacturing operations
"Our 215,000 workers worldwide, seeking to serve our communities and build relationships both inside and outside of GM, are helping us minimize our environmental footprint while increasing our positive societal impact," said Jim DeLuca, GM executive vice president of global manufacturing.
Discover more about GM's environmental, social and economic impact by viewing the report at gmsustainability.com.