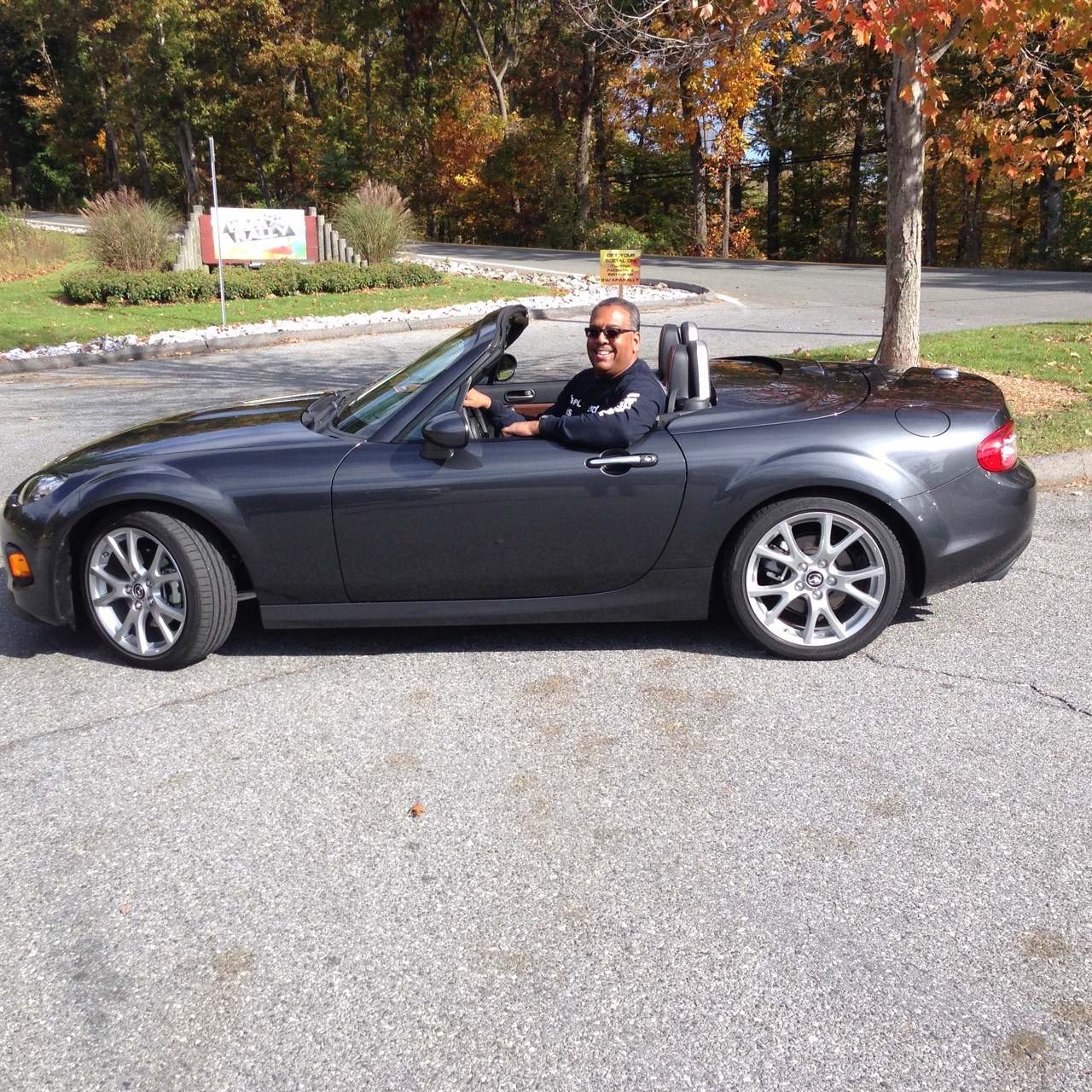 TEST DRIVES
Around the Block: 2015 Mazda MX-5
By
|
The Backstory
Everyone has a "Bucket List." It's something you must do or accomplish before you kick the proverbial "bucket." I've got a few items on my list, and some I'd like to accomplish but never thought I could.
What is one of those things you wonder? Well, at 6'9" tall, driving certain cars is out of the question. Any car from Lotus – no. Porsche's amazing Cayman – no-no. Mazda's MX-5 "Miata." Triple no to that, or so I thought.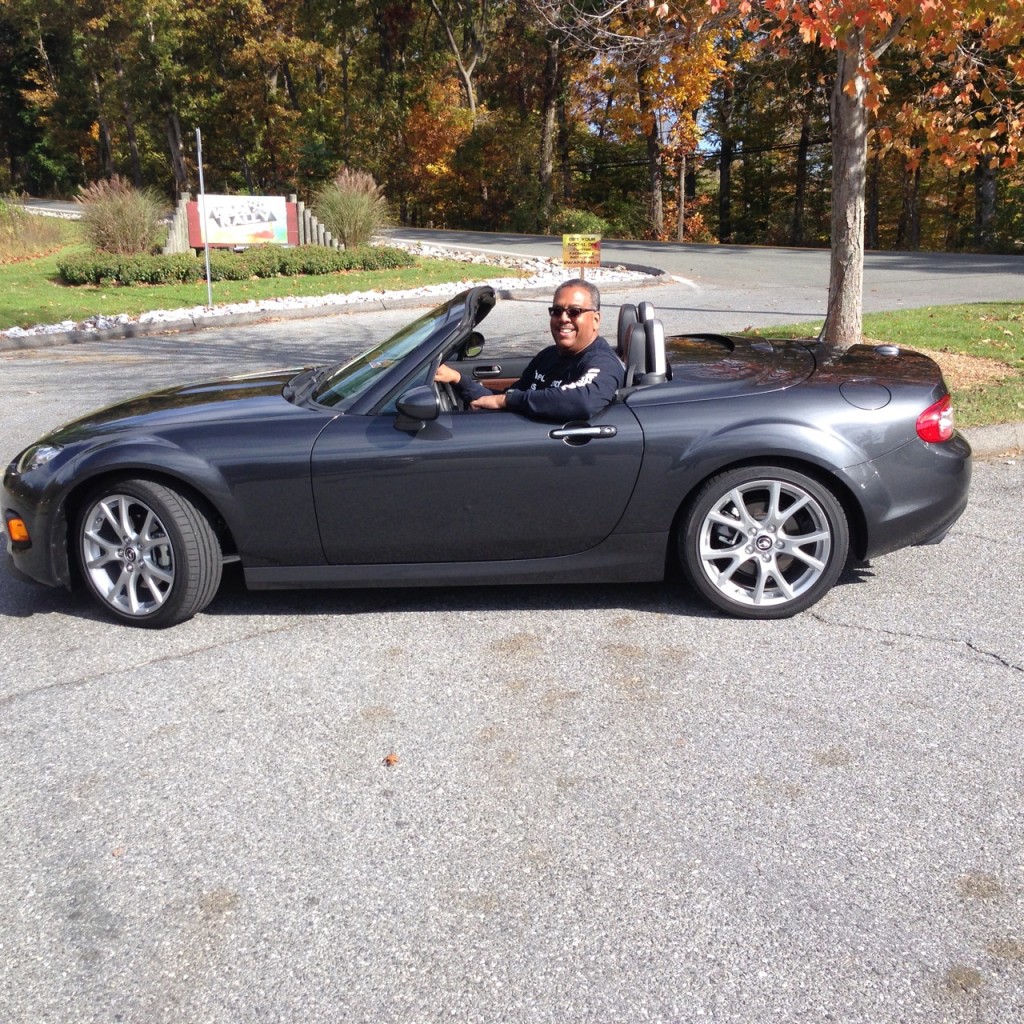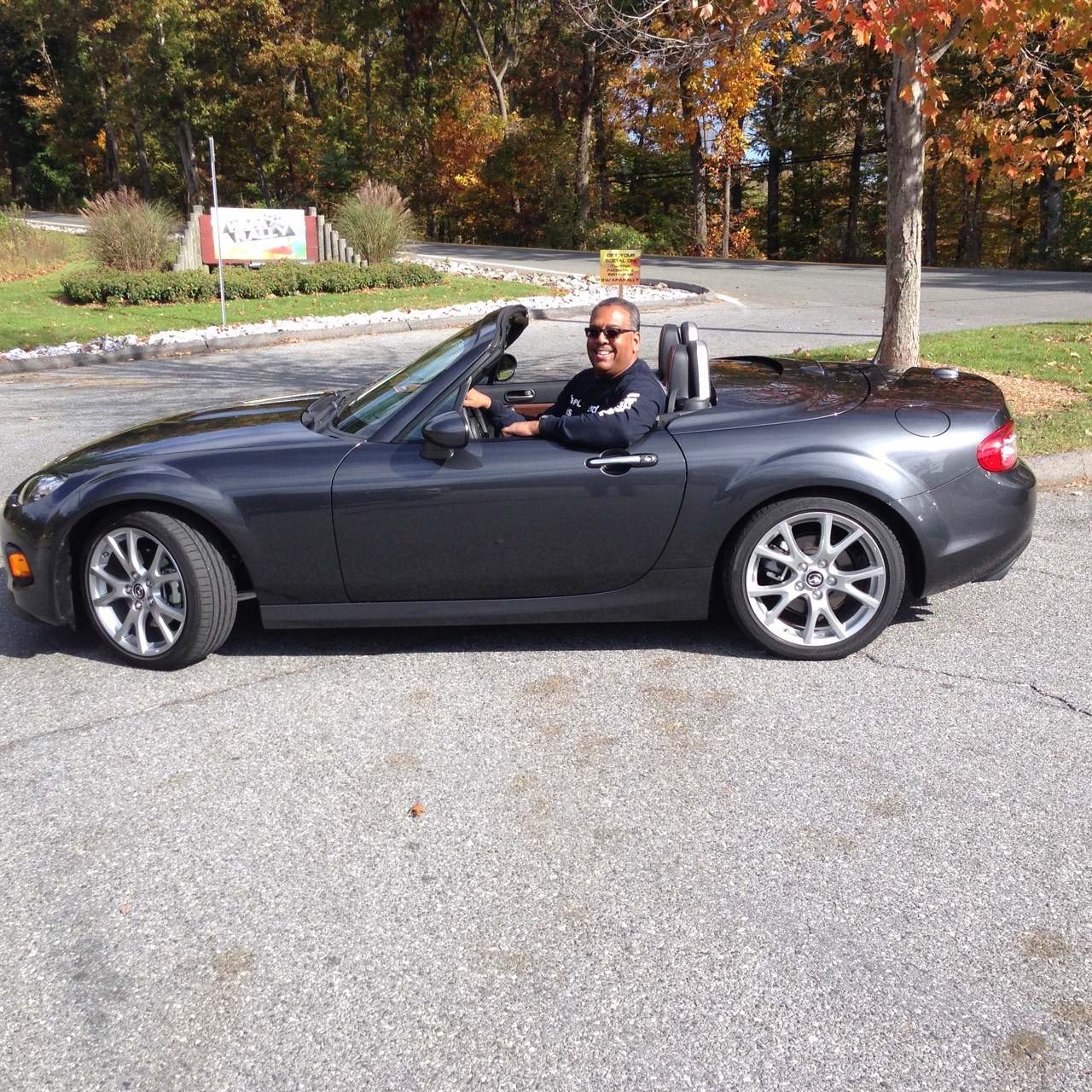 First, some background on the MX-5, the sportscar formerly known as Miata. Introduced to the U.S. market at the 1989 Chicago Auto Show, this inexpensive two-seat roadster recreated the classic British sports car experience – wind in hair, shifting a manual transmission, bugs in your teeth. It resurrected the passion and romance of long gone classics like the MGB, Triumph TR-6, Austin-Healy 3000 and even the tiny Bugeye Sprite. The Miata handled well, was a hoot to drive, and was cheap to maintain and insure.
Not only was it a sales success, with The Guinness Book of World Records in 2000 declaring it "The Best Selling Two-Seat Sportscar in History" (more than 531,000 units to that date, over 900,000 sold as of 2014), Mazda has continually made it better, improving performance, making it a little bigger, and improving safety and technology.
Now in its 3rd Generation, with a Gen 4 MX-5 recently announced in September 2014, the MX-5 continues to be the benchmark for small performance cars. On any given weekend, thousands are prepped for SCCA races nationwide.
The Car
So for years, I've listened to my colleagues wax ecstatic about the fun factor driving an MX-5. With my vertically challenged frame, it had always been a dream to get behind the wheel and get on down the road in one. I finally decided to try and make it happen and the annual Rally for the Washington Automotive Press Association (WAPA).
At the WAPA Rally, manufacturers bring their latest and greatest for WAPA journalists to take an extended cruise in so we're up to date on their latest offerings.
And there it sat. A 2015 MX-5 just calling my name. "Come here Jolly Green Giant, come smash your knees against my dashboard." With the top down, I responded to the MX-5's challenge to me. Over I went, and with a smooth vertical slide against the seatback, I was in place. SOLIDLY IN PLACE!
Yes, I could barely turn the steering wheel. Yes, my head was a good four-six inches above the top of the windshield, and yes there were gales of laughter from those assembled to watch this historic feat.
With a press of the starter button, I was off. Changing gears was my first adventure, with size 14 shoes depressing a clutch pedal somewhere I had no chance of seeing. First gear engaged, and the Mazda press people looked at me as if they would never see their beloved MX-5 in one piece again, or maybe they thought the same thing about me!
On the Road
As I exited the staging area and turned left up the hill, the thrill of the MX-5 was instantly apparent. With a 167 horsepower engine (manual transmission, AT versions output 158 hp), brisk acceleration was the order of the day. And I so hate to be cliché, but the "snick-snick" of MX-5's gearbox is as satisfying as they come.
Suburban roads in Maryland instantly became my playground, as I constantly wound the MX-5 up to 7,000 rpm just to hear the sweet twin cam four do its thing. With a nearly 50/50 front-rear weight ratio, this car feels as balanced as it is. Great brakes haul it down in a hurry should someone have the audacity to pull in front of you when you are streaking towards the redline.
As I drove along, I kept saying to myself "this is what I've been missing all these years." This is a great car for everyday driving, long hauls across country (taking limited luggage space into consideration) and Saturday morning road carving on the curviest byway you can find.
Highs and Lows
With the MX-5, the only "Low" for me is that my time behind the wheel is done. This car is impractical or should I say impossible for anyone over 6'4." Other than the size issue, the "5" is on a natural high, offering standard and optional content like:
*Air conditioning with pollen filter
*Fog lights
*Door net pockets with bottle holders
*AM/FM/CD/MP3 stereo with aux input and available six disc changer
*Available Sirius/XM radio and Bose Centerpoint 7 speaker surround sound (sounds great!)
*Available Bluetooth
*Available HID headlights
So much more is available, consult www.mazda.com for more details about the MX-5. While there, look at all of the safety features now standard across the three trim levels for MX-5: Sport, Club and Grand Touring. Another huge MX-5 plus is you can choose from classic soft top convertible, or year round power retractable hardtop. Both look great, but I would opt for the additional safety of the hard top.
Verdict
Twenty minutes after my dream drive began, it was over. All who waited to see if would be decapitated on the trip applauded my safe return. With a steady pull from a Mazda press person to "de-wedge" me from the MX-5, I ascended to my normal lofty height, and looked down with supreme fondness on my new little friend. Thank you MX-5 for checking off another item on my Bucket List. And thank you Mazda for having the guts back in 1989 to create such a superb driver's car.