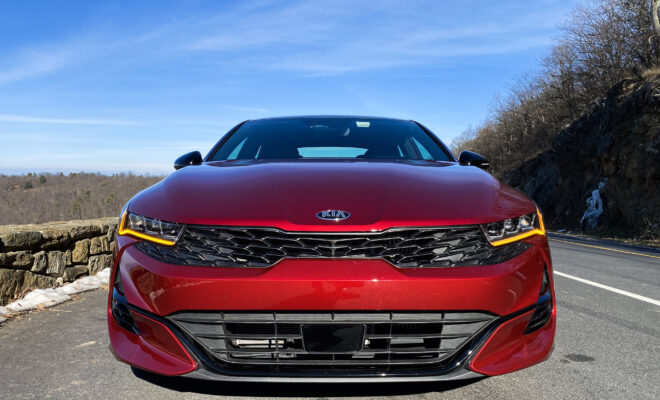 TEST DRIVES
2021 Kia K5 GT-Line the Optima's Latest Incarnation
By
|
The 2021 Kia K5 GT-Line is an entirely revamped Optima complete with a brand new look and powertrain. Not only does it help differentiate the Kia K5 GT-Line from its predecessor, but in our opinion stands out from what is now a crowd of often similar looking crossovers that seem to have gained quite a bit of popularity in recent years.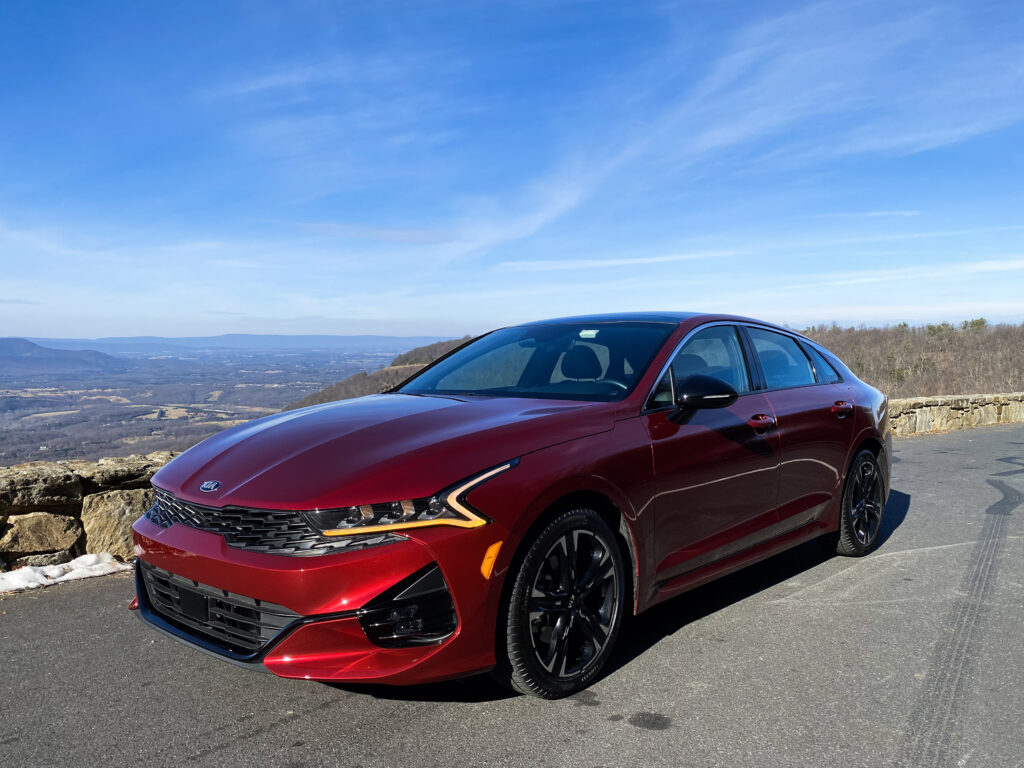 The 2021 Kia K5 GT-Line takes the sporty, flashy route, with performance upgrades, 18-inch alloys, a glossy black spoiler in the back, and rather unique looking bumpers on both ends with LED fog lights. However, the question you're probably asking is, does the Kia K5 GT-Line do enough to be worthy of a purchase? That's what we set out to answer when we spent some time with the vehicle for this review.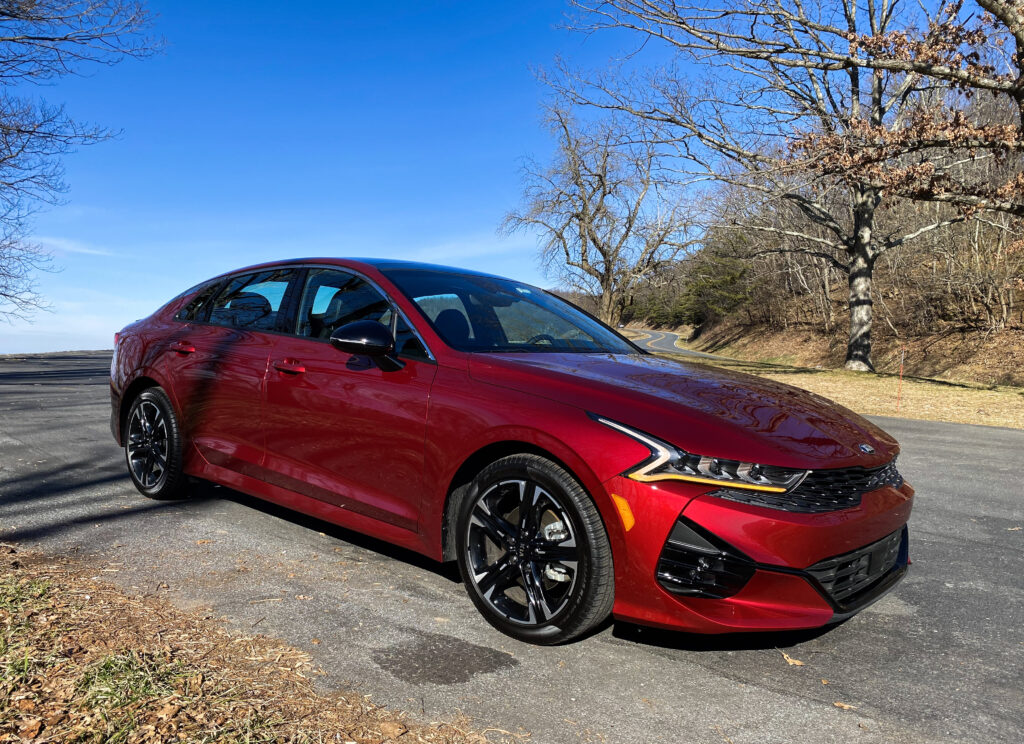 Let's Start with What's Under the Hood
The 2021 Kia K5 GT-Line comes with a 1.6-liter Smartstream turbo engine, which is, in our opinion, an upgrade over the previous 2.4-liter I4, capable of turning out 180 horsepower with 195 lb/ft of torque. While on paper, it is 5 hp less than its predecessor, it does offer 17 lb-ft of more torque, which helps make the engine feel lively. In practice and during our time with the car, we honestly couldn't tell the difference.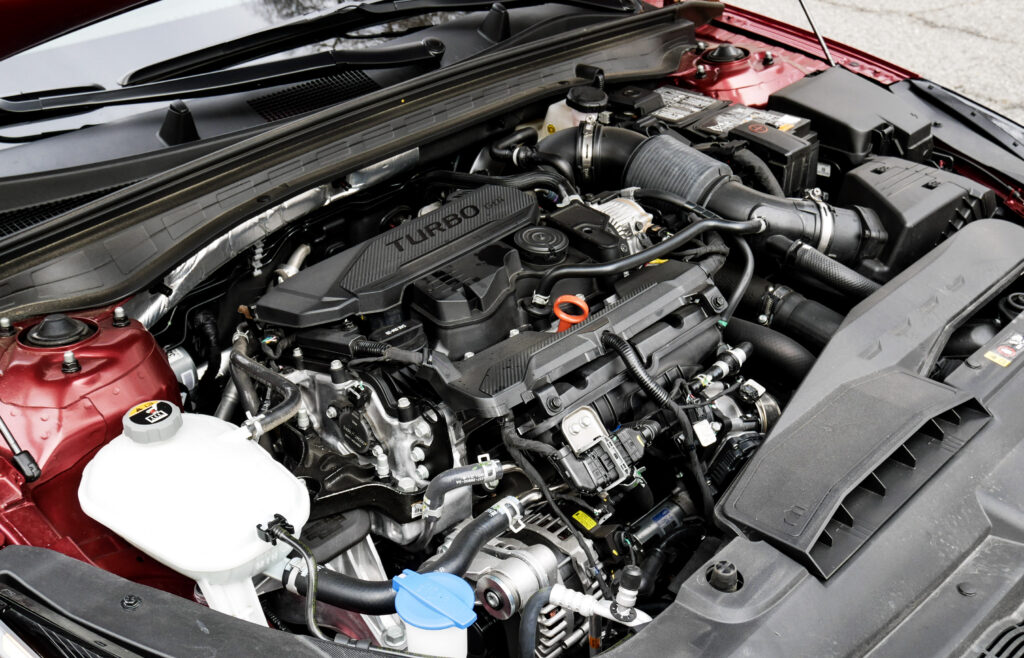 The eight-speed automatic transmission shifts smoothly, yet it isn't as sporty as perhaps something that's more speed-oriented. Also, a lack of paddle shifters may turn some drivers off, but after the first few miles, you won't miss a thing mainly because the car shifts like a dream while balancing performance and fuel efficiency in Normal mode. However, if you want later shifting at higher RPMs, you can flick into Sports mode. It's in Sports mode when we could actually hear the turbo and even the engine which is otherwise whisper quiet!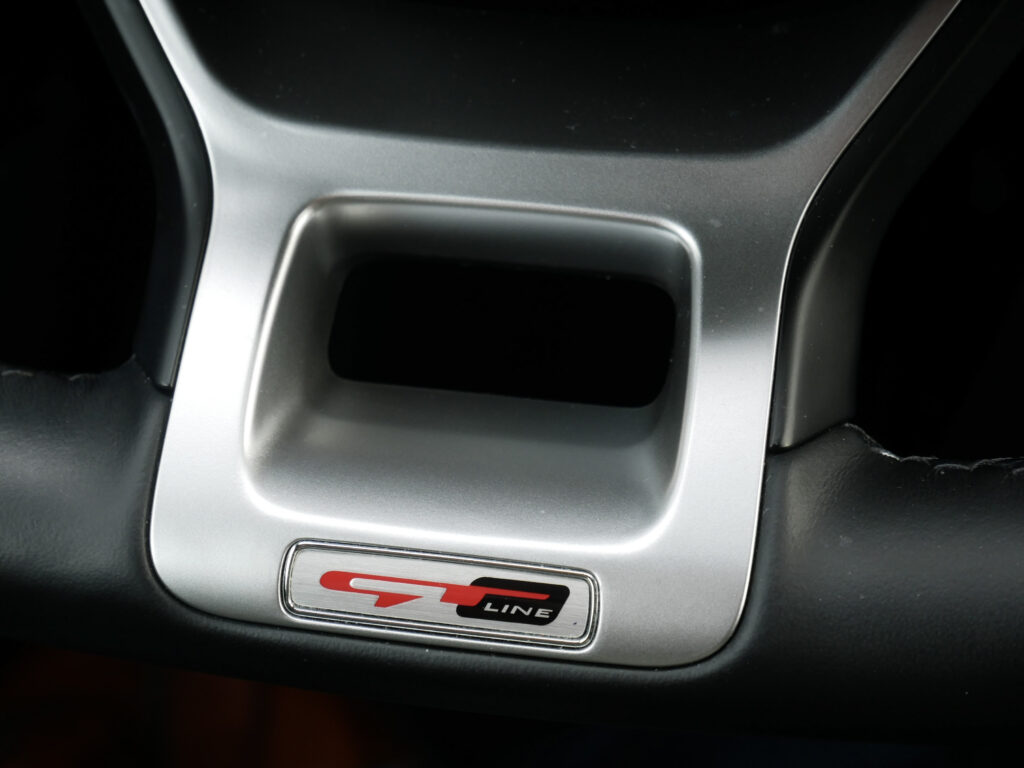 Driving the K5 is light and easy. The steering is super responsive, and the throttle pickups as soon as you touch it. Despite being a sedan, it feels soft, and nimble but not numb like the many others in its class, which for us was one of the best driving experiences we've had in a while.
Inside the Cabin
One of the things that we like about the 2021 Kia K5 GT-Line cabin tech is it's easy to understand. You get an 8-inch or a 10.2-inch touchscreen/infotainment system that runs on Kia's latest UVO software. It boasts of features like voice memo recording, and it can play ambient café sounds. Fortunately, it supports both Apple CarPlay and Android Auto.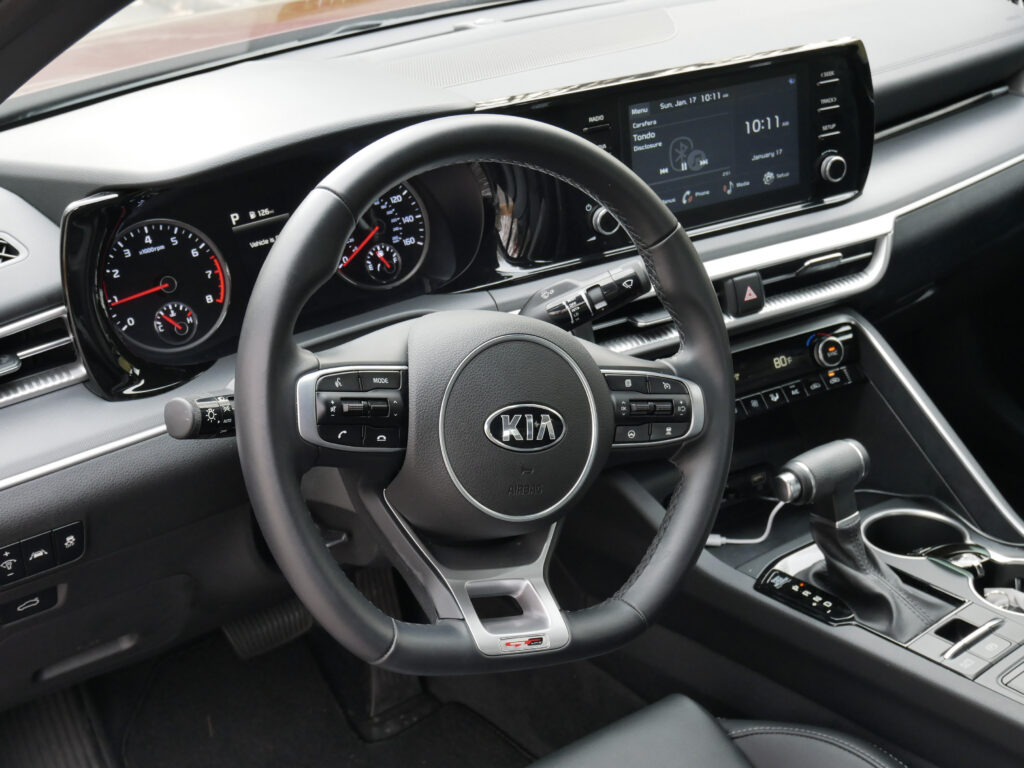 The built-in navigation is pretty good and with the natural language voice recognition system, it's easy to input a location or address. While the menu structure is a little convoluted, thankfully, it can be bypassed via all the hardwired shortcut buttons.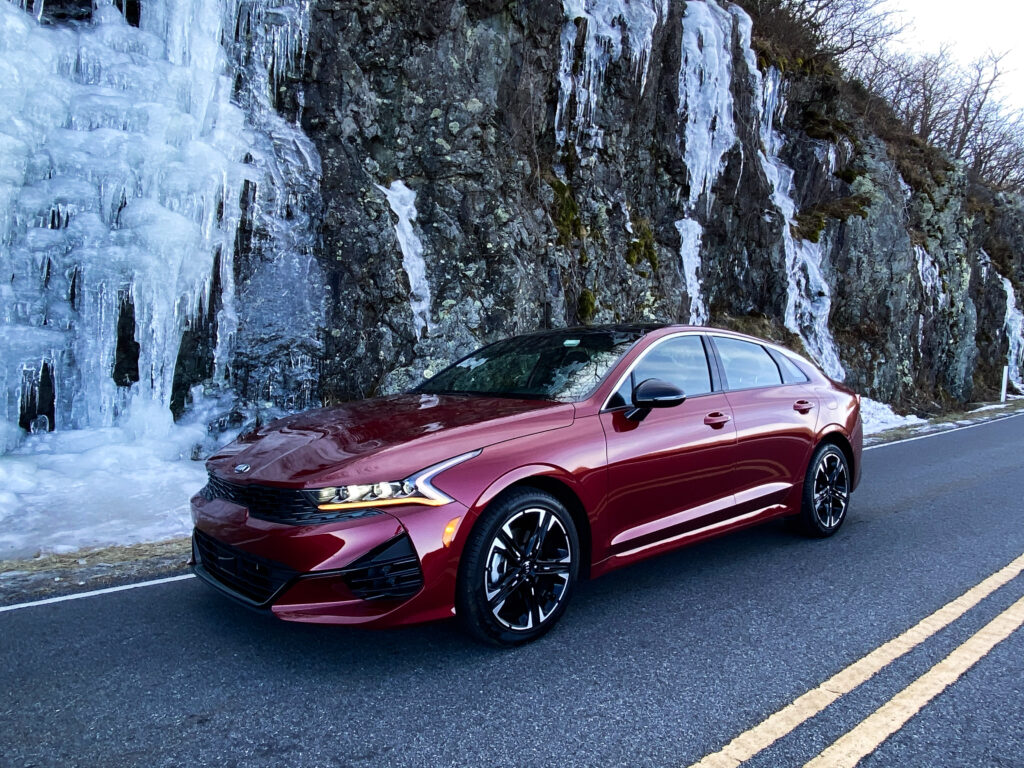 When test driving The 2021 Kia K5 GT-Line, we didn't notice much cabin noise, if any. It appears that the company has done an excellent job of making the driver and the passengers in the rear feel very comfortable with more than adequate leg and headroom.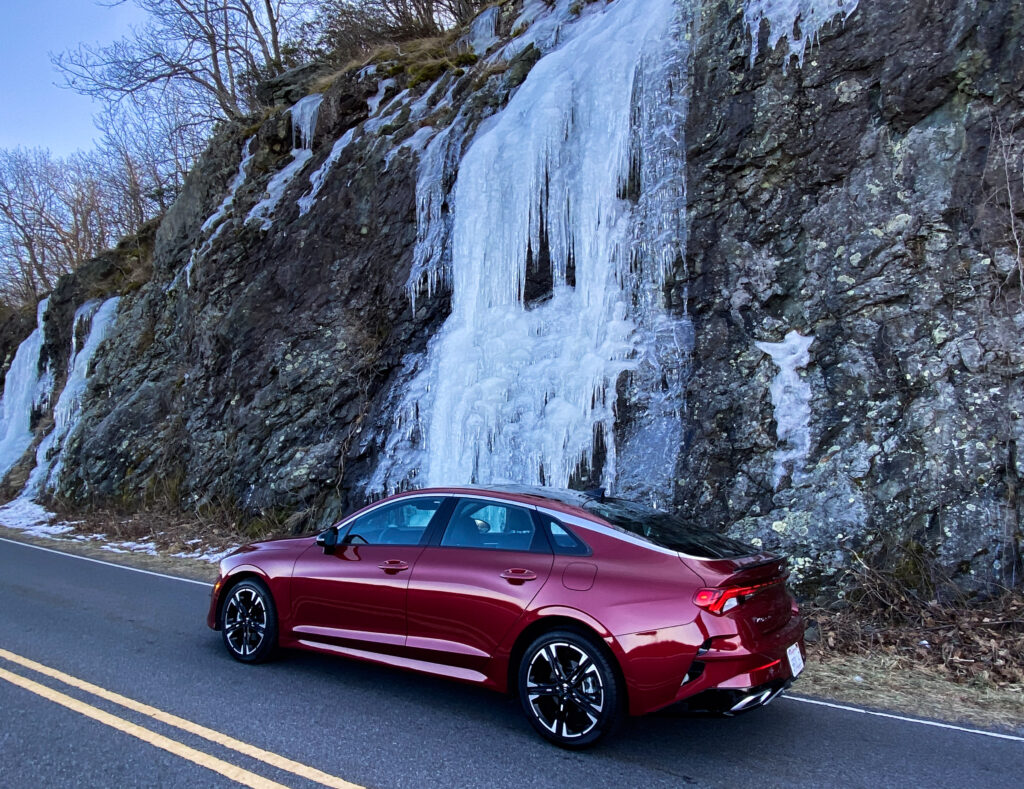 Final Verdict
That's right, the 2021 Kia K5 GT-Line is an excellent daily driver with features that aren't out of this world but make your life a lot easier. It looks great and certainly turns heads. Plus, it offers a more refined driving experience comparable to higher-end sedans, making it a worthy purchase in our books.