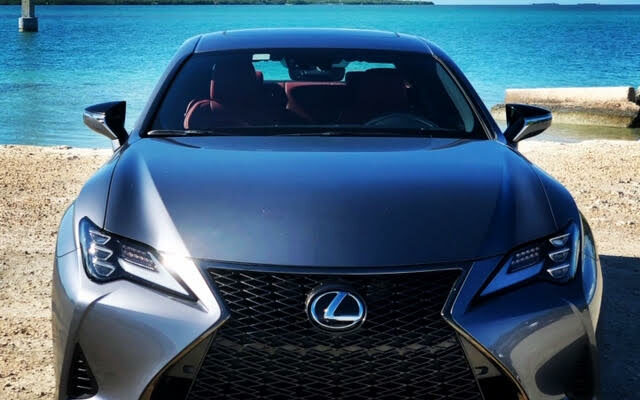 TEST DRIVES
2019 Lexus RC 350 F Sport – Aggressive Head-Turning with Bragging Rights
By
|
Viajar al Sur es siempre placentero y más si lo que te espera es el 2019 Lexus RC 350 F Sport y el Salón Internacional del Automóvil en Miami.
Con motivo de este viaje al Sur decidí probar este automóvil y que mejor sitio que las carreteras de la Florida para probar lo que esta bella máquina oculta bajo su deportiva carrocería.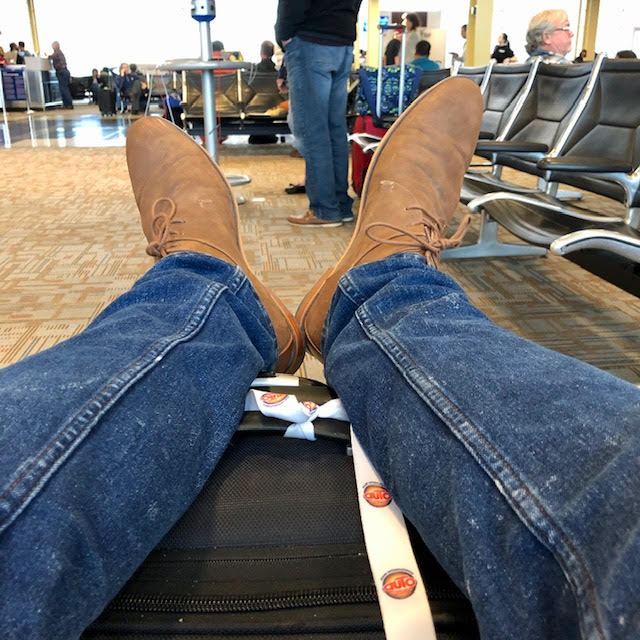 El 2019 Lexus RC 350 F Sport destaca por un ligero cambio de aires ya que elimina en este modelo el aspecto de hace cinco años a favor de un estilo actualizado, llevando el último lenguaje del diseño de la marca al segmento coupe de lujo. Junto con su nuevo aspecto, hay un par de cambios menores en el al sistema de infotainment y el interior. Sin embargo, los trenes de potencia los mantiene intactos, lo cual, como veremos, no es algo malo, después de todo.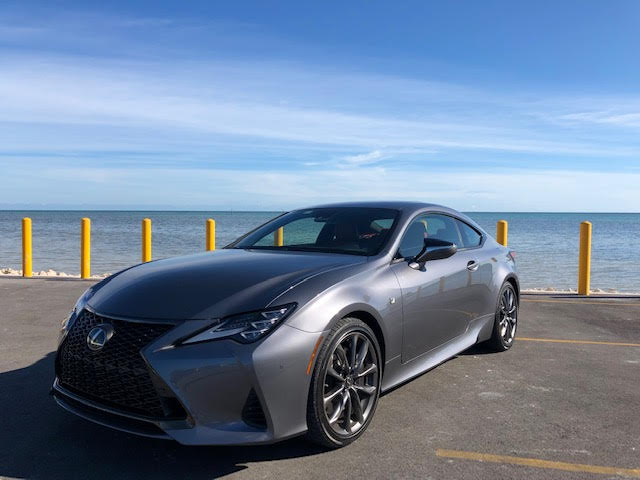 Las luces traseras del nuevo Lexus RC 350 F Sport son más nítidas e incluyen una tira de iluminación LED que imita el estilo de otros vehículos Lexus como el sedán ES, el NX y el coupé LC. En el exterior, hay ajustes sutiles en las facias trasera y delantera, y un nuevo diseño de rueda que ofrece al RC un aspecto mejor y posiblemente más cohesivo que complementa las aspiraciones atléticas de este coupé de lujo.
Performance that Puts a Smile on Your Face
Under the hood, the direct injection engine with Lexus' variable valve trickery V6 is doing wonders for the drivability of the RC. During our test drive, we wound that response was near-instant, and there is more than enough low end, to aggressively push those wide 265mm tires to high RPMs, while still having some torque in reserve for a rainy day.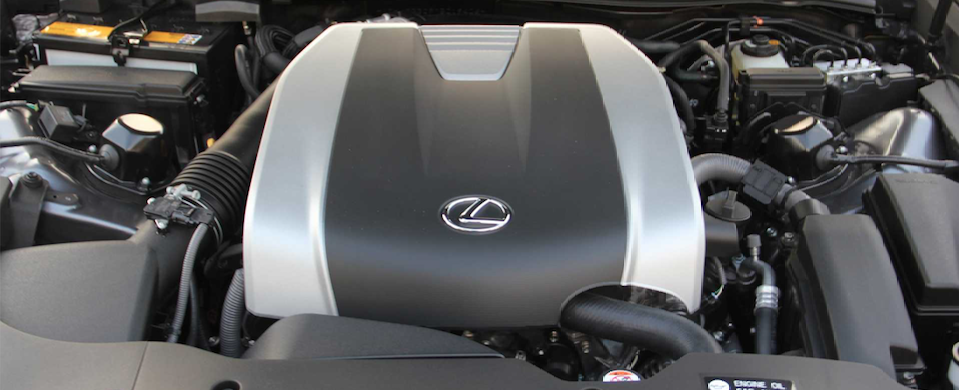 Paired with a super responsive and quick eight-speed auto, forward acceleration is mind-bending, with assertive force. In our experience, the sweet spot for the 2019 Lexus RC 350 F Sport is between 4500 and 6500 RPM, and it is here that it's quicker than rivals with turbo four cylinders.
Lexus' Trickery Improves Driving Experience
Our F Sport version of the RC uses a lot more trickery than meets the eye. The most prominent of which is the adaptive suspension, along with the VDIM anti-skit smarts with individual wheel braking. Also, onboard is variable-ratio steering and rear-axle steering, coupled with the F-Sport tuned suspension that comes with super flat and stiff sport modes.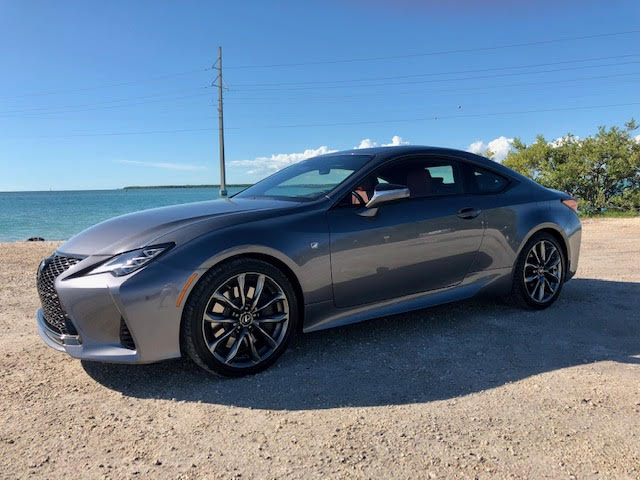 While all of the above may appear to be technical overkill, we assure you that it contributes to the overall driving experience. It conspires to make you feel as though the car is zippier and more responsive than it is. However, compared to the Audi, and Infiniti, it feels more in control regardless of how you drive. Taking it through bends and rough roads feel like a breeze with next to no body roll.
Cabin Aesthetics
While the 2019 Lexus RC 350 F sport has an aggressive exterior, the cabin is ergonomic, with plush seats and a Naguri aluminum trim inlay. The interior is upmarket and trades blows with more expensive rivals.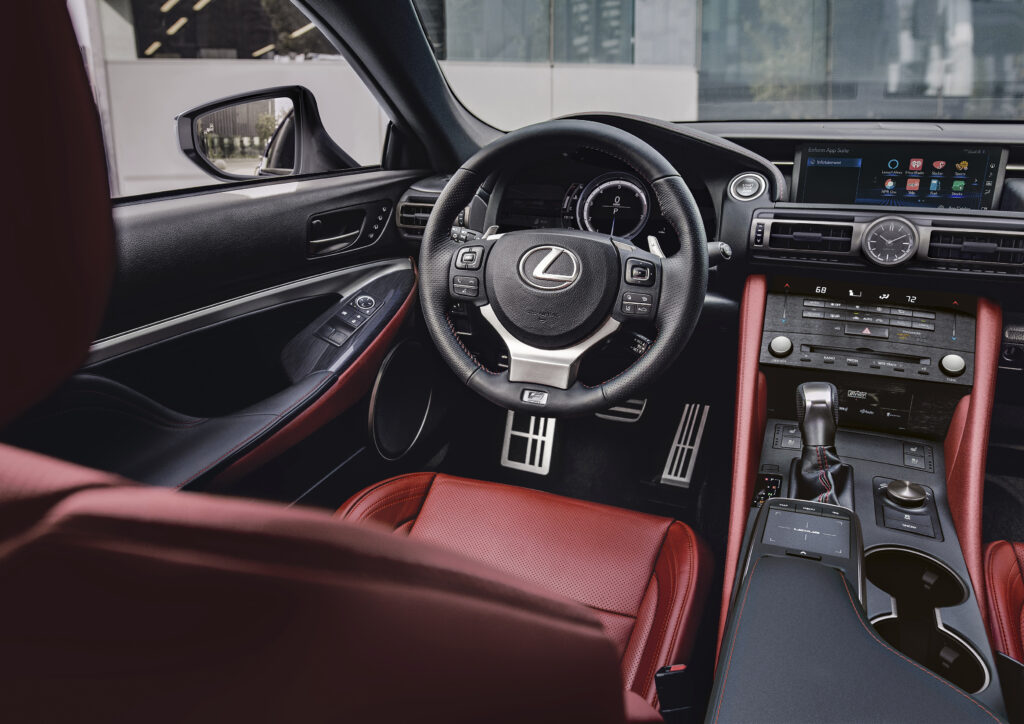 The excellent material choice, along with a solidly built interior, makes it one of the best cabins in this segment of the market. The 8.0-inch TFT screen may not have the best viewing angles but who'd be watching the screen when driving the RC? The only reason we used the screen was that we had to mention it in this review!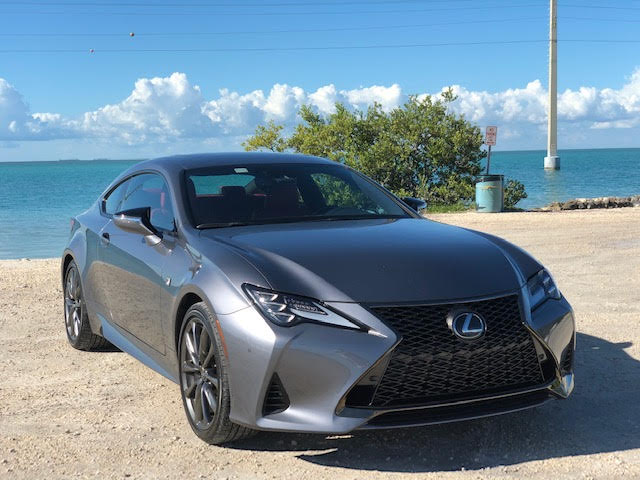 Final Verdict
Un posible viaje a la Florida en la estación otoñal puede tener sus ventajas si tu mejor aliado es Lexus. Las apariencias engañan y es todo un goce poder manejar un carro como este desde Miami hasta Isla Morada, combinando la conduction con el buen sabor de la comida que nos binda su región. Sin duda alguna the 2019 Lexus RC 350 F Sport is a safe bet! It offers the best value for money, bragging rights, and an aesthetic facelift that will turn heads for sure and in Miami we witness that. It offers is style, speed, and comfort at a great price!