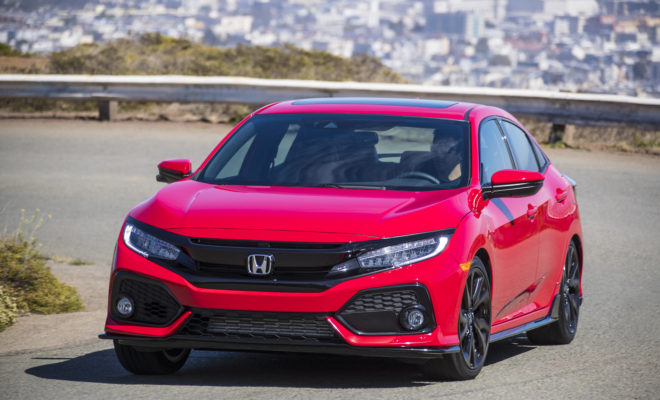 NOW TRENDING
2017 Honda Civic Hatchback: Standard Bearer?
By
|
It was a tiny affair — dependable transportation for four normal sized adults, and chock full of the latest fuel saving technology that saw the Civic earn 40 mpg on the highway. Given the fact that pre-gasoline crisis of the 1973, gasoline was about 40 cents a gallon. Yes, 40 cents.  Due to the 1973 oil crisis, consumer demand for fuel efficient vehicles was high, and leaded fuel was being phased out due to environmental and public health concerns. During this transition, the Civic had a trump card over other vehicles like Ford's Pinto and Chevrolet's Vega. The super efficient "stratified charge" CVCC engine debuted in 1975 and did not require a catalytic converter or unleaded fuel to meet Environmental Protection Agency emissions standards for hydrocarbons and carbon monoxide. First gen Civics also featured a transverse mounted engine with front-wheel drive (virtually non-existent technology in the 70s), fully independent suspension a peppy four-cylinder engine.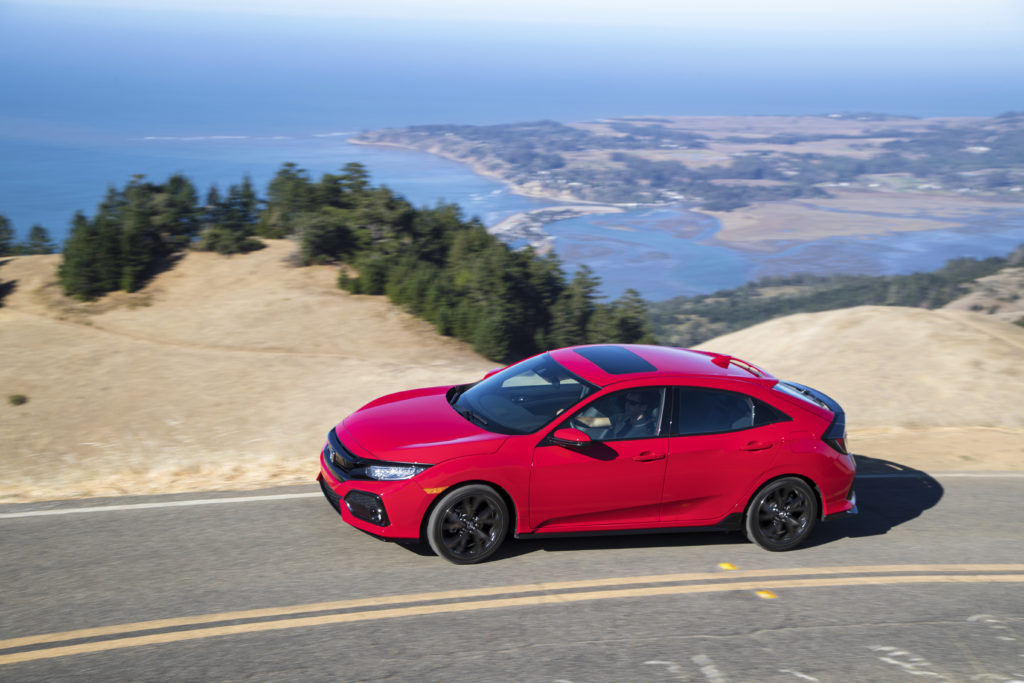 The fuel sipping Civic earned its stripes as an urban commuter, though rust issues and safety concerns would ultimately force Honda to address those issues head on.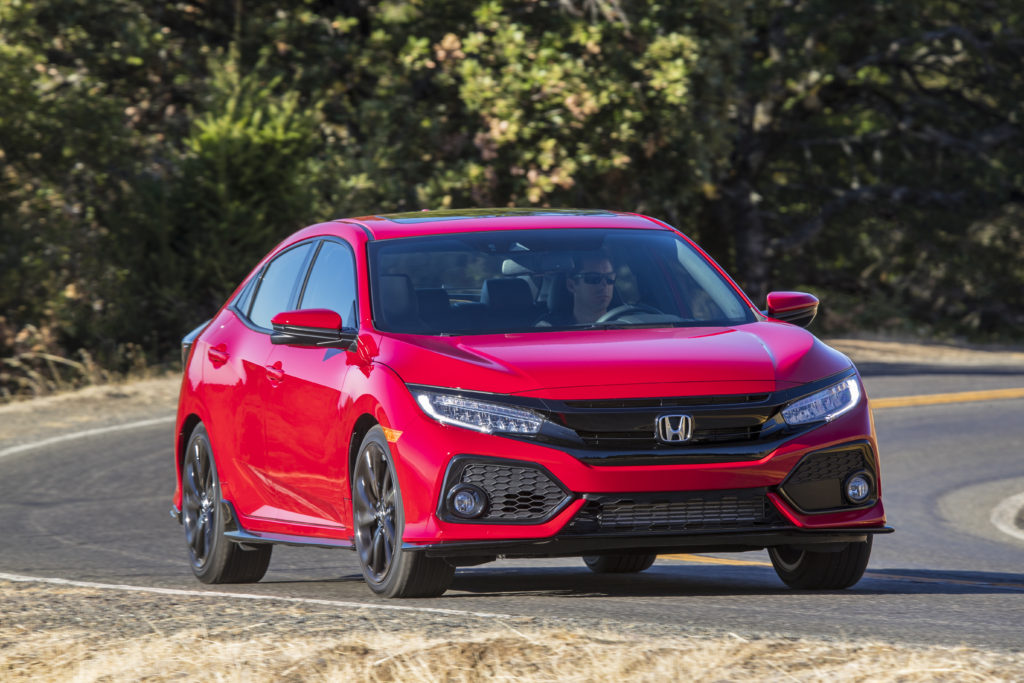 Travel through the decades that followed the 70s, and the Civic grew in popularity and in size. Each model year, the Civic fights for economy car supremacy with the venerable Toyota Corolla, and with upstarts from Mazda, Ford, Chevy, Kia, and Hyundai, among other brands. What has remained true over the years is the fact that when you buy a Honda Civic, you are purchasing a vehicle that will transport a young couple or young family in style and economy, with the added bonus that Honda has paid serious attention to the safety deficit the Civic used to bear. Today, the 10th generation Civic, as well as Honda products across the board, are among the safest vehicles you can purchase.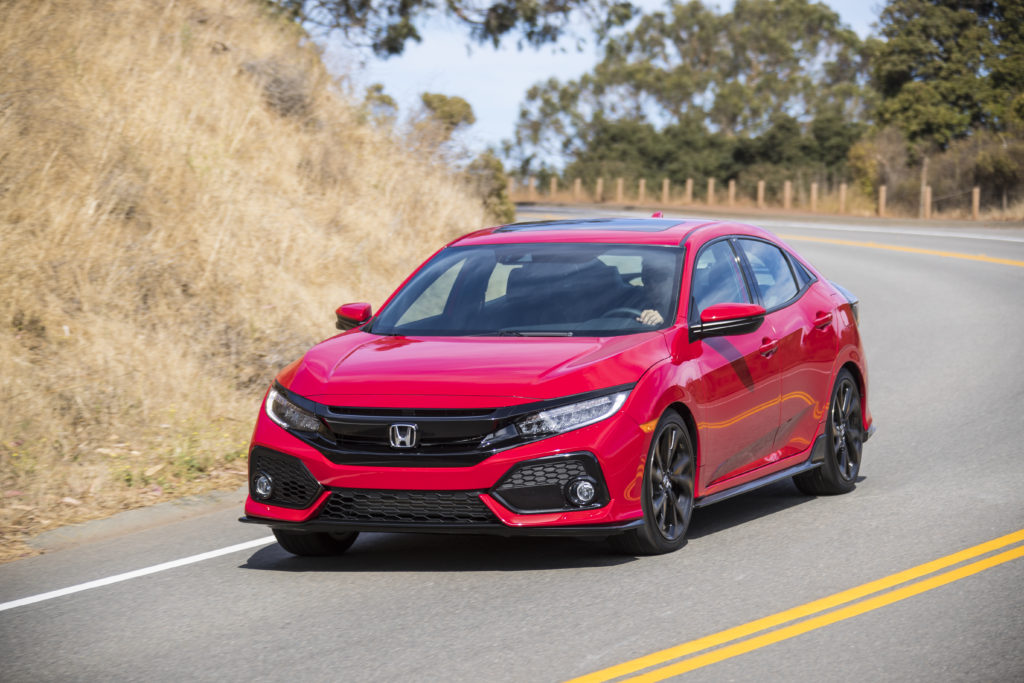 So what does Honda offer Civic-wise for 2017?
The 2017 Civic Hatchback joins the 2016 Civic Sedan and Coupe as the third body style in the Civic lineup. It offers five-door hatchback versatility with superior driving dynamics and Honda's super efficient direct-injected turbo engine technology.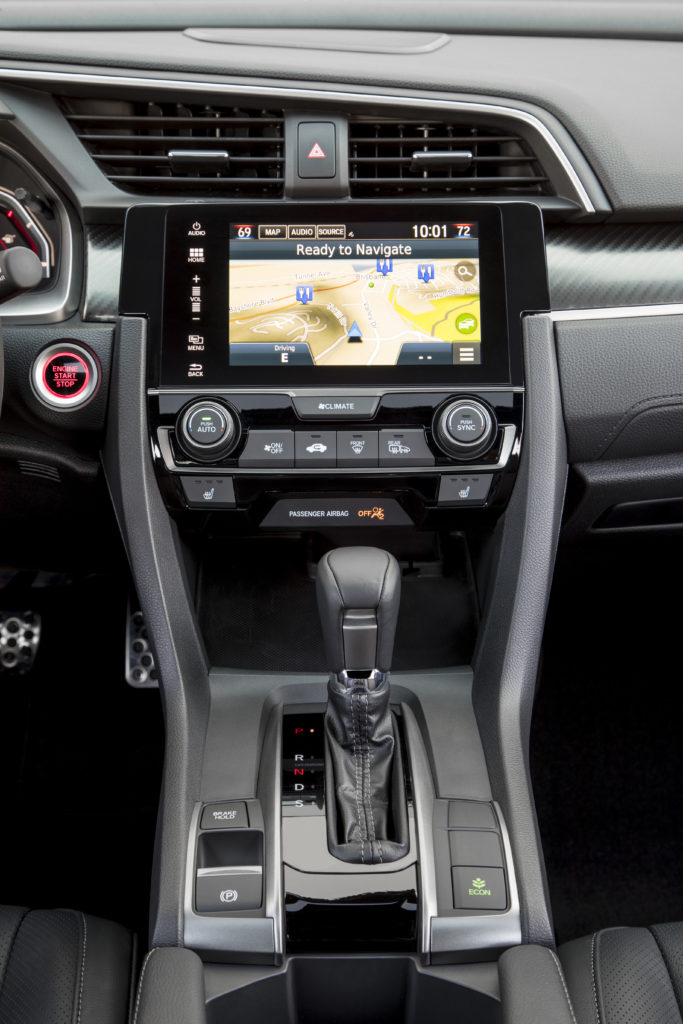 The Civic Hatchback is available in five trims: LX, Sport, EX, EX-L Navi and Sport Touring. All models are equipped with a 1.5-liter turbocharged in-line 4-cylinder engine outputting 174 horsepower in LX, EX and EX-L Navi trims, and 180 horsepower in the Sport and Sport Touring trims.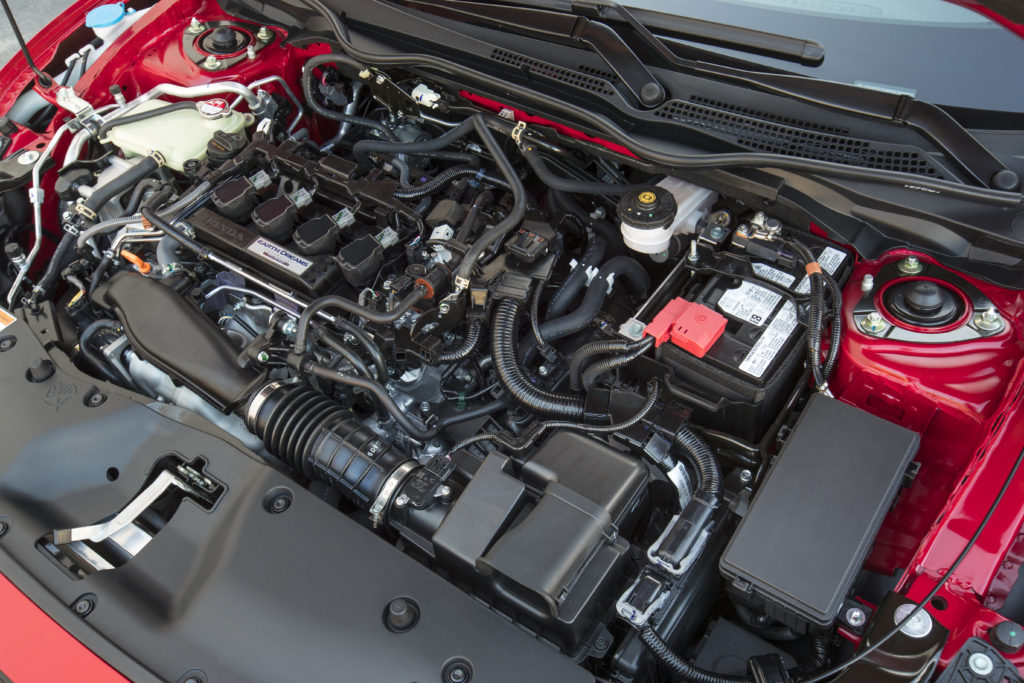 The turbo 4 can be mated to either a Continuously Variable Transmission (CVT – all trims) or 6-speed manual transmission (LX and Sport trims). In LX, EX, and EX-L Navi models, EPA ratings of 31/40/34 mpg (city/highway/combined) for CVT-equipped models, and 30/39/33 mpg for the LX with manual transmission put the 5-door Honda Civic Hatchback at the top of its class for fuel economy ratings. The Sport and Sport Touring models equipped with the CVT are rated at 30/36/32 mpg, and the Sport with manual transmission is rated at 30/39/33 mpg.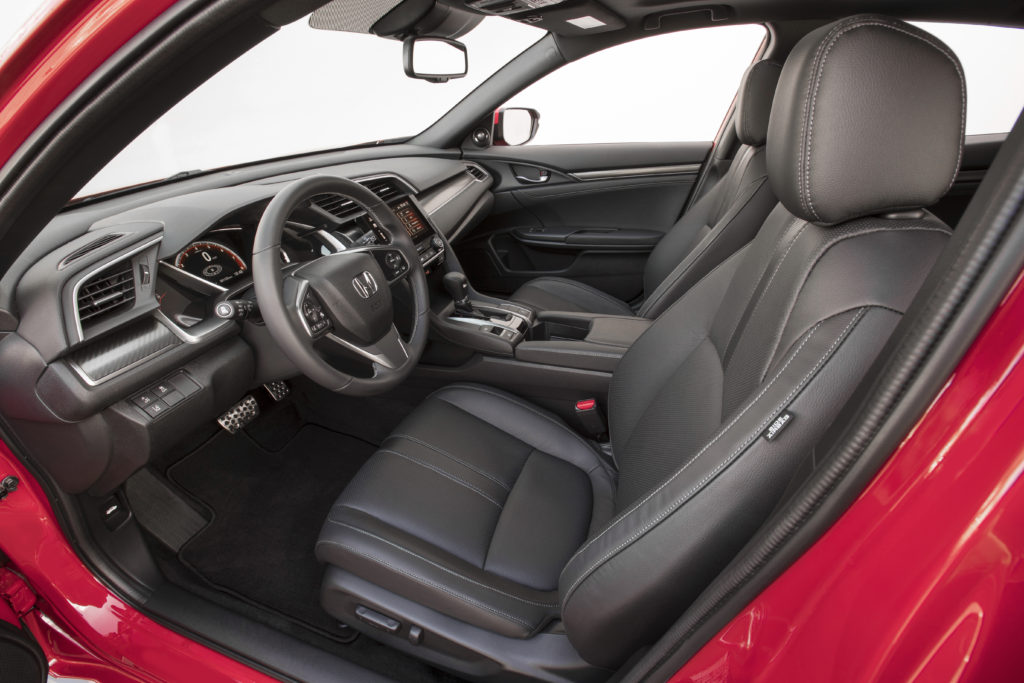 Available on LX, EX and EX-L Navi trims is the "Honda Sensing" suite of safety and driver-assistive technologies, which includes Collision Mitigation Braking System (CMBS) Forward Collision Warning integrated with CMBS, Lane Keeping Assist System, Road Departure Mitigation (RDM), Lane Departure Warning integrated with RDM and Adaptive Cruise Control with Low-Speed Follow.  Current Honda models are always highly rated in U.S. Government and Insurance Industry crash testing. With this comprehensive suite of safety tech, and with Civic's rigid "ACE" unibody architecture, expect high ratings for all Civic models, including the 2017 Hatchback. A bit more on ACE, which allows large car crash performance in the smaller Civic footprint.   ACE channels frontal crash energy to both upper and lower structural elements, including the floor frame rails, side sills and A-pillars. The ACE structure also features "Crash Stroke" technology. With the Crash Stroke structure, in a frontal collision the lower section of the front vehicle frame hinges to direct the engine down and rearward, helping direct crash energy into the vehicle's floor while also minimizing cabin intrusion. Very impressive.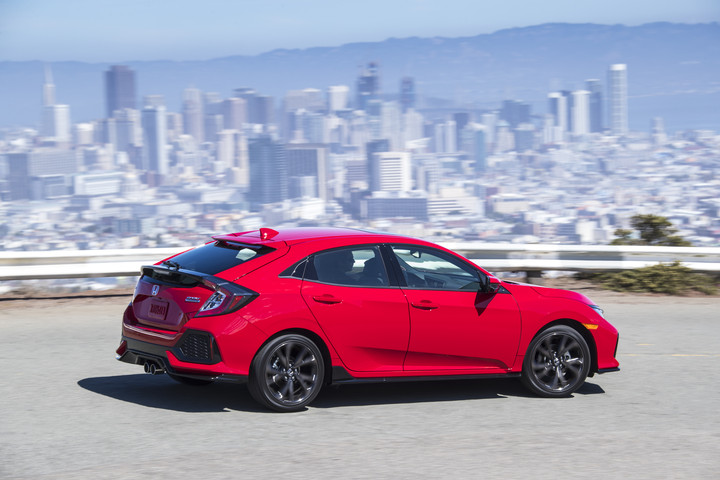 On the road, the Civic Hatchback really excels. In 1973, Civic sported a then advanced MacPherson front strut/rear tube shock fully independent suspension. Today's Civic Hatchback also features high-tech underpinnings — also with a MacPherson strut front suspension, multi-link rear suspension, front and rear sway bars, and variable ratio electric power steering. Power from the 1.5-liter turbo four comes on smoothly and authoritatively, without the sudden rush sometimes associated with on-boost turbocharger performance. And yes, you can feel the difference in horsepower and torque between base and Sport models. The Civic platform has long been a favorite, and I do mean favorite, for tuners who love Japanese cars. Think of it as a Japanese BMW, which is quite a compliment. It looks great, has awesome road dynamics, has an endless supply of go-fast and handle-well goodies available in the aftermarket, and is a Honda, which means you can purchase this tunable platform without giving up birthrights to your first born.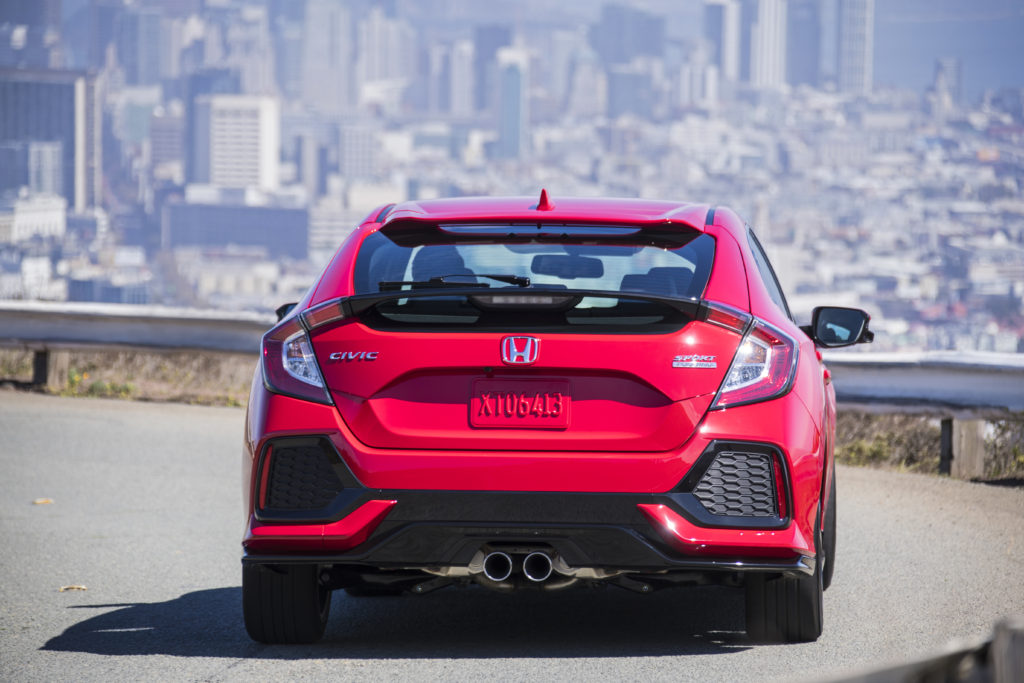 Don't want to tune your Civic Hatchback or pack it with aftermarket gear? Honda Civic Hatchbacks straight off your dealer's floor come with more than enough "wide smile" features to satiate the appetite of most seeking Civic's near perfect blend of performance, comfort, efficiency and safety.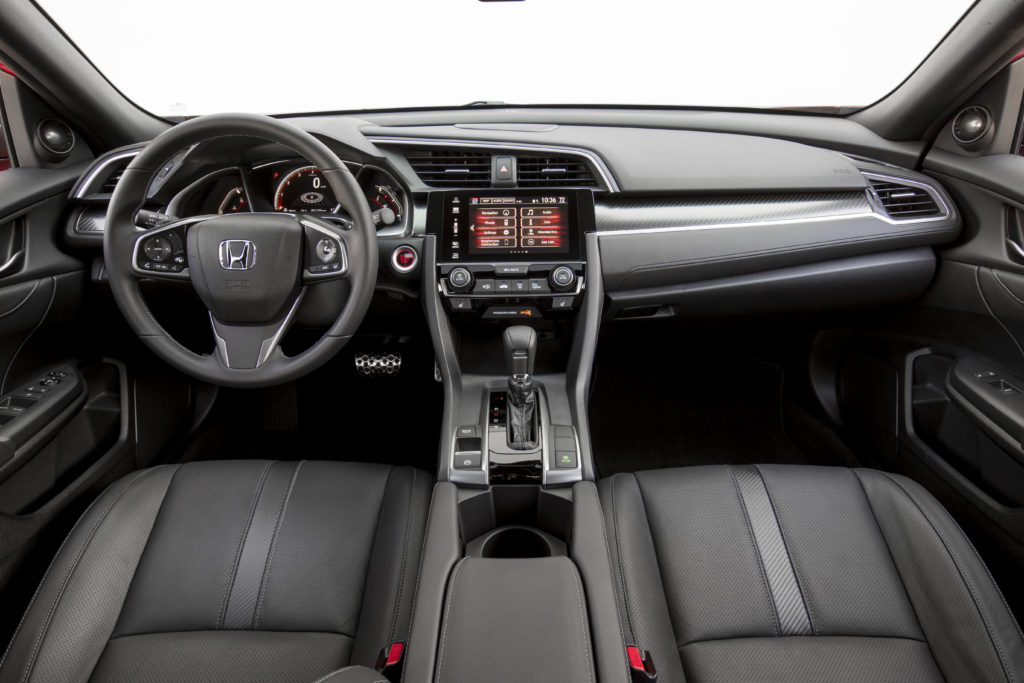 Step inside, and you'll not only be surprised with the amount of room big fellas will enjoy, you'll appreciate the standard content at your disposal, even in base trims.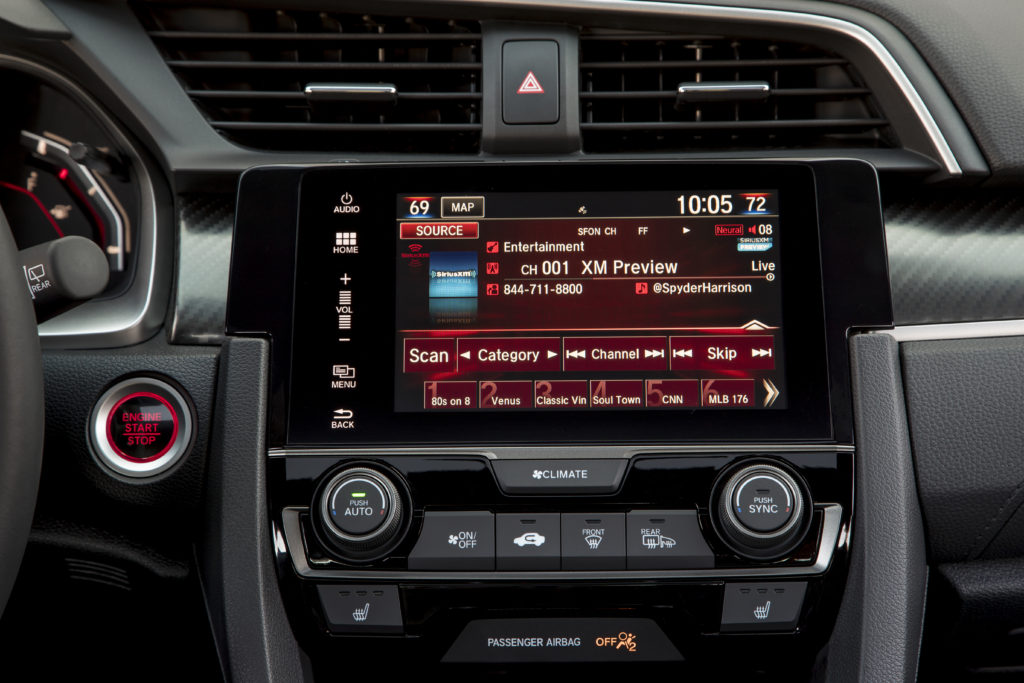 The Civic Hatchback offers as standard or optional all of the latest in-vehicle connectivity technologies (most trim levels). Available features include a 7-inch capacitive touchscreen Display Audio interface with Android operating system, and an all-new Honda Satellite-Linked Navigation System developed in cooperation with Garmin. The Civic Hatchback's Display Audio system is compatible with the Apple CarPlay and Android Auto platforms, and provides integration of key smartphone features and functions, including smartphone-powered GPS navigation and voice-controlled search capabilities. Streaming Bluetooth audio, HD Radio, Pandora and available SiriusXM are among entertainment options.
Key interior features include, among others:
2 cubic feet of cabin space (94.8 cubic feet with moonroof)
7-cubic foot cargo area with rear seats up (22.6 cubic feet for Sport and Sport Touring)
Up to 46.2 cubic foot cargo area with 60/40 split rear seats folded
Ultra-thin A-pillars for enhanced visibility
7-inch Display Audio touchscreen with integrated HVAC controls (EX and above trims)
7-inch Driver Information Interface (DII) (EX-L Navi and Sport Touring)
Available Android Auto and Apple CarPlay compatibility (EX, EX-L Navi and Sport Touring)
Available premium comfort and convenience features include:

Smart Entry and Push Button Start
Auto-Dimming Rearview Mirror
Driver Preference Settings
Electric Parking Brake
Steering-wheel mounted Paddle Shifters (CVT-equipped Sport and Sport Touring trims)
Multiple stereo choices from 160 watts with four speakers to 540 watts with 12 speakers including subwoofer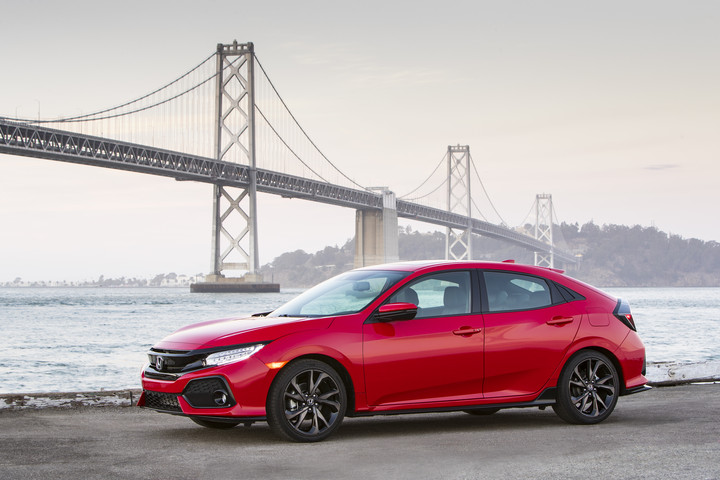 The 2017 Honda Civic Hatchback does everything well, and provides mini-Ute utility with the cargo capacity enhancing hatchback. Fold down the back seats, toss in your bicycle and go! The Civic Hatchback is a complete, very competitive vehicle at a very competitive price point. Prices start at $19,700 for the LX with manual transmission, up to $28,300 for the Sport Touring model with CVT.