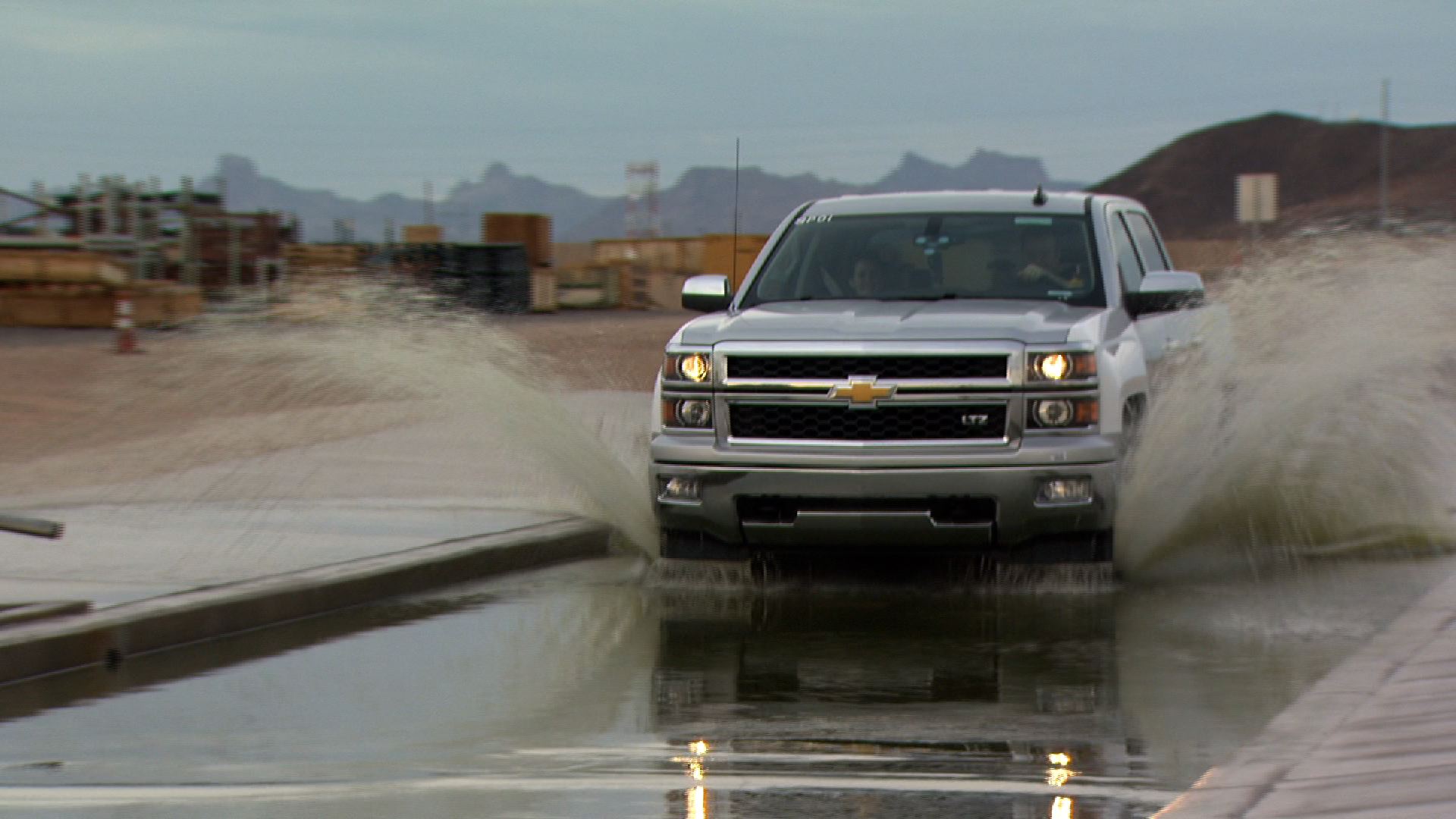 WHAT'S HOT
Five Ways Chevrolet builds strength into Silverado
By
|
Chevrolet Silverado is from the family of the most dependable, longest-lasting full-size pickups on the road. That durability is derived from strength in everything from the foundation on which the truck is built to the engine that pulls it down the road.
"Every element in the Silverado is designed to get the job done for our customers, year after year after year," said Sandor Piszar, director of Chevrolet Truck Marketing. "We've engineered new technologies to take Silverado to higher levels of capability and efficiency, but never at the expense of the trust owners have put in it."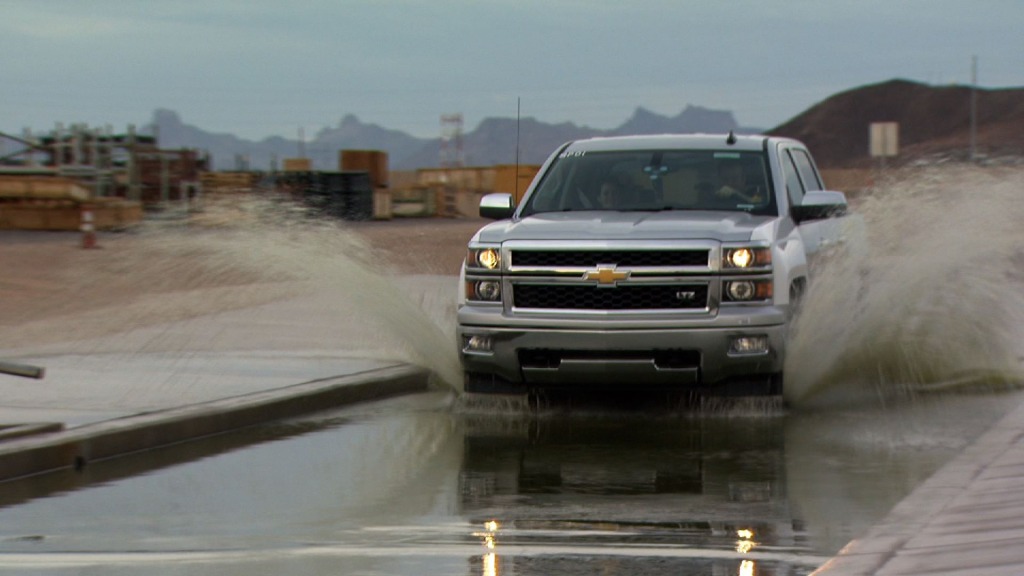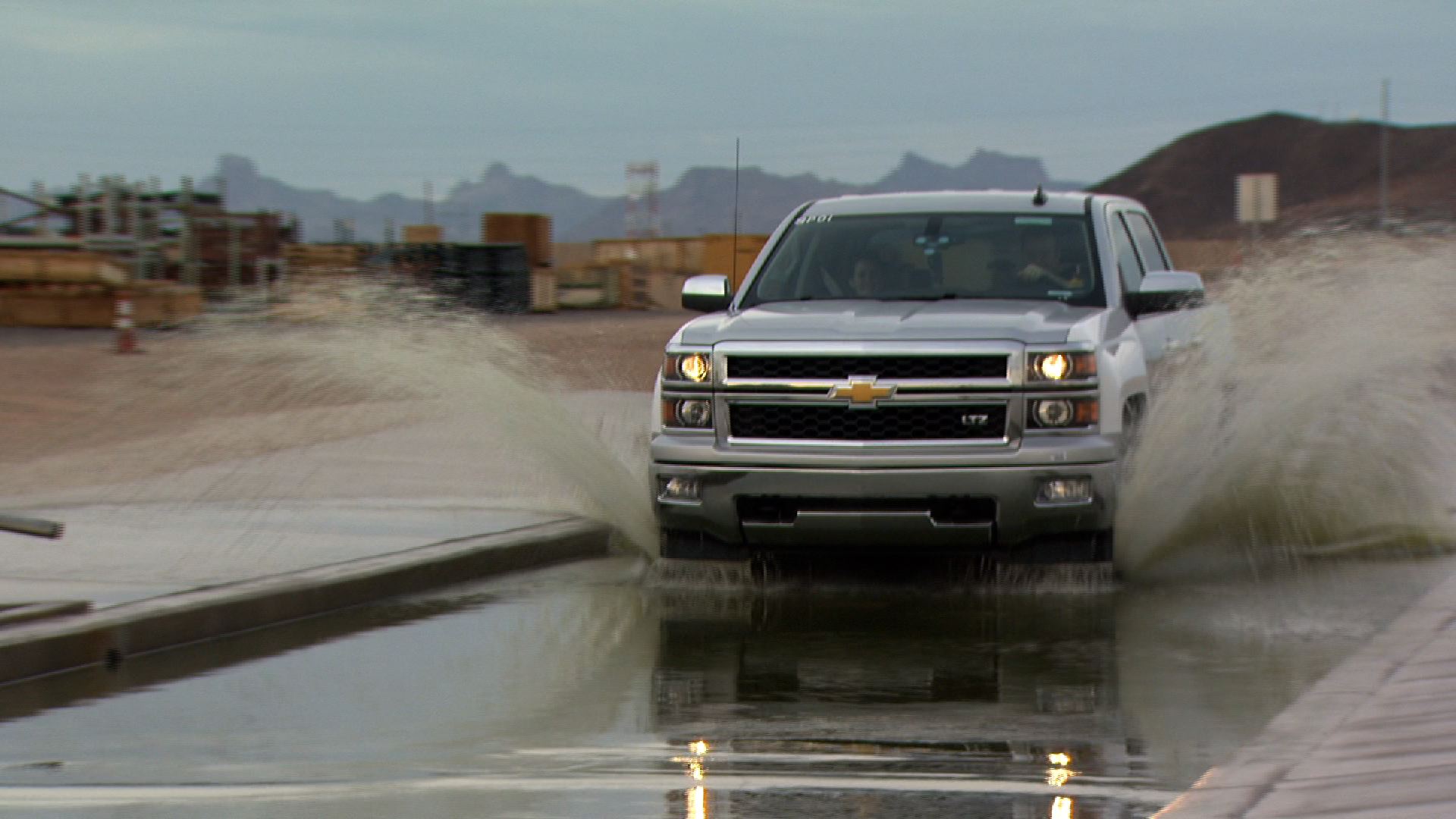 The 2015 Silverado's strength can be measured through five core elements:
1. Fully Boxed Frame
Silverado's fully boxed frame – including main rails and major cross members formed from high-strength steel – provides a rigid base for maximum hauling capability, excellent crashworthiness and the longevity truck customers demand.
The frame comprises three sections: front bay, mid bay and rear bay. The front frame bay uses hydroformed side rails for optimal strength and lower weight. Pioneered by General Motors for full-size trucks 15 years ago, the process uses highly pressurized fluid to shape the frame rails, making them stronger and lighter than comparable welded multi-piece components.
The side rails of the frame's middle bay are constructed of two pieces of high-strength steel welded to form the sturdy box design. The front bay's hydroformed rails slip inside the boxed sections of the middle bay 9.4 inches (240 mm), creating a bend-resistant rigid structure, while the rear-bay boxed rail sections are joined to the middle bay with an overlapping, shingle-type construction. A frame-integrated hitch enables maximum trailering capability right from the factory.
Engineers validated the frame's strength in the lab and in the field. In the lab, Silverado prototypes were mounted by their wheel hubs on a simulator that shook and twisted them with extreme intensity. Outdoors, they were driven over a variety of rough surfaces and swells – including torturous "truck blocks" – inducing natural frequencies and real-world driving conditions that don't occur in the lab.
2. High-Strength-Steel-Reinforced Body Structure
Silverado's body structure, which features advanced, high-strength steels, complements the fully boxed frame to enhance its strength and safety performance. High-strength steel contributes to Silverado being the only full-size pickup to earn a 5-Star overall rating in government crash tests.
Approximately 67 percent of the cab is constructed with high-strength and ultra-high-strength steels. They're used in the A-pillars, B-pillars, rockers and roof rails, as well strategic sections on the interior structure. Ultra-high-strength steel is used in areas of the rocker panels and underbody to help improve crash performance.
High-strength steel can be up to 30 percent lighter than carbon steel with the same strength, offering significant mass savings at a lower cost than aluminum, which helps keep down the overall vehicle cost. Lower weight translates to greater efficiency and capability for truck owners.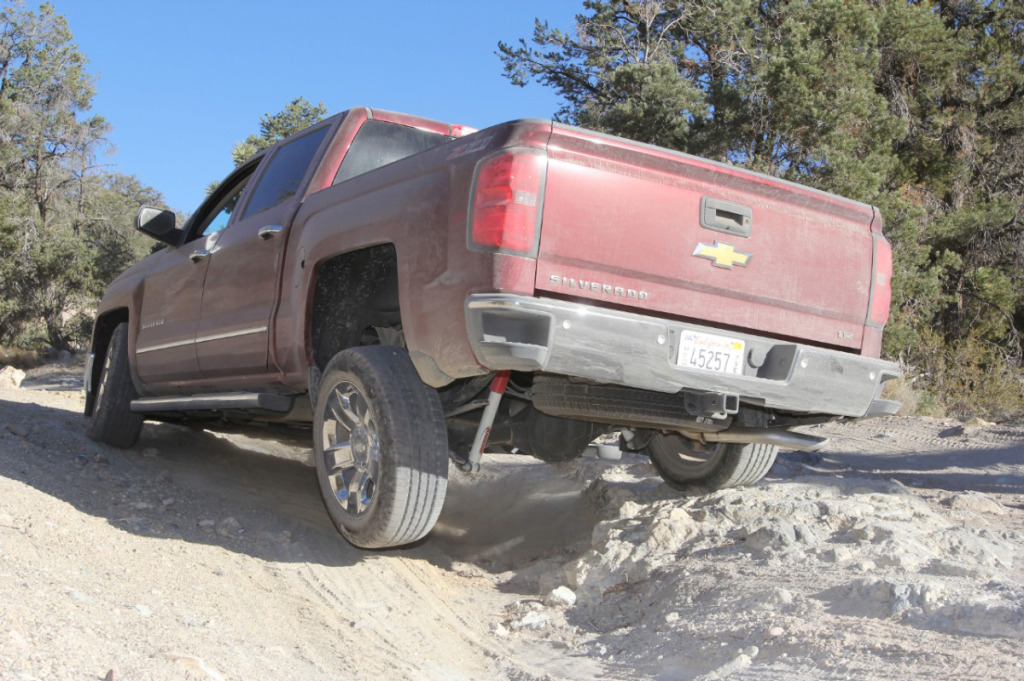 3. Tough Cargo Box and Tailgate
Silverado has the industry's most innovative cargo box and supporting features, including two-tier loading, standard integrated cargo tie-downs, available adjustable tie-down hooks, ergonomically shaped handholds built into box rail protectors and the CornerStep, which enables easier climbing access to the box and to retrieve items from it.
The Silverado's cargo box floor is made of roll-formed steel that's stronger and lighter than conventional stamped steel. Lower weight helps control the truck's overall mass, which enhances efficiency, while the stronger steel bolsters the box's durability.
The roll-forming process takes a long strip of steel and passes it through a set of rolls, each performing part of the desired bend until the final shape is reached. The process allows the use of higher-strength steel, because the metal does not need to be shaped as much as it does during a conventional stamping process. The process also generates less scrap.
Additional elements that enhances the cargo box's strength include:
Spray-on stone protection on the outside of the box offers improved paint protection and corrosion resistance
Available, factory spray-on bedliner helps protect the bed when hauling cargo
Box rail protectors are incorporated along the top of the box sides and across the top of the tailgate to protect those areas from damage.
The Silverado's tailgate was subjected to a load bearing test during development to help ensure it is strong enough for just about anything customers will throw at – or on – it. The test included dropping a 400-pound (181 kg) load in a concentrated area on the tailgate to test the strength and durability of the tailgate panel, torque rods and cables.
The available EZ Lift-and-Lower tailgate eases cargo loading. An internal torsion bar reduces the effort to raise and lower it the tailgate, while a rotary damper allows for a controlled and more gradual lowering motion during opening.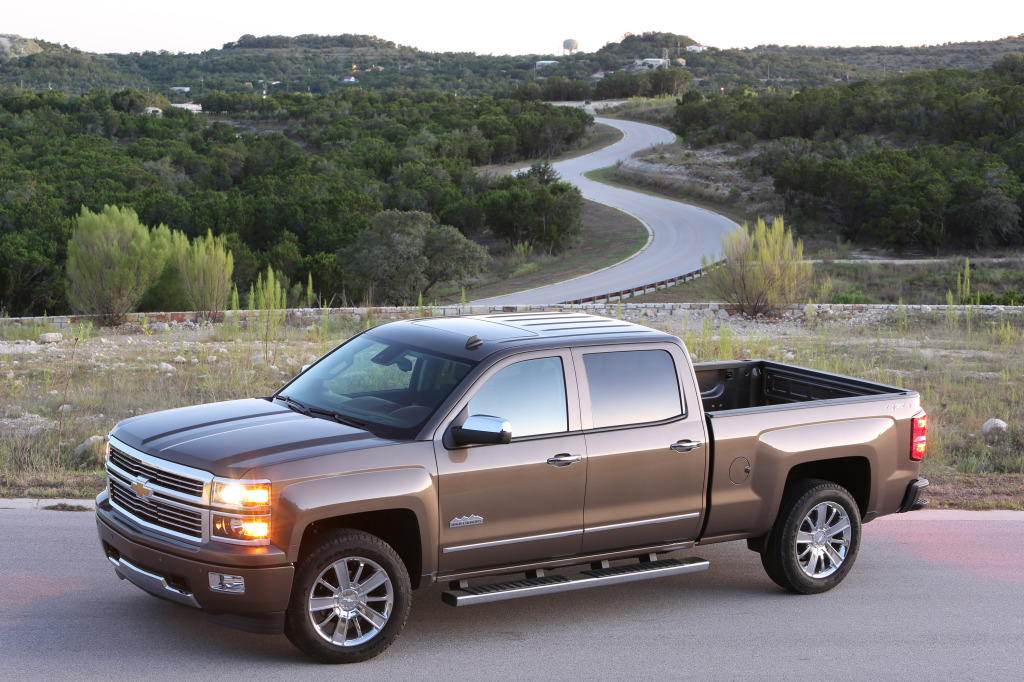 4. Advanced Small-Block Engines
With the ability to operate on four cylinders during light load driving, Silverado's 5.3L EcoTec V-8 offers the best fuel economy estimates – up to 23 mpg highway – of any truck V-8. Yet this same engine builds on more than 100 million engines' worth of experience. The Chevrolet's small-block has been the heart of Chevy trucks for 60 years – and the engine on which generations of truck customers have depended.
The 2015 Silverado 1500 lineup features a trio of fifth-generation small-blocks:
A 4.3L V-6 SAE-certified at 285 horsepower (212 kW) and 305 lb-ft of torque (413 Nm) – the most torque of any standard V-6
A 5.3L V-8 SAE-certified at 355 horsepower (250 kW) and 383 lb-ft of torque (519 Nm). With EPA-estimated fuel economy of 23 mpg highway (2WD), it offers the best fuel economy of any V-8 pickup, and beats the fuel economy estimates of the Ford EcoBoost V-6
A new 6.2L V-8 offers the most powerful engine in any light-duty pickup truck, with SAE-certified 420 horsepower (313 kW) and 460 lb-ft of torque (623 Nm).
Each engine features direct injection, Active Fuel Management (cylinder deactivation) and variable valve timing for power, torque and efficiency across a broad range of operating conditions. Additionally, the proven cam-in-block architecture of the small-block family is less complex and more compact than overhead-cam designs, while providing excellent low-rpm torque – the pulling power truck customers need when starting off with a loaded cargo box or trailer.
5. Long-Lasting Duralife™ Brake Rotors
All Silverado 1500 models have standard four-wheel disc brakes with new Duralife™ brake rotors that offer up to double the service life. They enhance braking performance, too, thanks to a GM-exclusive process that protects against rust that, over time, can lead to steering wheel shudder.
The process involves super-heating the rotors to more than 1,000 degrees F (560 C) for an entire day in a special oven, where the nitrogen-rich atmosphere promotes nitrogen atoms to bond to the rotors' surfaces, hardening and strengthening them.
The large, vented front brake rotors measure 13 inches in diameter and are complemented by 13.6-inch rear rotors, which enable confident, sure-footed braking performance even with a fully loaded cargo box or when trailering. An engine-driven vacuum pump enhances braking capability, too, through greater brake system boost.
Silverado also features Auto Grade Braking, which uses the engine and transmission controls to slow the vehicle on a long downgrade, helping maintain vehicle speed and reducing the need for the driver to use the brakes.