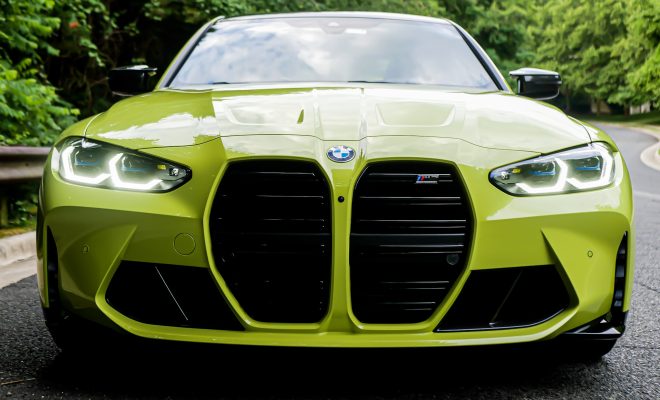 TEST DRIVES
2022 BMW M3 Competition Continues To Impress
By
|
The 2022 BMW M3 Competition continues to be fast, sexy, and with large nostrils giving it that aesthetically aggressive look while serving a greater purpose. It seemly fuses in with the rest of the design yet does enough to look like a BMW.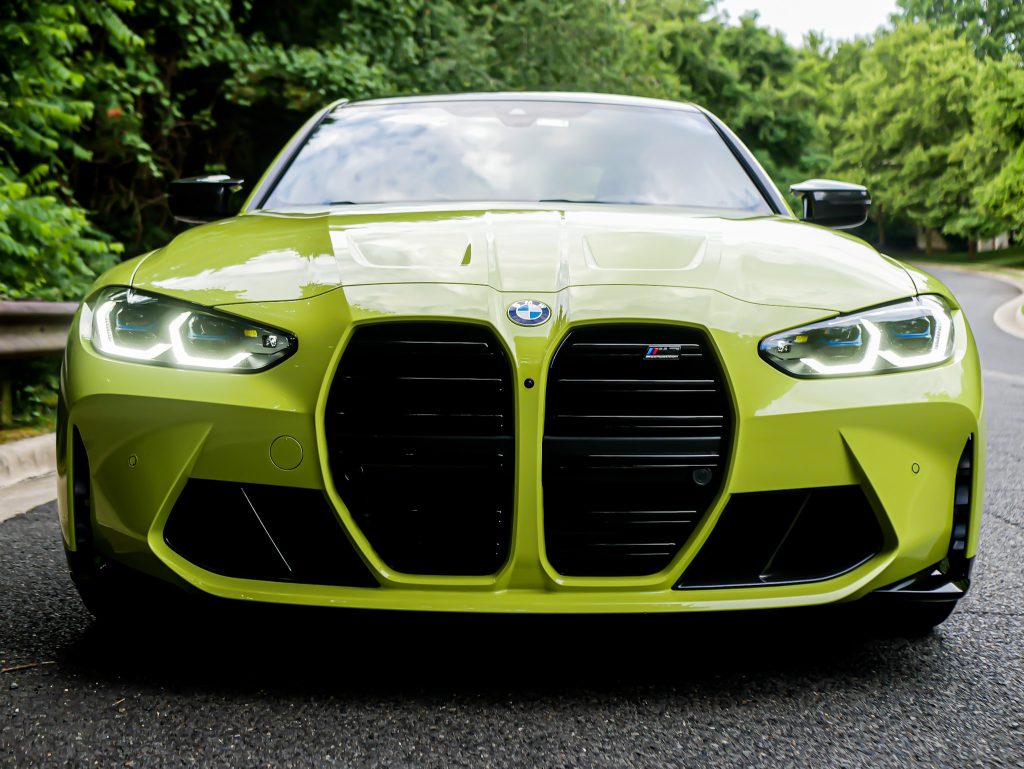 The 2022 BMW M3 Competition is designed to shovel as much air into the large 3.0-litre twin-turbo engine as possible, and that's where the large nostrils come in. At 503 HP and 479 lb-ft of torque, this isn't the vehicle you buy for a grocery run, but it is the perfect vehicle for a weekend spanning long stretches of tarmac, allowing you to feel that engine roar.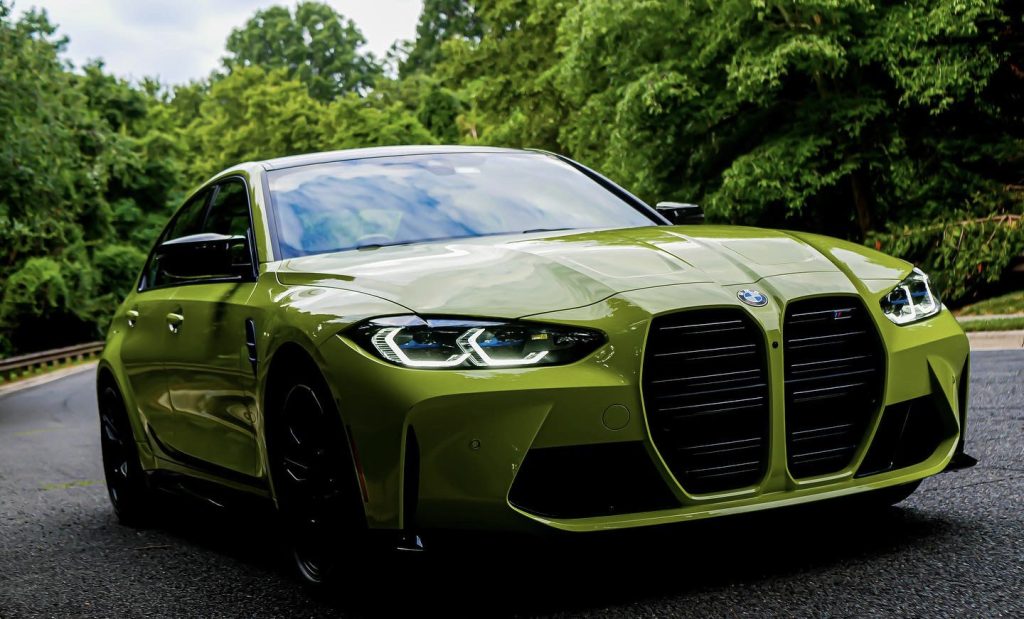 When we first saw the 2022 BMW M3 Competition roll up into our driveway, it looked impressive, almost as if it was the best car we've seen from the brand in years. However, as we soon learned, there are much more to this beast than its specs and aggressively good looks.
Interior Design, Cargo Space and Comfort
Apart from the 'M' badging and the trim details, the M3's interior is a lot like the regular 3-series. The similar design means that the M3 has the same amount of passenger space and visibility on the driver's side, which for those who are not aware, is some of the best out there.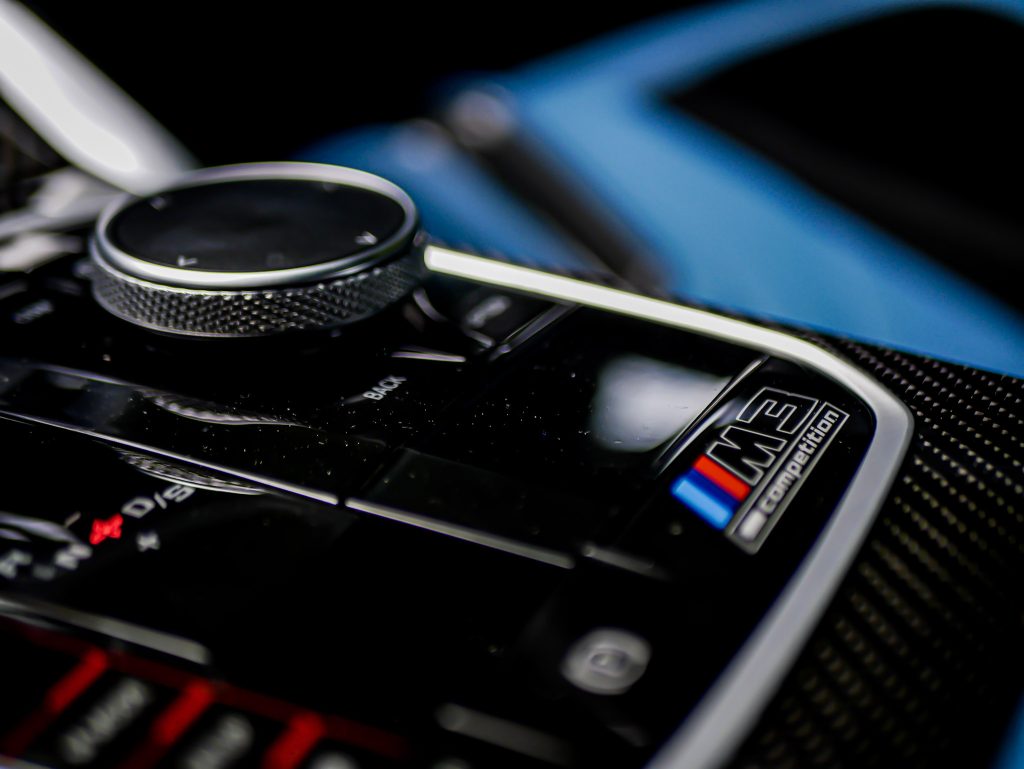 While the M vehicles are known for their beefier performance, they also exceed or have similar materials in some cases to the flagship 3-series trims. However, a lot more carbon fiber is used in the M3, with a few microsuede accents offering a racier aesthetic.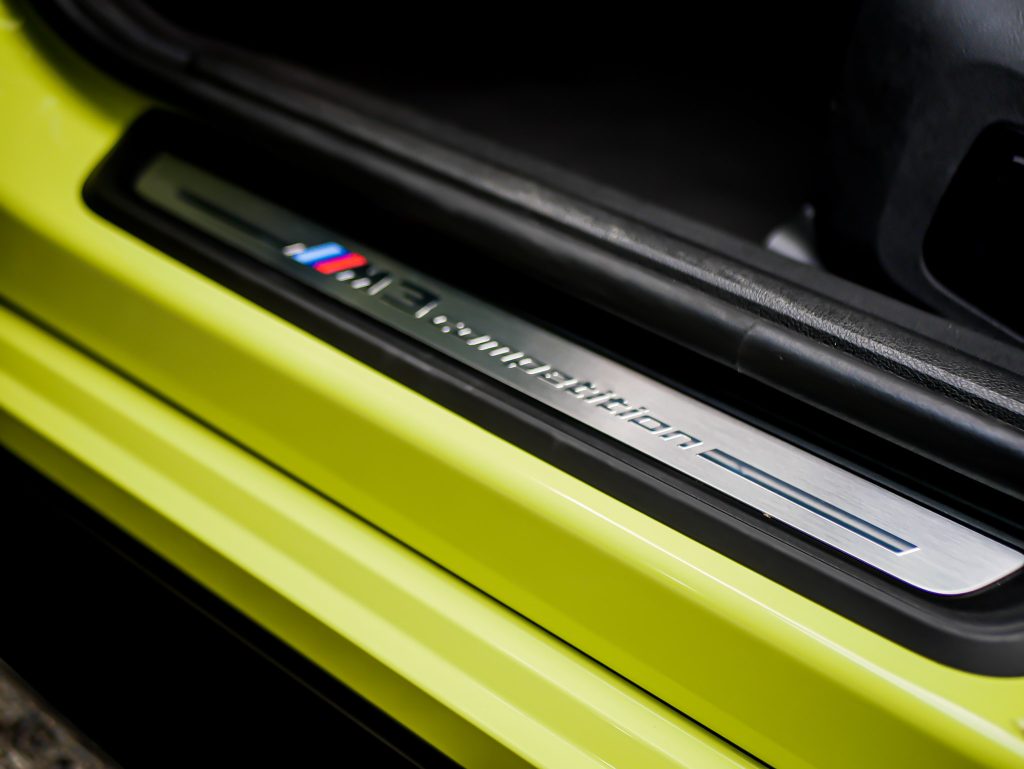 The first thing you see as soon as you swing into the Competition is a large, bright and inviting 12.3-inch digital cluster gauge, which will switch over to the M View when slammed in sportier drive modes. These are activated via the prominent red buttons on the M3's steering wheel. Speaking of which, the steering wheels are a little beefier but have a nicer feeling compared to other models.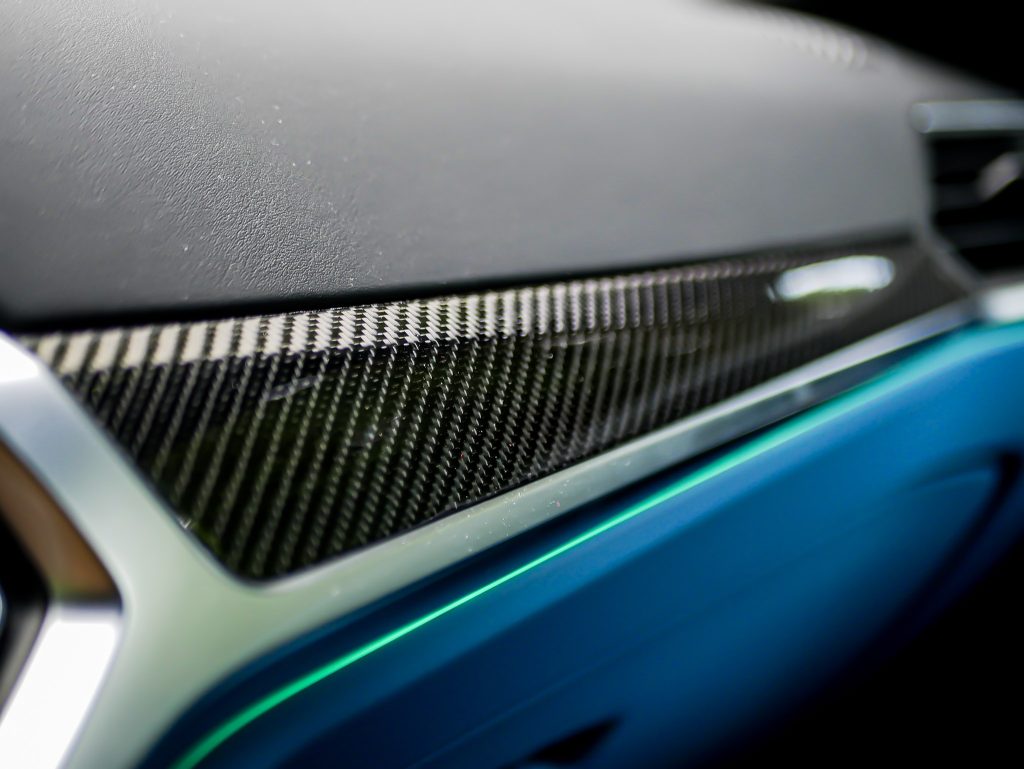 When switched to the M View, there is a shift indicator that quickly replaces the traditional tachometer, and it is one that's probably the easiest to read. Not to say that the others are harder to read; it's just that this is clearer.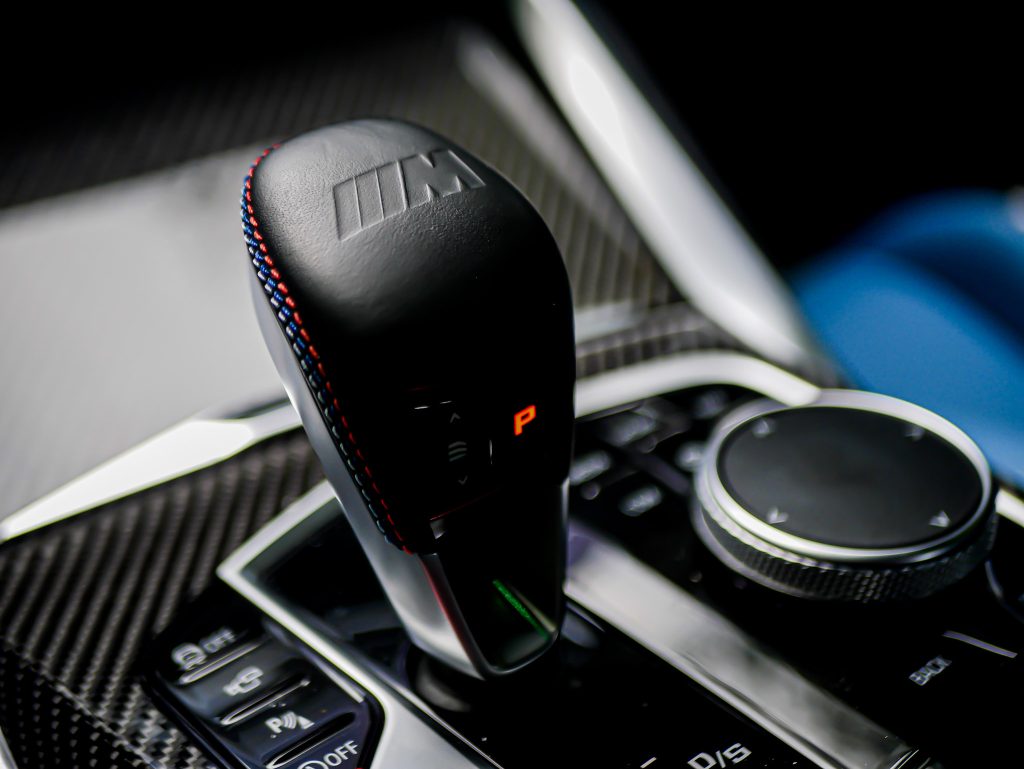 The other thing you'll notice right away is the comfortable seats; these are incredibly thick and lightweight, a blessing to have in the Competition, providing excellent support without sacrificing comfort. These seats will feel comfortable regardless of how large you are, making them adequate for long interstate highway trips.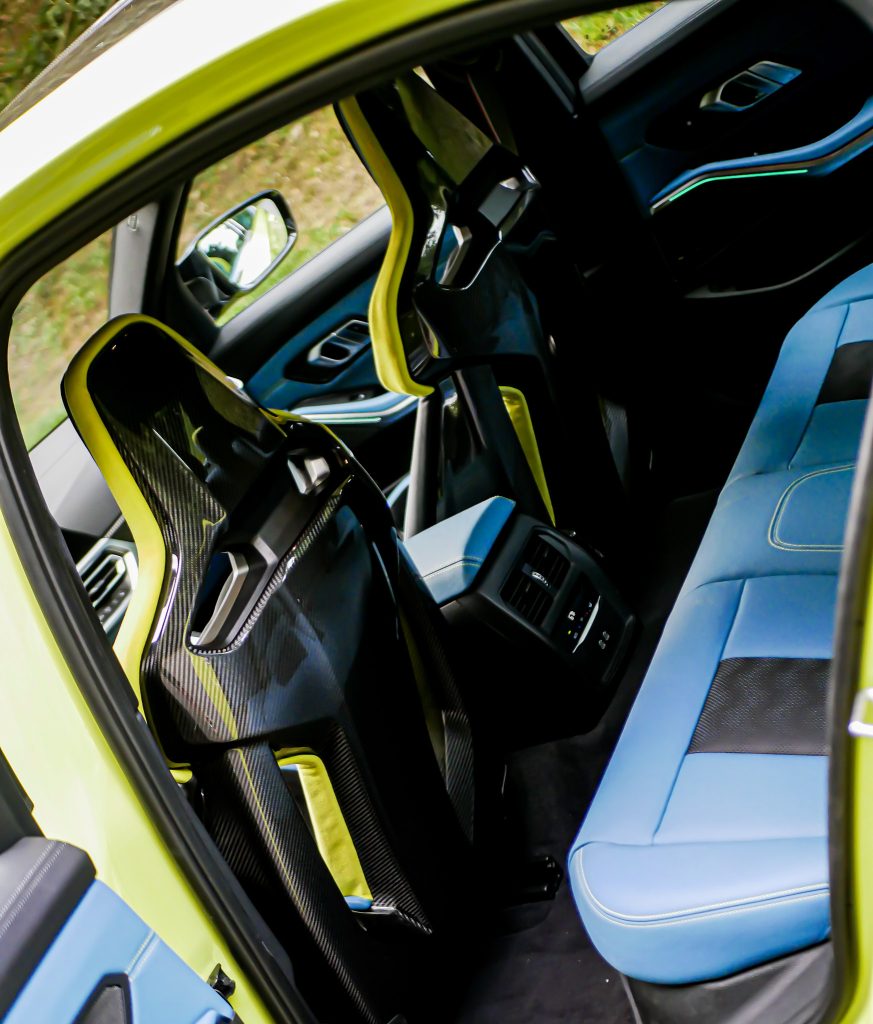 Luggage or boot capacity is rated at 13.0 Cu.ft, which is similar to competing vehicles in this class.
Connectivity and Infotainment System
The M3 Competition comes bundled with a new and improved infotainment system. It runs through the 12.3-inch touchscreen that can be adjusted and manipulated via the rotary knob and buttons on the centre console. It may not be the most convenient location for some people, but it tends to become intuitive after a while of driving.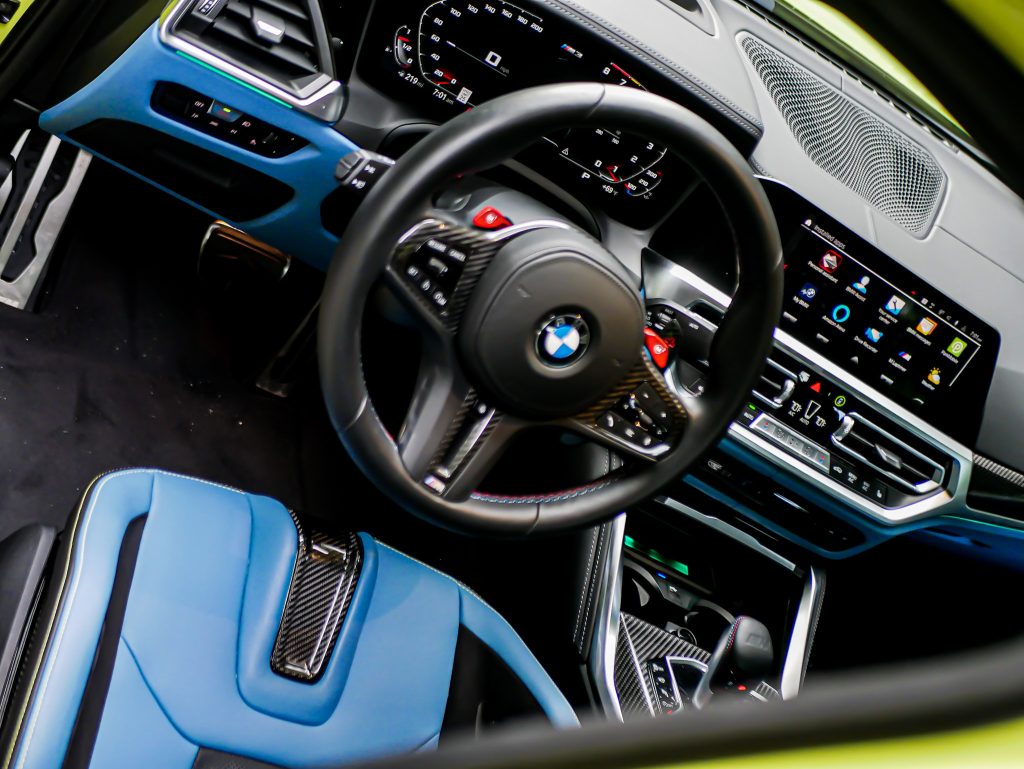 Apart from that, BMW has made sure to include multiple charging ports as standard, along with a few other optional features. Fortunately, you no longer need a paid subscription from Apple CarpPlay to use the system as they have now adopted Android Auto. Both are standard, along with a beefy Harman/Kardon sound system and a year-long subscription to the famous SiriusXM satellite radio. The system can also be customized with subscription-based wi-fi hotspots and gesture control. There is also a spot for a wireless charging pad, so you're no longer fumbling with cables to top up your phone.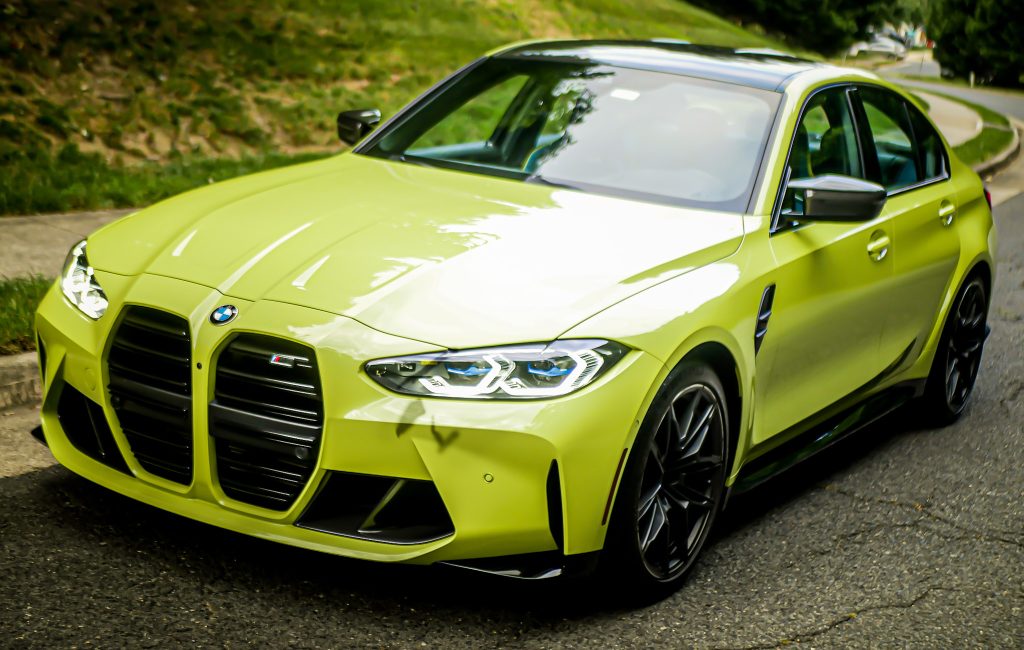 Safety Features
The M cars emphasize driver engagement, and BMW has bundled a roster of standard and optional driver assist features. Some of the safety features worth mentioning include:
Blind-spot monitoring and a rear cross-traffic alert
There is also standard lane departure warning along with lane keep assist
Adaptive cruise control
The features mentioned above come standard with the 2022 BMW M3 Competition.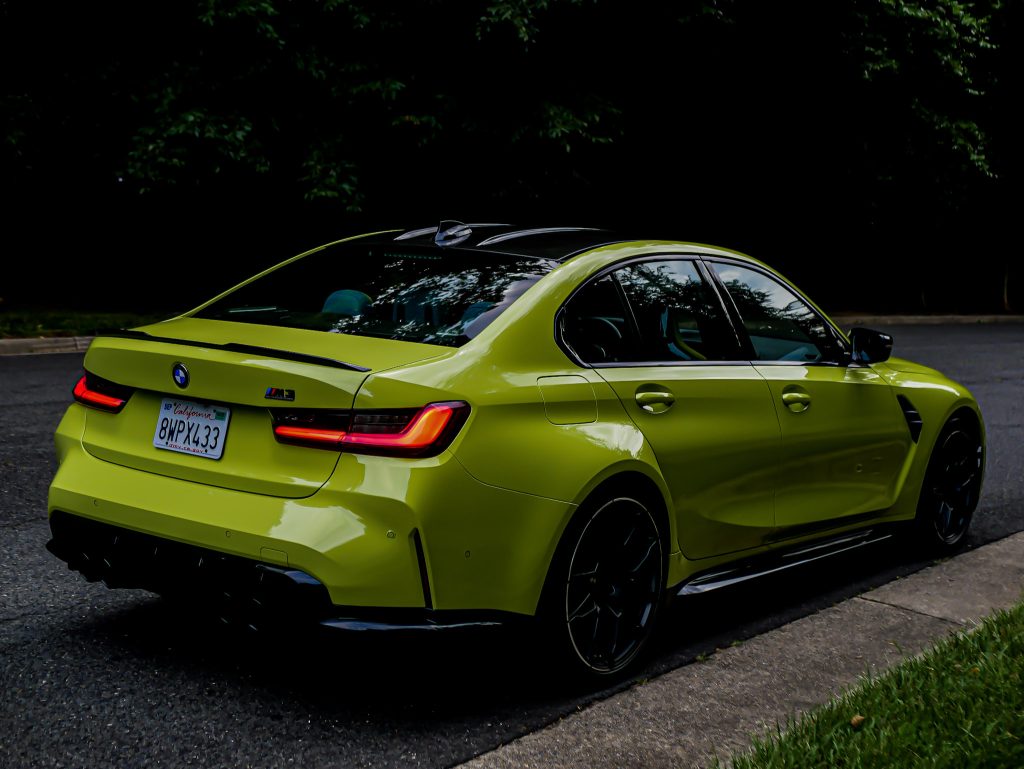 Driving Experience
The 2022 BMW M3 is customized to deliver an extra hit of thrill for hardcore enthusiasts that have the money. The M3 Competition throws in xDrive, the 4-wheel traction feature available with the Competition model only.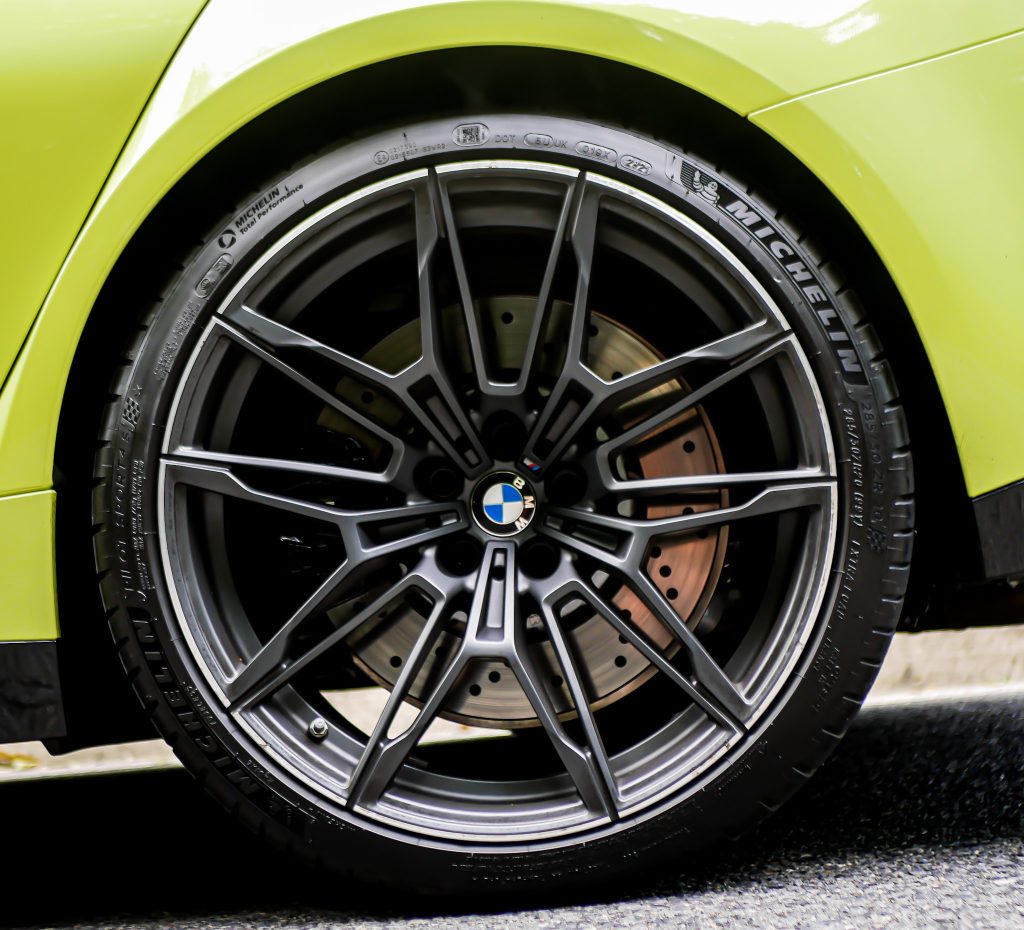 While you may assume from experience that the all-wheel-drive system will be a power hindrance, essentially ensuring that you can't take the vehicle to its max, BMW assures drivers it isn't. In fact, during our time with the M3, it helped us maximize its full power. Not only is this power front to back but also side to side, thanks to the Active M Differential, with all power filtered through the proprietary Dynamic Stability Control system. If you want to take the vehicle to the tracks, slip it into 4WD Sport mode, which sends more power to the rear wheels, shutting down DSC, and that way, you have full control over the rear wheel biased power delivery system.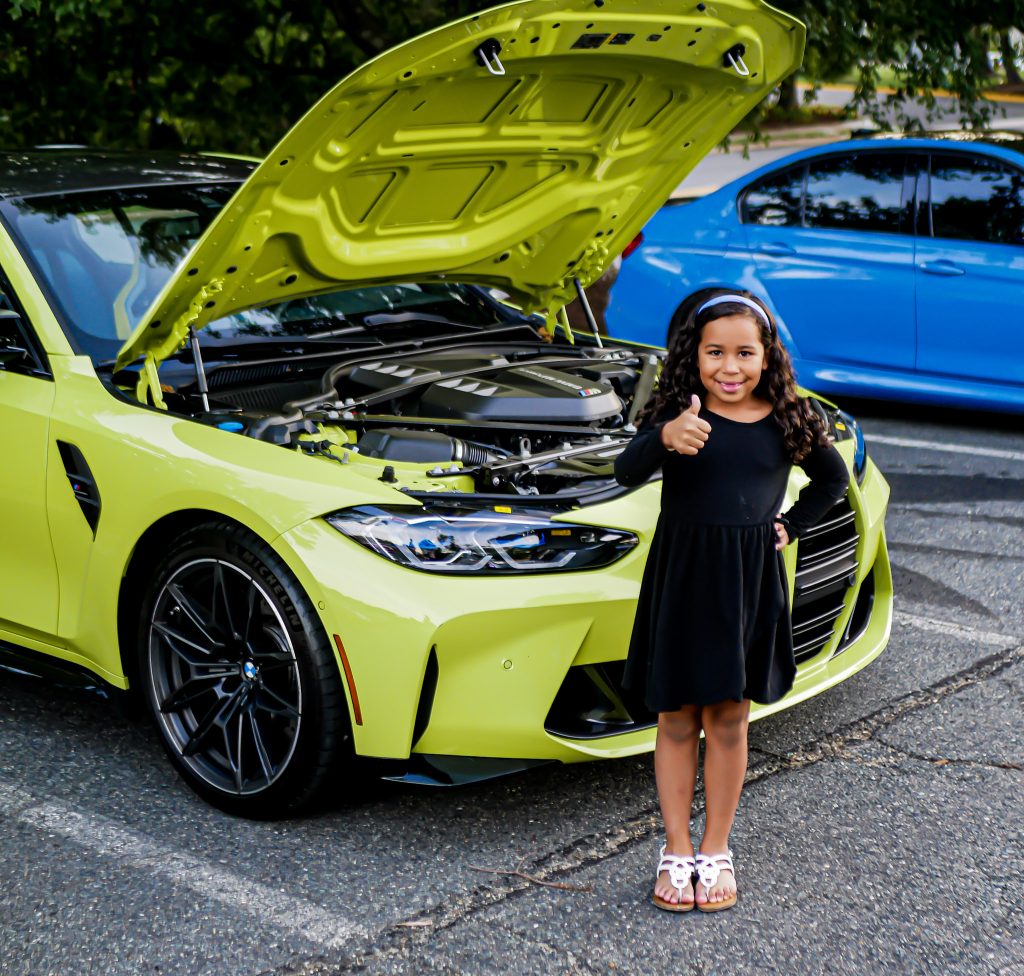 Apart from the abovementioned power delivery mechanism, the Competition model comes with a 30-hp jump from the otherwise mainstream 473 to 503 and a bit more torque from 406 lb/ft to 479 lb/ft.
All of this works to offer a supercar feel, with no lag and no nonsense. Driving at highway speeds feels like the vehicle isn't even being challenged. The Competition goes from 0-60 in just 3.4 seconds, ensuring you'll have one of the fastest stock BMWs on the block.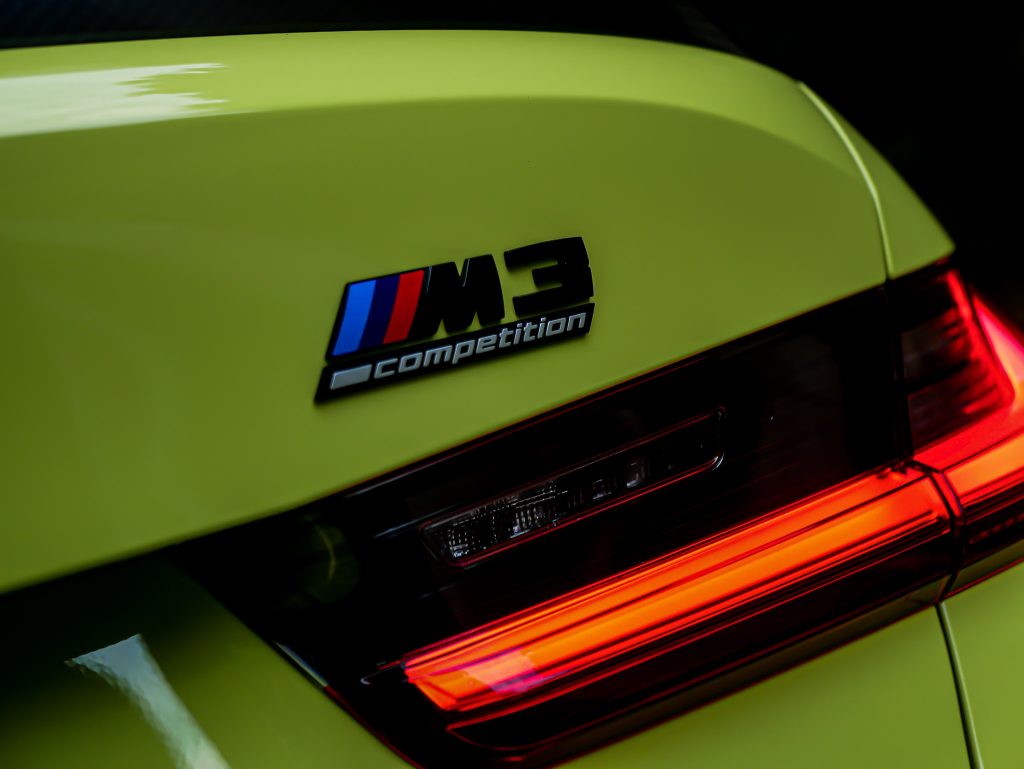 Final Word
The 2022 BMW M3 Competition is a phenomenal vehicle that delivers a speed and torque upgrade over the previous iteration with improved handling. The tight suspension and ability to loosen up the rear by choosing the respective driving mode or setting make this a vehicle anyone can drive.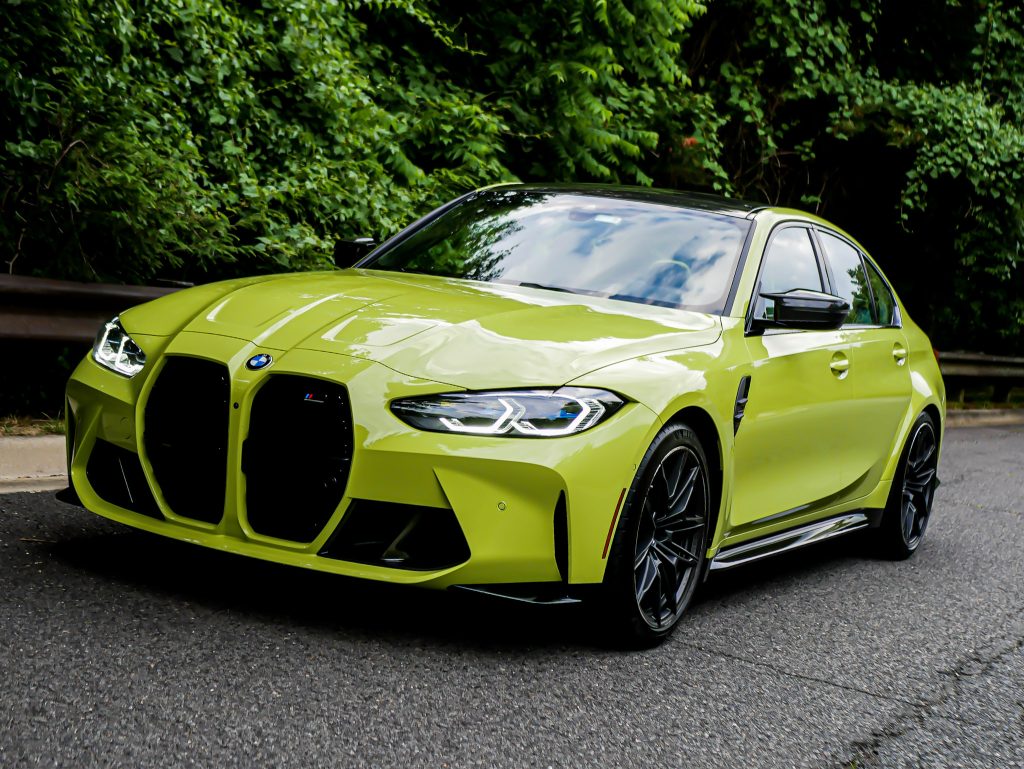 The only drawback is that the AWD system adds a bit of bulk to what is already a heavy vehicle. However, you can't feel that weight behind the wheel. In fact, it is one of the lighter-feeling cars we've driven, with excellent comfort and sound dampening regardless of road conditions.