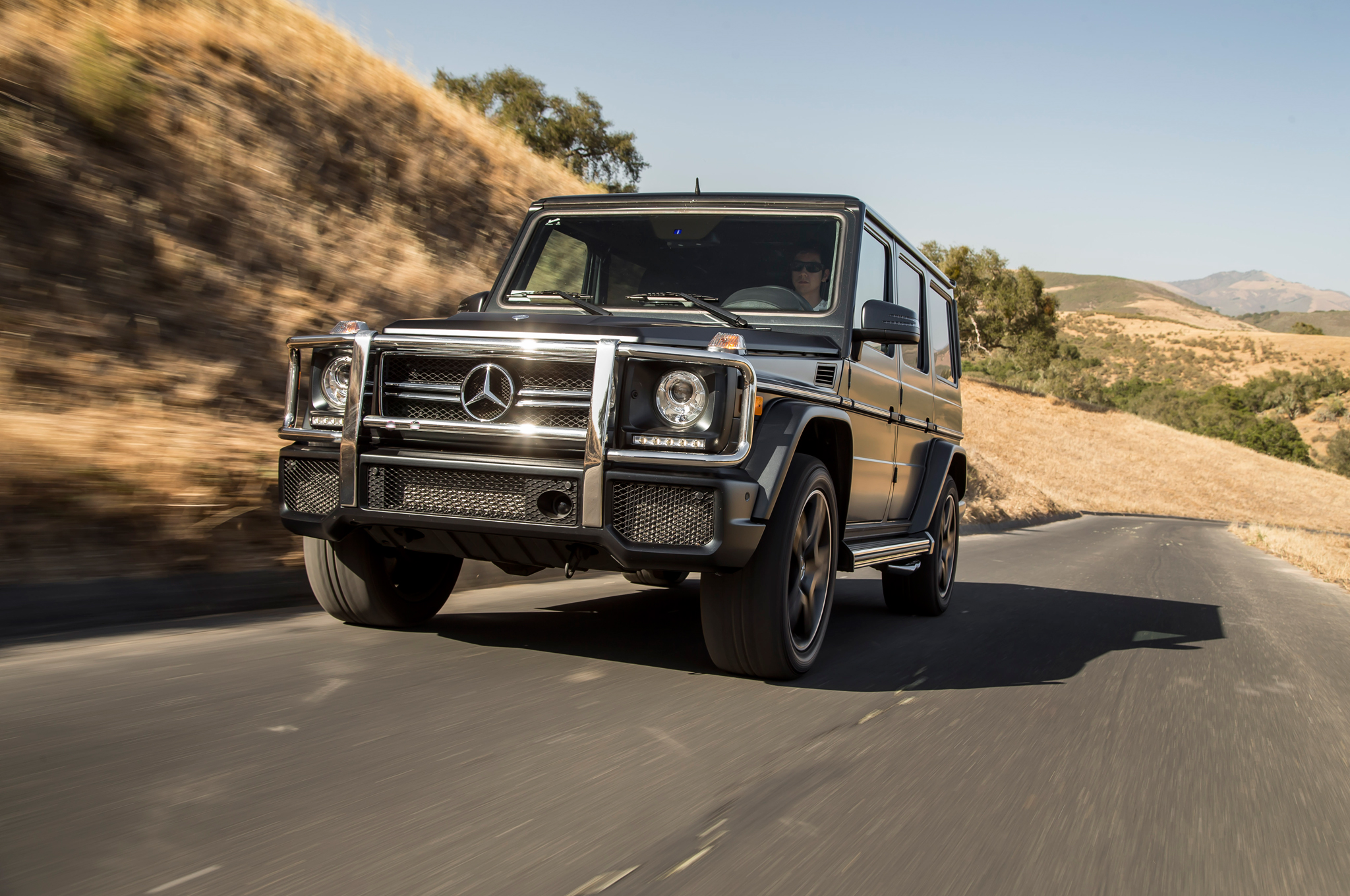 TEST DRIVES
"Mercedes-Benz G-Class adds G63 AMG model to lineup" A boxy full size, high performance SUV with Class
By
|
Over the past 33 years, since it was originally conceived in 1979 as a vehicle to primarily serve to traverse tough off-road terrain, the Mercedes-Benz G-Class has undergone a constant and impressively progressive evolutionary process, refining what was initially a very basic practically oriented off-road specialist by adding a premium interior and superior road-going qualities on the level of premium sedans from Mercedes-Benz. The 2013 Mercedes-Benz G63 AMG is new to the G-Class stable, with an eight-cylinder biturbo engine and the ECO stop/start system provided as standard fare. 2013 G-Class models become available in U.S. showrooms this August, having once again been significantly restyled.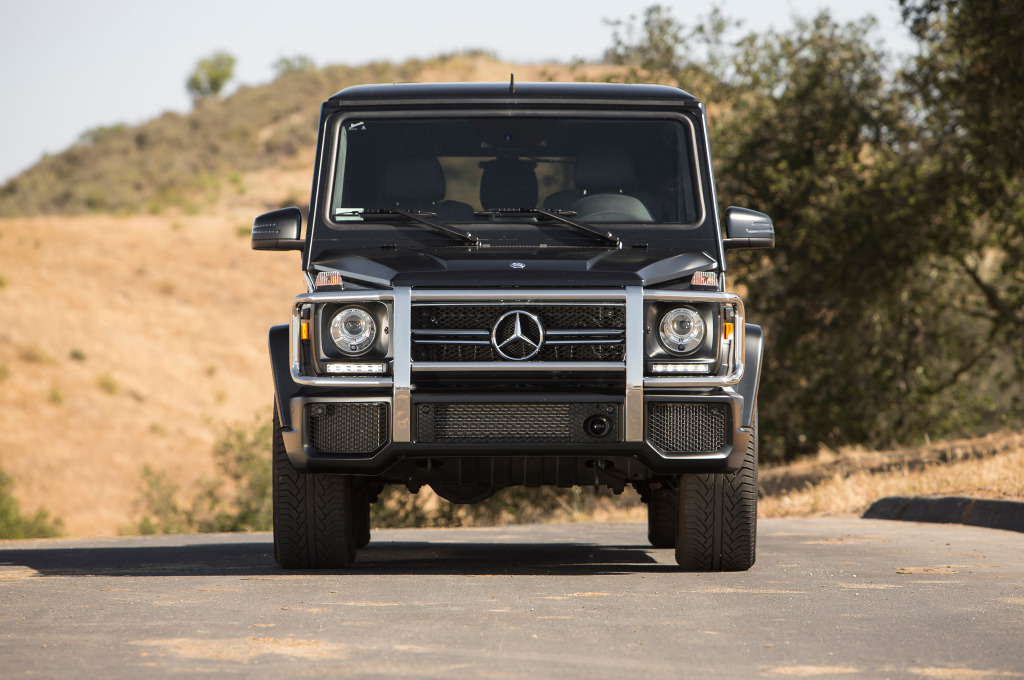 The interior in particular, displays high-quality appointments finished with exquisite materials, and the instrument cluster and center console have been completely redesigned. A new color instrument cluster display greets the driver is between two new round dials. Other standard features serve up the latest COMAND infotainment system featuring mbrace2, including a navigation system and internet access. New LED daytime driving lamps along with new exterior mirrors bring a few discreet changes to the exterior appearance of this luxury off-roader. New standard safety features include the addition of Blind Spot Assist, the PARKTRONIC parking aid with reversing camera and DISTRONIC PLUS, an adaptive cruise control system. Despite the new modifications and equipment additions, the G-Class has managed to preserve the timeless, classic design – which has been virtually unchanged since 1979, making it an automotive style icon, remaining true to its down-to-earth unmistakable style.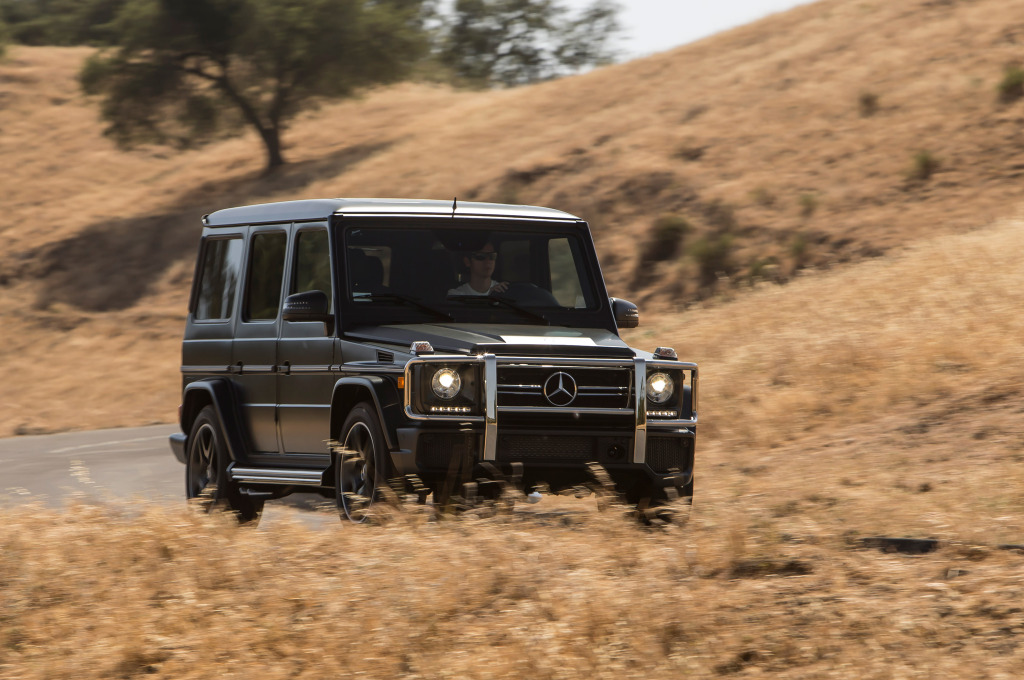 The G63 AMG version also features a new, characteristic AMG radiator grille with double louvers, plus distinctive new bumpers with large air intakes. Red brake calipers and 20-inch wheels, available here for the first time, complement the ruggedly bold appeal of its exterior.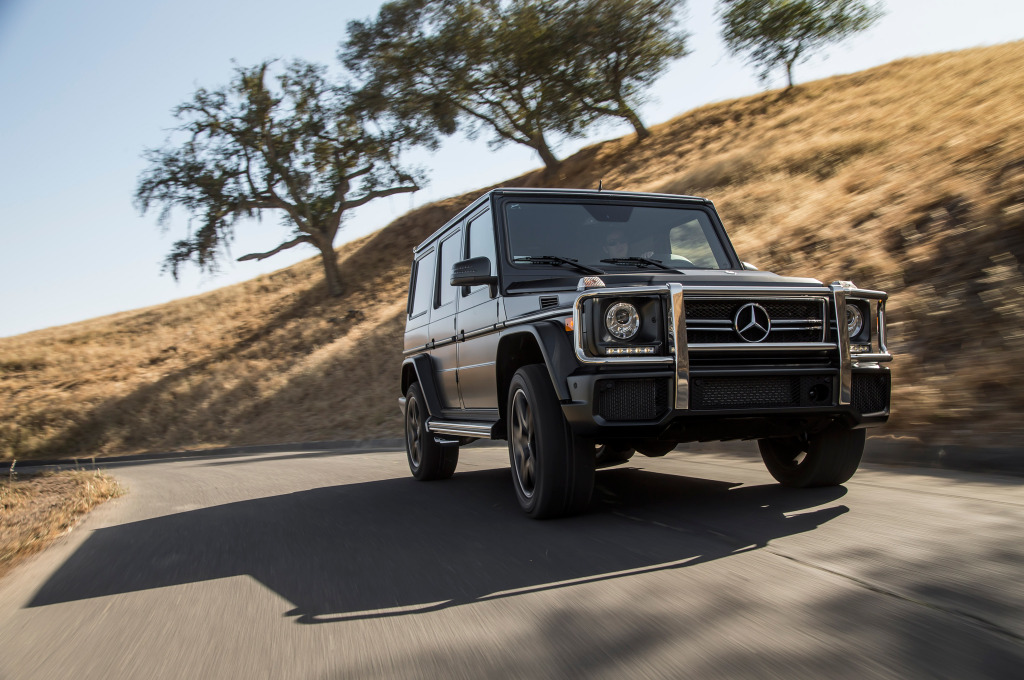 The instrument panel and center console have been completely redesigned, including new controls and well proportioned, exclusively designed trim elements, giving the SUV's interior a fresh, premium quality. In addition to the TFT color instrument display, is a large color screen, part of the COMAND system conveniently positioned in the center, and incorporating a DVD changer and the standard COMAND Controller.
The new infotainment system provides, along with other features, a navigation system with special additional off-road functions, voice-operated controls and Bluetooth wireless connectivity. In order to ensure that the G-Class doesn't lose any of its character, certain specific interior design elements have been preserved. The G-Class retains the grab handle on the front-passenger side, the switches for the three differential locks – clearly aligned within the driver's field of vision and highlighted in silver trim – and the redesigned shift lever in the lower section of the center console. The ESP® system has been completely revised and now includes Trailer Stability Assist and a HOLD function. Individualization options from the exclusive designo range are available as enhancements to what is already a very high-quality interior.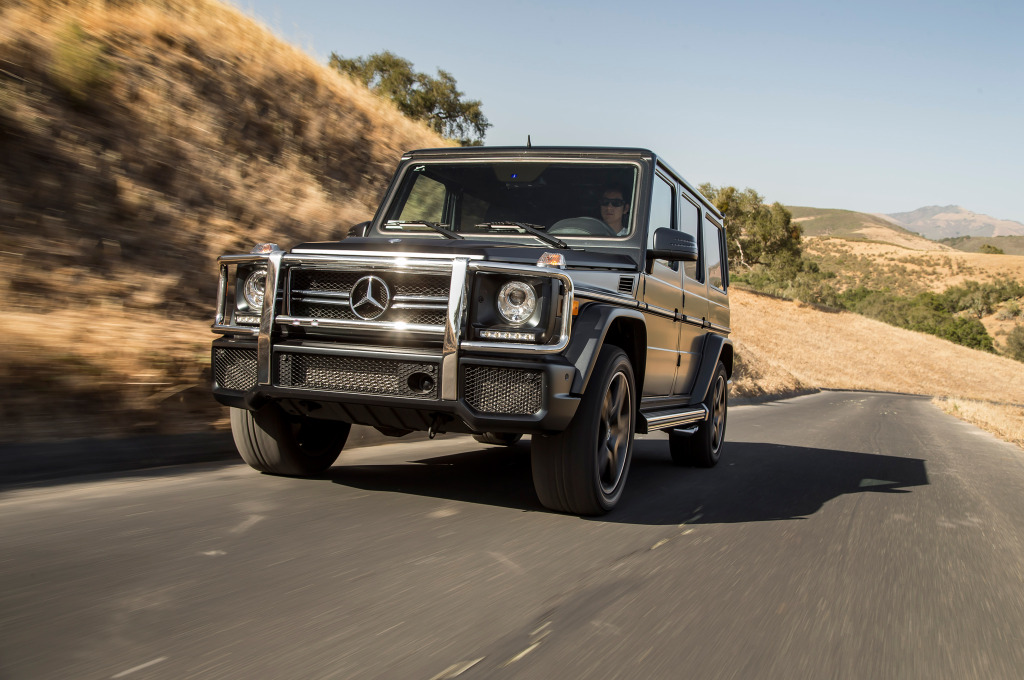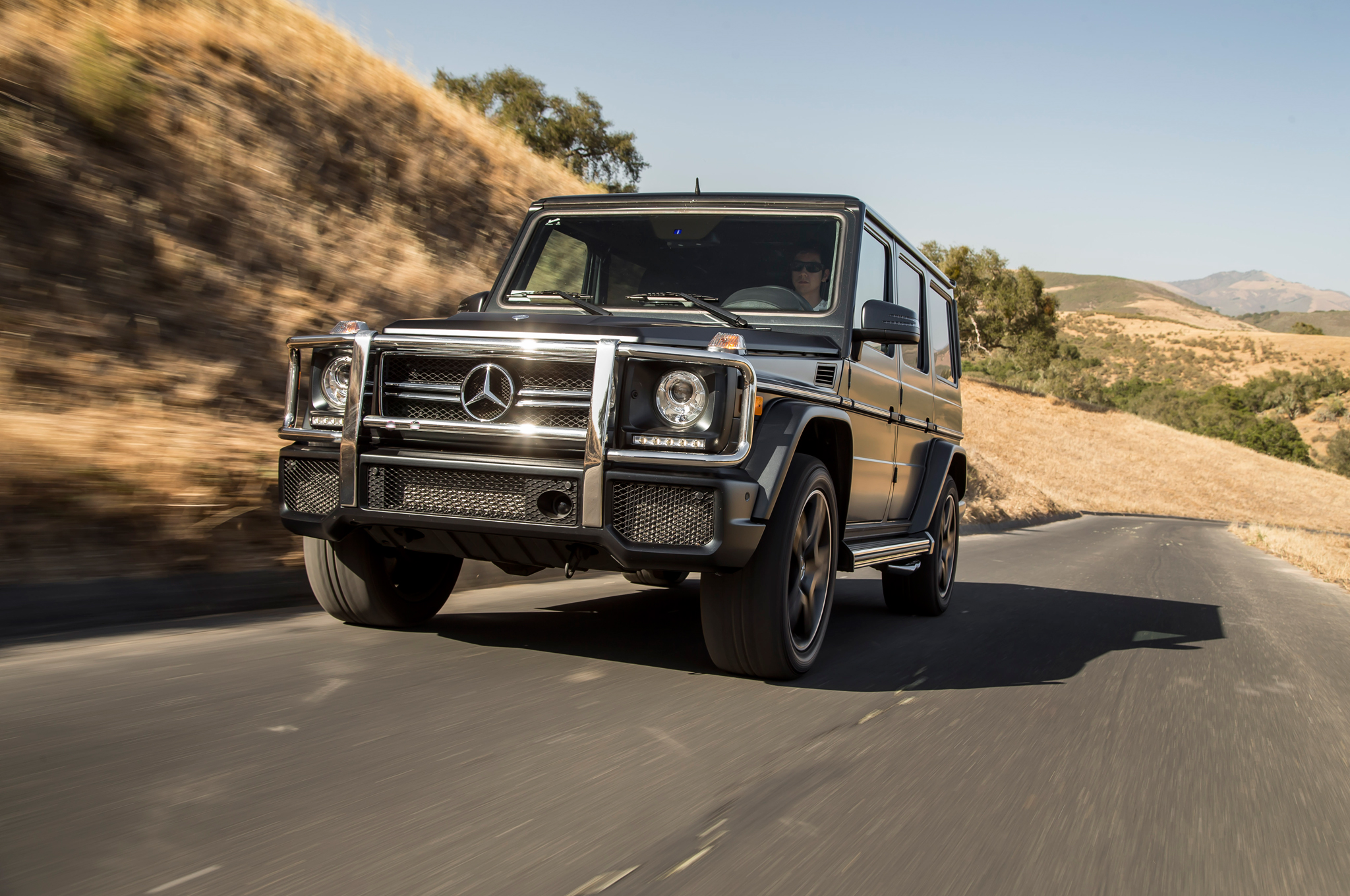 Power for the 2013 Mercedes-Benz G63 AMG comes from a front mounted, longitudinally oriented, 5.5-liter, DOHC, 32-valve, Biturbo V8 with a magnesium two-stage resonance intake manifold, electronic fuel injection and ECO stop/start system. The engine cranks out 544 horsepower at 5,500 rpm, while developing 560 pound feet of torque in a range from 2,000 to 5,000 rpm. This energy is geared through an electronically controlled 7-speed automatic transmission with Touch Shift manual control to Mercedes-Benz's 4MATIC permanent all-wheel drive system.
The tremendous torque of its engines makes this luxury off-roader an excellent vehicle for towing, while the technical qualities of the G-Class continue to be highly prized. The three electrically controlled 100-percent differential locks, ladder frame and rigid axle characteristics make it an exceptionally capable vehicle in rugged, off-road terrain.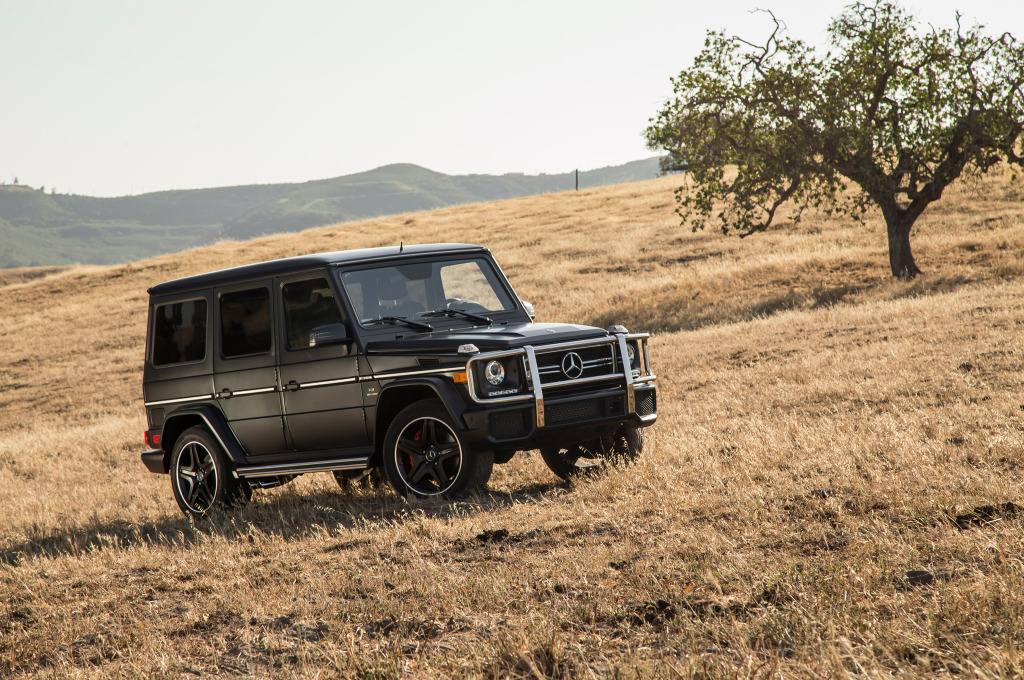 My test 2013 Mercedes-Benz G63 AMG acme with the designo package, which included the designo Mystic Red metallic exterior finish, designo Black leather interior appointments and designo Piano Lacquer trim accents. The base price was set at $134,300 while the designo goodies and Destination and Handling charge elevated the final tally to $137,505.
SUMMARY: The MBZ G63 AMG may not be everyone's cup of tea for two very specific reasons; one being its lofty price tag; and the other, its very boxy and somewhat cumbersome form, which I personally feel is part of its very charm and contributes greatly to its appeal.
G-Wagons (easier to say than Gelandewagen) are instantly recognizable on or off road, and they perform equally well in either scenario. The G63 AMG is capable of going virtually anywhere that a military Hummer Alpha 1 can go, not that many will see that kind of off-road challenges. For that matter, why would anyone want to risk scratching such a beautiful exterior finish? Beverly Hills, Fashion Island and South Beach locations seem like much more appropriate scenarios.
Acceleration is surprising quick from the mighty 5.5-liter Biturbo V8, with crisp handling characteristics and a compliant and comfortable ride quality. Almost unbelievable attributes from an SUV that's bigger than, and shaped like, a breadbox that tips the scales at nearly three tons. The seven-speed transmission with Touch Shift manual shift control allows for a sporty driving experience. Don't expect stellar fuel economy from this iconic beast though – EPA estimates are 12-mpg city and 14-mpg highway, but if you can afford the G63 AMG, the projected $10,400 fuel cost over five years probably isn't a major issue.
Visibility from within is excellent with the elevated commanding occupant position.
Should the G63 AMG designo prove to be a little out of one's price range, there's always the G550 which isn't quite as plush and isn't quite as quick, producing only 388 horses and 391 pound feet of torque from a naturally aspirated 5.5-liter V8. Either way, G-Class wagons still have a magnetic appeal for many with the financial means to own one. Unfortunately, I lack the latter.
– Article by Arv Voss