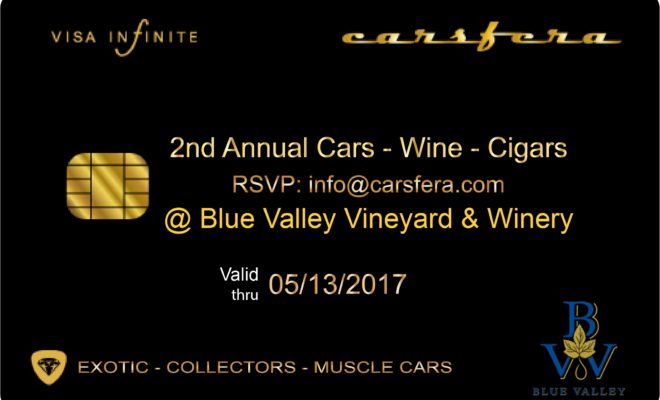 EVENTS
2nd Annual Carsfera.com Cars-Wine-Cigars
By
|
Carsfera.com hosted for 1st time the past October 29, 2016 the 1st Carsfera.com Cars-Wine-Cigars.
It was a beautiful day where we had the chance to meet and connect with many car lovers and enthusiasts from the DMV who share the same passion that we have about cars in a beautiful spot, Blue Valley Vineyard and Winery.
We had the opportunity to showcase exotic, collector and muscles cars. The venue was very successful and this year we want to great the spring season with our 2nd Annual Carsfera.com Cars-Wine-Cigars
Car collectors, Car owners, Car Clubs are welcome to participate in our event with NO FEE for Registration
DEadline for Registration: 5/05/2017
Via Email: [email protected]
Via Text: 202.286.0536
Our Agenda:
For those who like to start earlier and enjoy the full day this year we have prepared an interesting start:
– Meet Up Point: The Apple House – Linden, VA @ 9:30 am
Meet and Greet by Carsfera.com
Cars, Coffee & Cinnamon Cider Donuts to start our morning drive
Route Review Through the Skyline Drive or Alternative Route???"""
– Shenandoah National Park & Carsfera.com Route through the Skyline Drive @ 10:30 am
Ride together and photoshoot in route enjoying the beautiful views of the mountains
– Arrival at Blue Valley Vineyards & Winery @ 12:30 pm
– Parking and Showcase from 12:30 pm – 2:00 pm
– Smoking Peasants BQQ @ Blue Valley Vineyard with food truck starting at 2:00 pm
– Deejay will be spinning from 12:30 pm – 6:30 pm
– Good Bye Family Picture @ 6:30 pm
Parking and Showcase Space is limited due to the massive attendance that we are expecting.
Please reserve the space for your squad as soon as possible.
RSVP with model and picture: [email protected]